TransferWise, which was set up in 2011 to provide a cheaper alternative for money transfers, has now raised $33 million (£20 million) in venture capital investments after closing a new round.
Investors including Valar Ventures, set up by PayPal co-founder Peter Thiel, Index Ventures and British entrepreneur Richard Branson are coming together to back the future growth of TransferWise.
The business is the work of Kristo Kaarmann, CEO, and Taavet Hinrikus, executive chairman. Hinrikus was employee number one at internet communications business Skype, and has built the company up to its current position of having transferred over £1 billion and achieved savings of £45 million in banking fees for customers.
Hinrikus says, 'We are truly honoured to have Sir Richard Branson join Peter Thiel's Valar Ventures, IA Ventures and Index Ventures to back our mission to stomp out hidden bank fees and make the world of money transfers a fairer place.
'This new investment and faith in our business is concrete affirmation that our new campaign for transparency is really taking grip.'
The $25 million raised, Hinrikus reveals, will go towards increasing awareness of hidden fees associated with overseas money transfers. Already, TransferWise has embarked upon an 'anti-bank' advertising scheme highlighting the charges that can be incurred.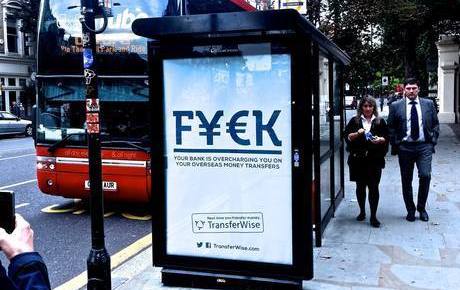 The TransferWise adverts have taken a confrontational approach
More on recent fintech deals:
Prior funding for TransferWise before this Series B deal came in the form of a $6 million investment in May 2013 and $1.3 million commitment in 2012. Peter Theil's Valar Ventures led the 2013, and said back then that the business demonstrated 'true innovation in banking'.
Research carried out by TransferWise shows that sending £1,000 to a Euro account, while often advertised as £10 or under, can often cost £50 when the 'hidden fee' is included.
New backer Branson, whose other recent investments have included cycling components start-up Blaze and Bitcoin processor BitPay, says that foreign exchange has been 'ripe for disruption' for decades.
'It's encouraging to see entrepreneurs using technology to reinvent the old-fashioned FX industry and make a real difference in the market,' he adds.
'I see tremendous opportunity to for start-ups like TransferWise to offer breakthrough financial services and products.'
TransferWise now has 100 staff and 234 currency routes. The business is predicting growth of between 20-30 per cent a month.