Banking giant BNP Paribas has started financing business loans to SMEs in the UK for the first time.
The company, which advises on assets worth around €568 billion, will invest in direct loans to finance 'ambitious projects' in the UK.
Mid-market business loans
Its first loan, which was between £500,000- £5 million, was a six-year senior unsecured amortising loan made to a specialist recruitment firm based in the West of England. This means it is above the range of Funding Circle, who lends a maximum of £500,000 to businesses.
The bank ultimately wants to grow its lending activities to €1bn across Europe per year with at least €400 million from the UK.
Are you eligible?
BNP Paribas chief executive Stéphane Blanchoz, Head of SME Alternative Financing told altifi.com that a £500,000 loan will take one week to process while a £5 million loan will take five weeks from application to funding. Eligible SMEs will have annual revenues less than £50 million.
Meanwhile, BNP have appointed Link Asset Services as the debt service for its new SME Alternative Financing platform.
Robbie Hughes, chief executive at Asset Services, part of Link Group said, 'As institutions search for yield, this platform provides them with an opportunity both to deliver excellent returns and play a central role in stimulating UK growth.
'SMEs are the engine room of our economy, so increasing their finance options and supporting their growth can only be a positive.'
SMEs have long relied on traditional methods of financing such as bank loans and overdrafts and most SMEs are still hesitant about taking a chance on alternative methods of finance.
Since the financial crash, traditional lenders have reigned in their lending to smaller businesses which has opened the door for fintech start ups, like Tide, which now has 9 per cent market share of new business accounts in the UK, and Starling Bank to attempt to take their place in the market.
According to the BBA, there were 11 per cent fewer loan applications in the first quarter of 2017 compared to the same quarter a year earlier. The graph below shows that in the first quarter of 2017, total SME borrowing was £109.7 billion, of which structured term loans were £85.1 billion, overdrafts came in at £9.4 billion and facilities available but undrawn were £15.2 billion.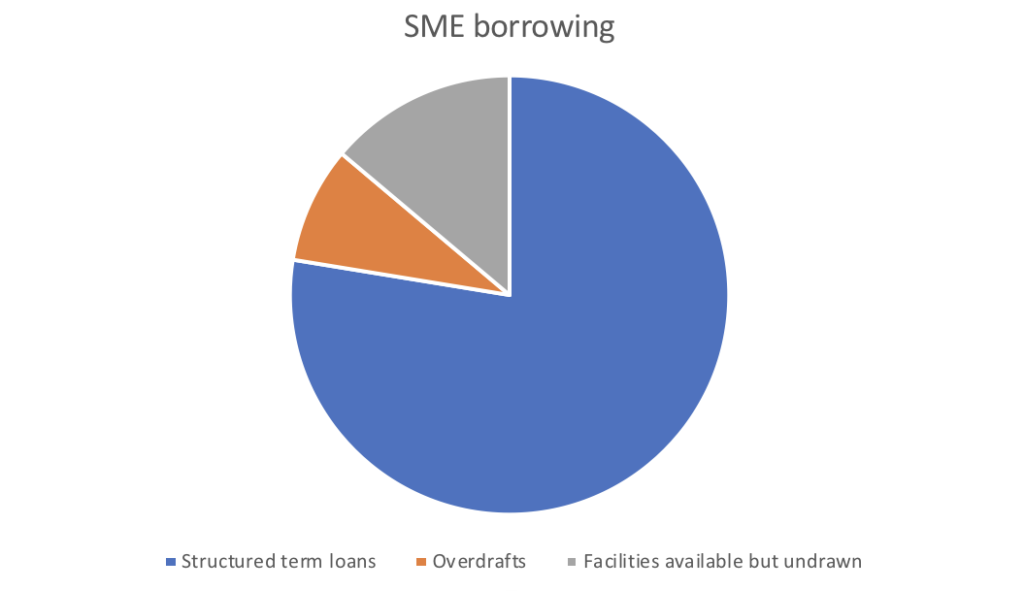 Further reading on alternative financing
Seven alternative business finance methods you should know about