Having seen Mexican food chain Chilango raise £600,000 of a £1 million target since beginning its fundraising last week, River Cottage has followed suit.
Using Crowdcube's mini-bond offering, River Cottage has raised £1 million from a pool of 283 investors inside 36 hours. Having made a minimum commitment of £500, the bond then pays out 7 per cent fixed interest per year to backers.
River Cottage, a restaurant and food business, was set up by television chef Hugh Fearnley-Whittingstall and Rob Love in 1998. It has now spawned 20 books and 12 television series using its mantra of SLOW (seasonal, local, organic and wild).
The £1 million has been raised so that four new locations can be opened throughout the South of England by 2018. Consumers who have invested in the mini-bond are entitled to 10 per cent off at its three canteen sites in Axminster, Bristol and Plymouth.
Fearnley-Whittingstall, creative director at River Cottage, says, 'The River Cottage brand grew out of our SLOW food ethos and that remains at the heart of the business.
'We're committed to helping people eat amazing food and this investment opportunity means we can continue to do that to more people in more places. We're passionate about our business and we want our investors to be as well.'
More on business finance:
Dan Houghton and Eric Partaker's Chilango chain was the maiden mini-bond offering, having launched last week, and has made progress in moving towards a £1 million target. Crowdcube launched the offering after observing the likes of John Lewis, Hotel Chocolat and Good Energy issue retail bonds directly to customers, and want to make the process more digital and simple.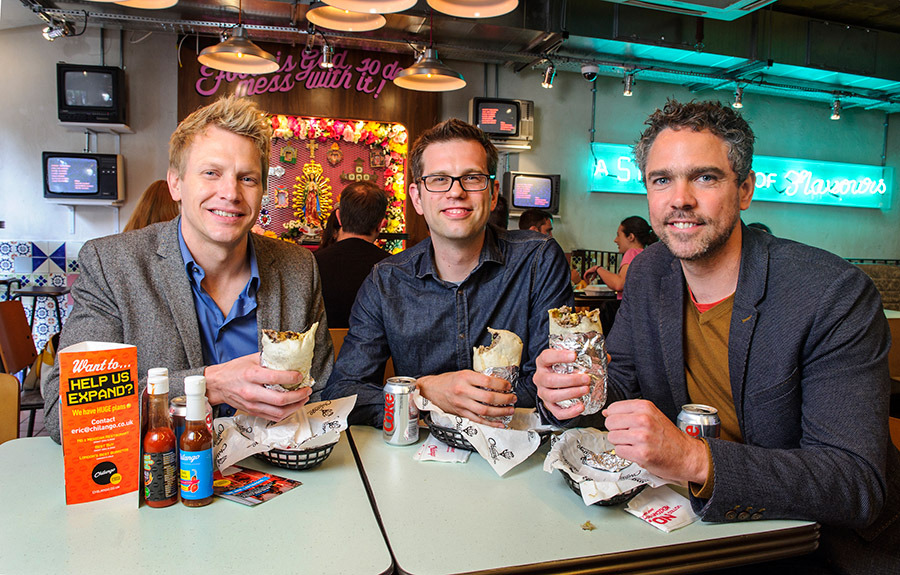 Chilango, seen here, are also using the mini-bond to open new sites
Read our in-depth feature on the Chilango mini-bond
Luke Lang, co-founder of Crowdcube, adds, 'It's been an exciting time for disrupting the mini-bond market – Chilango's Burrito Bond was the first to launch and now the River Cottage Bond.
'We're determined to make investing more accessible, affordable and rewarding, whilst giving established brands an effective way to source expansion capital and engage with their customers in a more meaningful manner.'
Having secured the capital he and Fearnley-Whittingstall need to grow the River Cottage brand, managing director Love says that the Crowdcube mini-bond offering helps reduce the cost and complexity of raising finance and is an effective way for established brands to secure capital without the need for banks.