Looking at Chilango's list of existing investors is akin to examining a who's who of the restaurant industry. From Carluccio's CEO Simon Kossoff to ex-Dominos UK CEO Chris Moore, the Mexican food business has enticed the names behind some of the most successful brands to back its growth.
Now however, the company is turned to its existing, and it hopes growing, base of customers in the hope that they can provide growth capital as well as serving as endorsements.
The tried and tested method of mini bonds has been utilised by well-known companies, ranging from entrepreneurial success story Hotel Chocolat to the ever-present John Lewis.
It was due to the fact that a great deal of Chilango's investments resulted from direct approaches that led Dan Houghton and Eric Partaker to believe that crowdfunding might be a good route to pursue.
Now the business has partnered with equity crowdfunding platform Crowdcube to become the first company to use the platform's new mini-bond service.
The Crowdcube Mini-Bond offering claims to bring retail bonds to the online investor community. According to Capita Registrars, the mini-bond industry is expected to be worth £8 billion by 2017 – not something to be taken lightly given that the figure only stood at £90 million in 2012.
Telling GrowthBusiness all about the new funding drive, Partaker says that the business is currently backed by the ex-CEOs of Domino's Pizza UK and Krispy Kreme UK, as well as the former MD of Costa Coffee.
'Now that we've matured a bit, we're at a stage now where we can consider debt. Traditionally in this space people pursue the high street banks and, while that can by all means be a great route, what is interesting is this new sphere and development,' he explains.
'We are excited about being able to make that direct connection with our fan base and Crowdcube network so the they can profit directly through bond offering from our success and more directly participate in our growth.'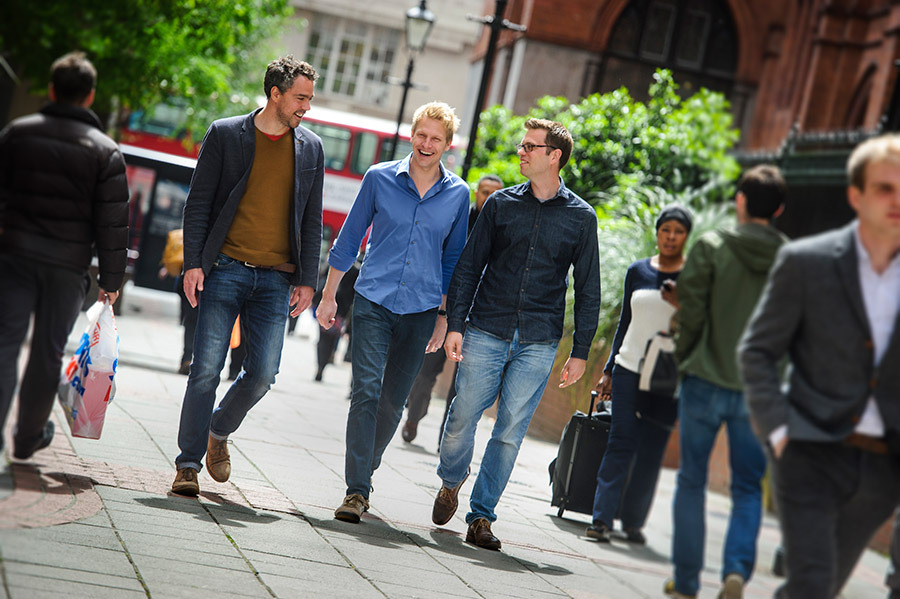 Crowdcube and Chilango are coming together to take mini-bonds online
Partaker and Houghton used to serve as executives at Skype before deciding to branch out on their own in 2007 through a first Chilango restaurant in Islington, London. The business is now competing against the likes of Barburrito, Chimichanga and Wahaca to bring Mexican food to the UK masses, and has seven sites dotted around the capital.
Chilango is going after £1 million through its mini-bond, which will finance the opening of three new London sites – with help from some leftover equity capital in the bank. The minimum commitment will be £500, with increments upward from there offering investors an 8 per cent annual interest paid twice a year over four years. On top of that, all bond holders will receive two free burrito vouchers, while top-tier investors kicking in £10,000 or more are entitled to a free burrito every week for four years.
More on alternative finance:
A huge part of the pie for Chilango is the mobilising of brand ambassadors. 'I'm fanatical about branding,' Partaker says. 'It's the magical difference between the great companies out there and some of the good ones.
'You look at the likes of Nike and Disney [who have such strong brands], and for Chilango its one word distillation is vibrancy.' His commitment to vibrancy will be reinforced by the company's strategy for marketing the mini-bond. As well as targeting the Crowdcube investor base of 75,000 and growing and its own weekly mailing list of 20,000, Chilango will be taking the mini-bond into restaurants through staff uniforms and competitions.
The mini-bond process
While inherently less risky than equity investing, Crowdcube emphasises that the mini-bond system still involves risk. They are unsecured, non-convertible and non-transferable and targeted at investors who are 'sufficiently sophisticated to understand those risks'.
Luke Lang, co-founder of Crowdcube, reveals that he and his business partner Darren Westlake have been looking at the possibility of mini-bonds since 2012, but wanted to make sure that they were focusing on establishing the brand on the equity side of things first.
Never wanting to 'rest on their laurels', both Lang and Westlake both believe the mini-bond fits in well with Crowdcube's established offering.
'We talked to investors and found out that they invest in other products such as property, ISAs and bonds. With our investor community growing substantially and at 75,000, we felt now was the right time for us to enter the mini-bond market in a similar way to what we did with the angel market back in 2011.'
More on Crowdcube:
Lang believes that the current process of raising money through mini-bonds is very offline, disjointed and expensive. With the John Lewis example, forms had to be printed off, signed, returned with a cheque and then validated in the form of a coupon mailed back.
'If big companies like John Lewis and Hotel Chocolat are doing it, we feel that we can make investing much more accessible, user friendly and affordable for more people,' Lang states.
Crowdcube's USP appears to centre on the basis that companies will not only be able to access a pool of already active investors, but also forgo the need for accountants, law firms and registrars – as a lot of those assets already exist within the platform.
'We wanted to minimise upfront costs and use the success fee model so businesses can pay the lion's share once they raise,' he adds.
Despite only just launching their first mini-bond offering, Lang says that he and his team at Crowdcube are already having 'quiet conversations' with other household name businesses which are lined up to issue offerings.
Unlike traditional crowdfunding pitches which must reach a pre-determined target, the mini-bond has the option of being closed early – common practice in the market. Lang emphasises that the new development does not mean that Crowdcube is losing sight of its equity background, just committed to helping start-up and fledgling businesses raise finance.
'Our community will continue to grow and that benefits equity investors. It is about us becoming an investment platform for entrepreneurs and investors.
'For entrepreneurs, it means that we'll be attracting more established companies with proven track records to the site, which should create continued buzz and traffic.'
From launching into the European market at the end of 2013, Crowdcube is now taking on the debt crowdfunding market. To have a look at which are the biggest players in the UK alternative finance market, have a look at our in-depth feature. Whether it is straight debt, invoice finance, equity funding or now mini-bonds, the options are growing for SMEs seeking finance.