With spring in full bloom and the sun shining brightly (at last), it's a good time to get out in the garden.
As green-fingered gardeners venture outside, the opportunity is there for fast-growing businesses to grab a slice of the market in the UK and worldwide.
Here are four of the fastest-growing UK gardening and fertiliser companies: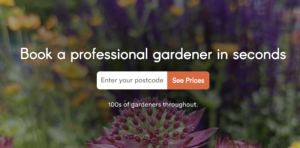 Fastgardener is an app that connects gardeners with clients and matches them up on price and location. Its team bills itself as an 'Uber for gardeners' who will clear, plant and prune your patch for you and takes a slice of commision on every booking made. Having started in London, the app which raised money via crowdfunding site Seedrs, is now available in all major UK cities. An hour of gardening costs around £20- 28.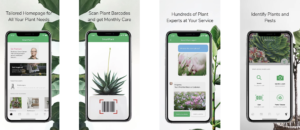 A new service that aims to make uncared for plants a thing of the future is SmartPlant, an app that shows you tips and tricks on how to tend to your plant via its web chat service. Currently worth £5 million, the user scans a plant barcode using the app which is then shown to an expert gardener who identifies it for you. It now has 11 commercial partners and has seen 400,000 plants scanned into its database.
Sirius Minerals, which will extract multi-nutrient fertiliser (Polyhalite) and mainly export it, is tipped to grow quickly in the next few years. It listed on the Aim market in 2005, jumping to the FTSE 250 in May 2017 and is aiming to secure £1.4 billion in UK government-backed debt this year.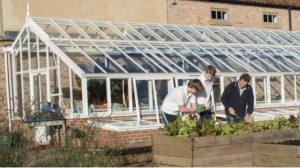 Griffin Glasshouses, a family business which creates premium greenhouses, employs 15 members of staff and has increased turnover by 10-15 per cent to around £1.5 million a year in the last few years. Managing director Linda Lane told GrowthBusiness that it is now (unexpectedly) winning new business in the US following the Brexit vote. It is also taking on a new Scandinavian distributor to gain new clients in Norway, Sweden and Norway.
Established garden centres using technology
Meanwhile, established player Wyedale Garden Centres said it had recently boosted its stock replenishment and cut down on write-offs with the use of automated supply chain provider Relex Solutions, according to an Essential Retail interview.
A study by Euromonitor found that the UK gardening market is set to grow by a 1 per cent compound annual growth rate at 2016 prices as demand for lawn mowers and fertiliser drives £4.3 billion in sales by 2021. Sales of robotic lawn mowers sales are also set to rise to be worth 12 per cent of the total lawnmower market by 2020.
Further reading on gardening
New €6m project demonstrates low-cost and sustainable production process for green compound