A Series A fundraising round worth $3.3 million has been closed by London-based Big Health to develop its products and ramp up US growth.
Digital health company Big Health has been backed by Index Ventures and Forward Partners in a deal that represents its first venture capital funding round.
The start-up has developed personalised behavioural medicine programmes on the web and through mobile devices. It uses data collected from devices such as wearable technology Jawbone UP to provide individuals with 'optimised help'.
Peter Hames and Colin Espie founded the product and, from its base in the UK, will be opening an American office at the end of 2014.
Hames, CEO of Big Health, says that it was through developing insomnia and not getting the 'effective treatment' he knew he needed that led to the business.
'Out of desperation I used a book written by Colin Espie to self-administer a course of CBT [Cognitive Behavioural Therapy] – and within six weeks I was cured,' Hames adds.
'Billions of people are suffering from problems for which we have proven behavioural solutions, yet most people can't access anything other than pills. By using tracked data and applying best practice from consumer technology, Big Health is making behavioural medicine accessible, affordable and usable – providing effective alternatives for those with problems such as insomnia and anxiety.'
Sleepio, Big Health's first product, serves as a digital sleep improvement programme through which a virtual sleep expert provides CBT techniques, personalised to problems and progress. Big Health says that results from Sleepio show that it is as effective as face-to-face consultation.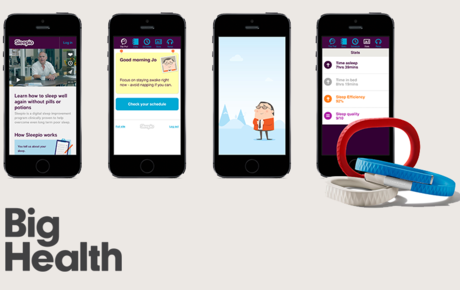 Big Health is used in a digital format and pairs with devices such as Jawbone
Angel investors in Big Health include former journalist and Wall Street analyst Esther Dyson, Peter Read, Gi Fernando and Rob Taylor.
Neil Rimer, co-founder and partner at Index Ventures, believes that the world is 'on the brink' of a far-reaching change in the way healthcare is accessed and delivered – with Big Health capable of being a 'defining company' in digital health.
More on recent Index Ventures deals:
'The whole way that healthcare is delivered could change because of innovation in consumer technology. Big Health harnesses the power of data collection that personal devices such as phones and wearables provide,' Nic Brisbourne, partner at Forward Partners, says.