The Women in Finance Summit is the industry's must-attend conference for all financial services professionals.
Growth Business, What Investment, Diversity Q and Bonhill Group are proud to announce the launch of the 2019 Women in Finance Summit. This event will be held on June 26 at ETC Venues, 133 Houndsditch, London.
The summit will be followed by the Women in Finance Awards, hosted at Grosvenor House in Park Lane.
The one-day conference summit will bring leaders and inspirational role models together to tackle today's trending topics within the financial services industry.
Increasing competition
One of the important developments the conference aims to tackle is the increasing competition from new market entrants – from innovative add-ons to a saturated range of banking products, through to startup companies offering a single product via single distribution channel to customers. These new ideas have had a significant impact on customer experience and engagement, bringing them to the forefront of financial institutions' radars.
Progress your career
Along with keeping up with industry trends, as professionals, we also need to focus and manage our professional progress. Getting to the top of the ladder can be quite daunting. This year's summit will also focus on how to invest in your career and personal development. The summit presents an exceptional platform for our distinguished speakers to share and offer you opportunities, top tips and the "how to" advice to advance your professional aspirations.
The Women in Finance Summit provides the perfect opportunity for professionals to network with like-minded individuals and to engage with informative presentations and insightful panel discussions, all within a diverse and inclusive financial environment.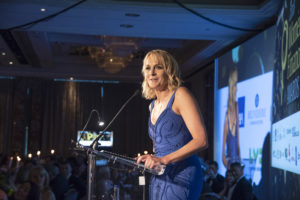 The summit is divided into three segments:
How using technology can advance the finance industry.
How to manage relationships and supporting responsible investments.
How to invest in your own personal development in the industry.
'These events are important to share best practice and ideas, but more importantly to encourage collaboration' – Nabila Aydin, global marketing director, FDM Group UK
Following the summit, we welcome you to the Women in Finance Awards ceremony. Here we recognise and acknowledge the exceptional achievements of female professionals across a range of financial sectors, from the world of venture capital and banking to accountancy and corporate law.
This is your opportunity to be part of the London series of Women in Finance Summit and witness the exchange of ideas as well as learn from case studies and industry experts.
Book your place at the summit now and we'll see you on June 26 at ETC Venues 133 Houndsditch in London.
To find out more, go to Women In Finance
Follow the conversation on social media @womenfinanceuk / @Wifinanceawards