What is CRM software?
A CRM system is a software program that allows you to automate the tracking, communication and reporting of customers or prospective customers.
A company's CRM stores all of your interactions with potential and existing customers.
For a micro business keeping an Excel spreadsheet about your customers might be enough but for a growth business, over time, you need to keep track of your many customer interactions at once, and that takes its toll on productivity.
The concept of CRM began in the 1950s, when the Rolodex became a desktop staple. The early 1980s introduced databases stored on individual computers. The term Customer Relationship Management (CRM) was coined in 1995, keeping customer databases on different computers and by the late 1990s CRM began moving into the cloud.
At its most basic, a CRM is a contacts database where you include things like email address, phone number, company revenue, number of times contacted, and other notes too.
>See also: 8 of the best workflow management systems for UK businesses
The more advanced CRMs reminds you to reach out to customers with automated email touches so you can follow the lead down the sales funnel all the way along to a sale, score different customers as to their interest and potential, even allow you to craft customer satisfaction surveys.
Add to this the fact that you can get real-time notifications when your customers perform a significant activity, such as visiting your pricelist or clicking on a link in an email.
At its core, a Customer Relationship Management system helps you build lasting relationships with your customers.
4 reasons your business needs a CRM system
American management guru Peter Drucker defined the purpose of business as being to create and keep a customer.
In that case, here are four reasons why your growth business needs a CRM system:
#1 – Better customer experience
The more you know about your prospects, both potential and actual, you can personalise your communications and create a richer experience.
#2 – Higher productivity
The less time spent on administrative work, the greater the number of hours your team have to get in front of sales leads.
#3 – Increased collaboration
Your sales team has overview of what their colleagues are working on, can backtrack on customer touches to date, and take over from them when they are out of office.
#4 – Greater insights
A CRM gives business owners and C-suite executives insight in to how well (or not) their sales teams are doing, conversion rates, and time taken to convert leads into sales.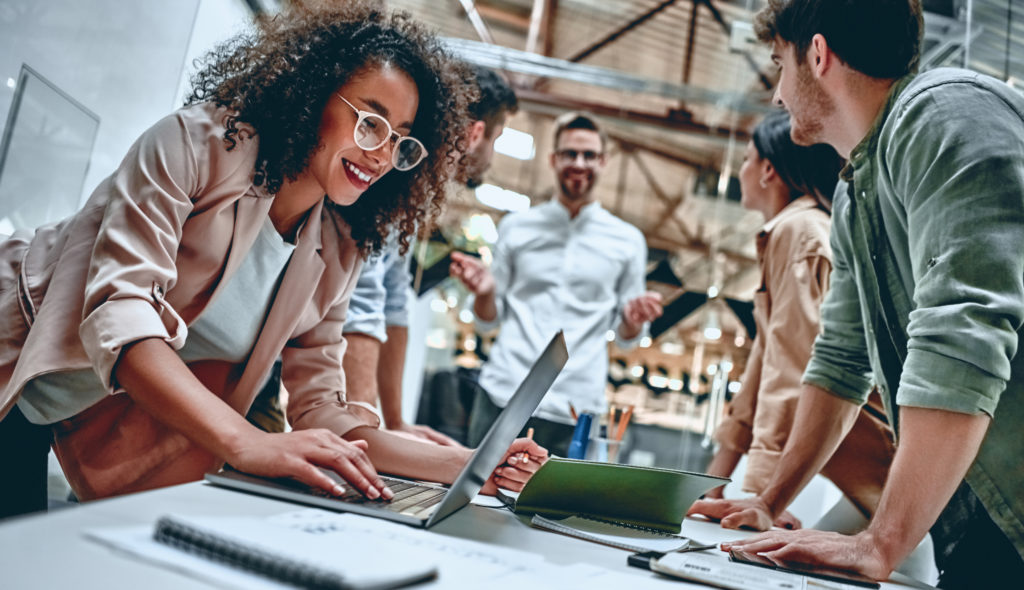 >See also: What is an ERP system and how does it work?
How will a CRM boost my profitability?
According to CRM giant Salesforce, 39 per cent of companies which use CRM see it as a competitive advantage or a strategic asset. so much so that nearly two thirds of companies are increasing their investment in CRM.
Salesforce says that businesses with CRM software enjoy:
44 per cent more leads
37 per cent increase in sales revenue
45 per cent increase in customer retention
And software search engine Capterra adds:
Companies with CRM increase sales by 29 per cent
In 2016 the ROI on a CRM is $5.60 per dollar spent
What CRM features should you look for?
A CRM system is a highly customisable software that you can modify to fit the needs of your business.
However, basic functionalities which you should look for in any system are:
Lead management
Managing leads across the entire customer lifecycle
Contact management
Listing all your customers and prospective customers by name, job position, location, etc.
CRM automation
This means marketing automation, sales force automation and customer service automation
Campaign management
Lead statistics
Campaign summaries
Website visits
Conversion rates
Social media integration
Following mentions on social media such as Facebook, Twitter and Instagram
CRM dashboard and analytics
General and bespoke analytics such as sales made, number of invoices and costs vs sales vs profit.
Cloud-based CRM vs On-premise
On the face of it, the question of whether your CRM should be hosted in the cloud or kept on sits is a simple one to answer: cloud computing offers you anytime/anywhere access to your CRM while a subscription Software-as-a-Service (SaaS) package means that your CRM is always up to date.
However, the answer is not so clear cut.
For a start, your cloud CRM provider's monthly subscription could add up to the point where the total cost of these fees rivals that of the upfront cost of upgrading and maintaining your own onsite system.
What is on-premise CRM?
On-premise CRM is a CRM system where you purchase software licences per the number of users who will be working in the system, and the system database is installed on your company's servers. Software licenses are usually a one-time, upfront purchase, but if additional modules are needed, additional costs may be incurred.
Advantages:
You get complete control of all your data and systems. You can decide and plan your upgrades, downtimes, and customisations
You don't have to worry about somebody hacking the third-party's servers – you are responsible for your own cybersecurity
If you have many people using the CRM, then on-premise can actually save you money. Cloud CRM providers mostly charge based on the number of users so building your own CRM can be prudent in the long run
Disadvantages:
Users will not be able to access the system from anywhere. It would be controlled based on their location or IP addresses
Building a mobile app for an on-premise server can be challenging, as most apps work on cloud servers
Upgrading your software would be expensive and deployment can also take a while
Requires upfront and maintenance costs. This can be costly for a medium-sized business, let alone a small one
What is cloud CRM?
Cloud CRM is a subscription service, with a subscription billing model, which gives you access to a CRM system via the internet. Data is stored in the cloud and hosted on another party's servers, not on your own.
Advantages:
There is no need to pay out large set-up costs upfront as all the hardware and servers for running the CRM are handled by the CRM supplier
You don't have to worry about maintenance and the additional costs and hassle that come with it
The service provider takes care of upgrades and other tech issues which come up. As these upgrades are handled externally, the deployment time of these updates is also less
As all the data is stored in the cloud, you have easy access to it. You can use the CRM anywhere, even when you are out of the office
Hosting data in the cloud allows you to create mobile CRMs which take data from cloud servers while on the go. These apps can be hosted on app stores and downloaded by your team
Customising your CRM software is easy through cloud services and can be deployed almost instantly
Disadvantages:
You do not have complete control of your data and systems. The data is still hosted on another server
Decisions as to when and how you want to upgrade the system are out of your control
Downtimes may occur when the servers are upgraded or repaired. Again, these are out of your hands and could clash with your work
The vendor's IT support team could be difficult to contact or drag their feet fixing your problem, which is not ideal
Best CRM software for mid-sized businesses in the UK
The best CRM software is the one that has the right capabilities and features for your scaling business.
There are a range of CRM software packages for mid-sized businesses on the market that can help with growth ambitions. But what is the best CRM software for your growth business? The key is to reduce complexity and improve scalability. Crucially, make sure you're not spending money on features which you don't need.
Prices listed are per month and billed annually.
Pros:
Has project management, invoicing and other capabilities
Create targeted lists for mass email marketing
Free starter package
Cons:
Slow operating speeds
Interface is dull
Not enough support for complex issues
As well as being a CRM, Apptivo helps with project management, invoicing and other tasks. Its functionality is broad and can be integrated with Google Apps, Dropbox, Office 365, Dropbox and PayPal.
With its internal features, users can create email templates and send emails to contacts, creating targeted lists for mass email marketing. Teams can take advantage of the mobile expense reporting and simple approval workflow tools to keep up their productivity.
Users can also take control of their supply chain with supply chain management, which has vendor tracking and inventory.
However, like a couple of other CRMs in this list, the software is somewhat outdated.
The starter package is free and gives you accessibility for up to three users and 500MB of data storage. On Apptivo, you've got a 30-day free trial of the full version.
Starter (up to three users): free
Premium: $8 per user (~£6)
Ultimate: $20 (~£16)
Enterprise: Bespoke (contact Apptivo)
Pros:
Group chat and instant messaging functions
Online document storage
Website builder included
Cons:
Free version doesn't include all of platform's features
Bitrix24 signature at the bottom of every email on free version
Interface a little outdated
Bitrix24 has group chat and instant messaging, project management, online document storage and a social intranet. Users have also got support for repeat sales and sales automation.
On the free version, users will see a Bitrix 24 signature at the bottom of their emails.
The free version also doesn't include all the platform's features, but it does have 5GB of storage and can be used by up to 12 people.
The platform accepts payments via PayPal, Stripe, Braintree and Authorize.net and it can issue quotes.
Free (unlimited users but limited functionality): €0
CRM+ (up to six users): €55 (~£48)
Standard (up to 50 users): €79 (~£69)
Professional (unlimited users): €159 (~£139)
Pros:
Task manager + CRM
Sales team can track bids, deals and proposals
Mobile app for capturing new leads
Cons:
Difficult to sync with G Suite – need to contact support desk to enable it
No email campaign capabilities
Free plan is limited to 250 contacts
As well as a CRM, Capsule is also a task manager. This means that you can manage your sales pipeline and create reports. Its features also allow you to track bids, deals and proposals. On the side of personal management, users can track tasks and emails, attach documents and share important bits of information with colleagues, while the calendar allows you to create tasks.
Its simple layout and design, with emails attached to the contact card, make it easy to use. It's customisable and comes with an app so you can use it on the go.
The downside? Syncing with Google is a bit basic – you need to contact a support desk to set it up. You'll also need to enter credit card details before you sign up to the 30-day free trial of the Professional and Teams packages.
Free (for up to two users): £0
Professional (per user, per month): £12
Teams (per user, per month): £24
Pros:
Free version of software with lots of features
Splits deals won with deals lost
Customisable per user
Cons:
Advanced plan is big jump
Doesn't integrate with social media apps
Limited features as your company grows
This one is more directed at sales teams.
You've got a free version which can manage your pipeline with interactions being tracked automatically and displayed on one dashboard.
What's more, you can split deals won from deals lost, appointments scheduled. Keeping up with matters in-house, HubSpot can be synced with Gmail or Outlook. You can make calls inside the CRM software, as well as create and measure email templates.
The platform received 2/5 on Trustpilot based on 50 reviews. There were some concerns over the major price jump between the free and paid-for versions.
Starter (includes 1,000 contacts): starts at £33.60 a month
Professional (includes 1,000 contacts): starts at £328 a month
Enterprise (includes 10,000 contacts): starts at £990 a month
Pros:
User-friendly interface
Affordable
24/7 customer support
Cons:
Customisation is limited
Some features too basic
No Facebook or Twitter integrations yet
NetHunt is a Gmail-based CRM which can be used as a Chrome or Safari extension.
Features include customising your email campaigns, building reports and forecasts, tracking team and performance and automating routine tasks. At present it can integrate with Gmail, G Suite and LinkedIn but several more are in the works including Slack, Outlook and WhatsApp.
It scored 4/5 on Trustpilot, but this is only based on seven reviews.
Professional: $24 (£19.50) a month
Professional Plus: $28 (£22.50) a month
Enterprise: $48 (£39) a month
14-day free trial
Pros:
Good for project management
Integration with other applications
Mobile-friendly features
Cons:
Features limited on free version
Interface outdated
No two-way sync with Google Calendar
Insightly focuses on project management – it can track project activity and performance and helps business users manage leads, customers, partners and suppliers. It also features workflow automation, relationship links and can convert closed deals to projects.
It includes configurable reporting, social media integration and integration with other applications, including Google Drive and the ability to take your work on the go with the mobile app.
It's certainly worth going for one of the paid versions, as the free version has more limited features.
Free (up to two users)
Plus – $29 (~£23) – 100,000 records
Professional – $49 (~£39) – 250,000 records
Enterprise – $99 (~£79) – unlimited records
Pros:
Highly customisable with apps
Many integration opportunities including Slack, Trello and Mailchimp
See what stage your deals are at and how you can progress
Cons:
No internal platform for email messaging
No email on the mobile app
No dashboard view
Pipedrive is another sales-focused CRM, which promises minimum input and maximum output –– everyone lands on single-page sales process for added simplicity, for example.
Users can make customisable web forms to get leads in the CRM and they can see what stage their deals are at and how they can progress. What's more, the apps can be customised in Pipedrive Marketplace, which is useful when scaling throughout the business.
On Trustpilot it has performed strongly, scoring 4.6/5 based on 831 reviews.
However, there isn't a dashboard view or internal email messaging capabilities so if those are features what will add value to your growth business, look elsewhere.
Users can experiment with Pipedrive's features on its 14-day free trial.
Silver: £12.50
Gold: £24.90
Platinum: £49.90
Pros:
Cloud-based CRM
Good for businesses with scaling potential
30-day free trial – longer than most
Cons:
Can be expensive
Has a lot of features – overly complicated
Frequent upselling
Salesforce, the big one. This is a cloud-based CRM, so businesses don't have to download anything, and it comes with a customisable dashboard. Its features allow users to generate quotes, forecasts and reports.
This CRM software is a good fit for start-ups with scaling potential, with opportunities to up sales, service and marketing offerings as the business grows.
Salesforce's system can integrate with Office 365, Google Apps and Quip for easy communication. And prices start at £20 a month.
If users want to test, they can download the 30-day free trial which gives access to the features on Sales Cloud's Professional edition.
Out-of-the-box CRM for up to 10 users: £20
Complete CRM for any size team: £60
Deeply customisable sales CRM for business: £120
Unlimited CRM power and support: £240
Pros:
Can self-host if you have developers on-staff
Mobile-friendly features
Clear pricing structure – no hidden fees
Cons:
Users have said the features are a little dated
No customer issue reporting feature
Difficulty in using certain features
SugarCRM has a simple interface and no hidden fees. It has flexible CRM solutions that cater to every business. It is flexible and includes the automation of certain processes, which can help save time and cost.
SugarCRM can self-host, which makes it ultra-customisable, although the business must have good developers on staff.
If your business values aesthetics, be warned that the platform and its features look quite old-fashioned.
A seven-day free trial will give you some more time to decide.
Sugar Professional: $52 (~£41)
Sugar Enterprise: $85 (~£68)
Sugar Market: $1,000 (~£797)
Pros:
Integrates with G Suite and Office 365
Can build apps for more customisation
Strong email marketing features
Cons:
Complicated – a lot of options to configure
Limited email marketing templates
Domain name verification lengthy
The other big player in the CRM market, Zoho is a highly customisable CRM product, with apps that span across sales and marketing, finance, email and collaboration, IT and help desk, human resources and custom solutions. G Suite and Microsoft Office 365 integration is also possible.
Apps include:
Invoicing
Mobile device management
Analytics
Users can use the 15-day free trial to test out the full version, which is free for up to three users.
Free: (up to two users): £0:
Standard (up to five users): £10 per user/per month
Professional (up to 15 users): £16 per user/per month
Enterprise (up to 25 users): £30 per user/per month
Further reading