New research reveals that the majority of chief financial officers (CFO's) are expecting modest or substantial growth in their home country this year.
The Global Business and Spending Outlook report, from American Express and Institutional Investor which surveyed over 100 senior finance executives from the UK, US and France, found CFOs are optimistic about business in their country this year.
Of the three, the UK expected the most substantial economic growth  (38 per cent) with France (10 per cent ) and the US (1 per cent ) behind. However, nearly two thirds (63 per cent) said their overall spending would continue to be 'moderate and controlled' in 2018.
The latest poll marks a bounce back from the last few years of reduced confidence seen in Europe but mitigating future risks remains high on their agendas.
Overall, 91 per cent anticipate domestic economic expansion this year (with 38 per cent expecting substantial growth), compared to 79 per cent across Europe and 85 per cent globally.
As the chart below shows, most CFOs of companies located in the UK, US and France believe they will see either modest or substantial growth in their home country.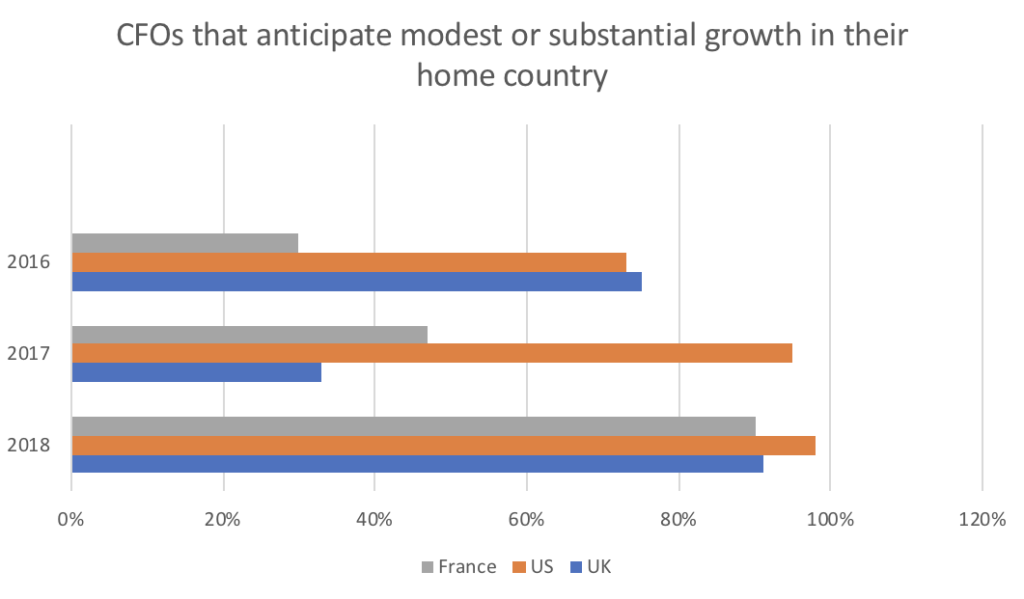 In this year's study, 74 per cent reported increased revenues over the last twelve months, versus 54 per cent globally. UK CFO confidence is further shown by an average planned increase in spending and investment of 8.6 per cent in their businesses over the course of the year. The study also revealed that nearly three quarters (74 per cent) of CFOs had already invested in AI.
Confident yet watchful
Yet, while confidence has risen, UK CFOs remain watchful – with 83 per cent stating that unforseen economic or political events negatively affecting their business is a concern. The research also indicated that uncertainty outside the UK- perhaps the US's trade war with China- is more of a worry than risk from within it, though over half of respondents (53 per cent) say they are unlikely to withdraw from high-risk geographies in response to political or economic risk.
37 per cent of UK CFOs also plan to invest more in sales and marketing activities compared to last year.
More spending post GDPR
It's not surprising to hear that nearly nine out of ten (88 per cent) will continue to invest more time, attention and money on protecting customers', suppliers' and employees' data in the next two years, making it the most important IT-spending priority over the coming year.
Positivity around growth is also expected to have a knock-on effect on hiring and headcount. Headcount is expected to increase in 2018, with 51 per cent of UK CFOs anticipating at least an 8 per cent rise. In line with the rest of Europe, increasing wages is the most popular way for CFOs to attract and retain staff.
Commenting on the research, Jose Carvalho, Executive VP, American Express global commercial services commented, 'While there's no denying that we have a long way to go until the political and economic concerns of the UK's business leaders are pacified, it is hugely encouraging to see leading CFOs' focusing on shifting back to operational norms.'
Further reading on the economy