Augmented reality (AR) hardware firm WaveOptics has announced a £20 million Series C funding round with investor Octopus Ventures.
The investment, supported by IP Group, Robert Bosch Venture Capital and Gobi Partners as well as Goertek and Optimas Capital Partners, is the largest AR hardware fundraise in Europe in 2018.
David Hayes, WaveOptics CEO commented, 'These additional funds will enable us to scale up rapidly around the world, particularly in Asia and the US. This will include our ability to manage and support an increasing number of customers across different sectors.
'The market is gathering pace with AR wearables expected to become available in volume by the end of 2019.'
See the image below which shows how the hardware works.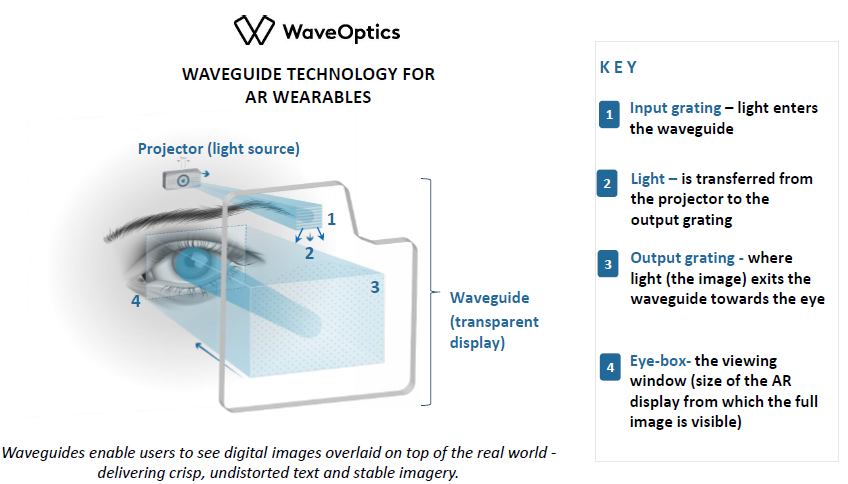 Octopus's stake
Simon King, principal at Octopus Ventures did not disclose how much stake Octopus has in WaveOptics but it's likely to be between 10-40 per cent of the business, which is a typical minority investment that the firm will make. Octopus aims to build its investment over a few rounds to a 'sweet spot' of 20-30 per cent across a number of deals.
Octopus sees Augmented Reality as being much bigger and universal than virtual reality (VR), which seems to be in decline. They say it has the potential for it to be the next iPhone in terms of how people interact with computers. Simon King believes that people will still be carrying around smartphones in their pockets but will instead be interacting with it via a headset in the near future.
Company is still in project-based mode
King told GrowthBusiness the company was not currently reporting revenue because it is a 'design win' type business and project-based. He says, 'A lot of the early revenues in WaveOptics are from projects. This means customers testing out whether the tech works and how they would use it in products.'
For the company to be able to ship millions of products to consumers the company will work with customers to create early prototypes and demos. The length of process for AR hardware from inception to shipping to customers takes 18 months to two years – similar to a smartphone.
Octopus says recurring revenue and customer churn rates are not relevant for the company because the company is project-based.
According to Verdict, the AR market will be worth $60 billion by 2023.
The round is still currently open for investment.