Crowdfunding is a great way of businesses of finding out whether their big idea can really capture the imagination of investors and, of course, raise money effectively.
In 2017, £217.7 million was invested in firms via UK crowdfunding platforms like Crowdcube, Seedrs and SyndicateRoom.
And in 2015, craft beer darling BrewDog showed that serious money can be raised for a single company as it broke crowdfunding world records at £25 million – one that still exists today.
Since then, the likes of fintech start-ups Monzo and Revolut have raised £2.5 million and £3.9 million via crowdfunding respectively.
Today, crowdfunding is one of the main platforms to raise investment and test ideas due to its high profile and active community which has been fuelled by the internet and social media.
Thousands of start-ups and established companies of all sizes and genres launch crowdfunding campaigns to raise investment for their business venture in an inexpensive and time efficient way.
However, with so many different one's out there, which one do you choose to raise investment for your business?
Below is a list of the top ten crowdfunding platforms.
Potentially revolutionary for traditional finance, Crowdcube started as a start-up oriented, equity crowdfunding platform, which means it gives people the chance to buy equity in the businesses on the site in exchange for investment.
It now has expanded this offering to two different types of investment opportunity: equity (stake in a company) and mini-bonds (lending money). FCA approved, it still focuses on early-stage businesses and work as an alternative to banks, Angels or venture capital funding.
Like FundingCircle, Seedrs is a form of equity crowdfunding that specialises in investing in start-ups. It was the first platform to gain FCA approval and at its most simple, it focuses on seed-stage businesses with investments starting at £10.
As a platform it stands out for its support of start-ups throughout the funding stages, from preparation to completion. Similar platforms include Fundable, SeedInvest and Seedups.
Since 2008, more than 800,000 campaigns across 235 countries have been launched on Indiegogo, the world's biggest crowdfunding site.
These range from film and arts-based campaigns, to young start-up businesses. They've even crowdfunded a baby. Unlike Kickstarter there is very little in terms of curation of the site, so anything that raises the funds can become a reality and you do not have to reach your target to keep what you raise.
Crowdfunding figures in 2017/2018 in the UK
The data below shows that Seedrs, Crowdcube and SyndicateRoom are facilitating the most crowdfunding deals.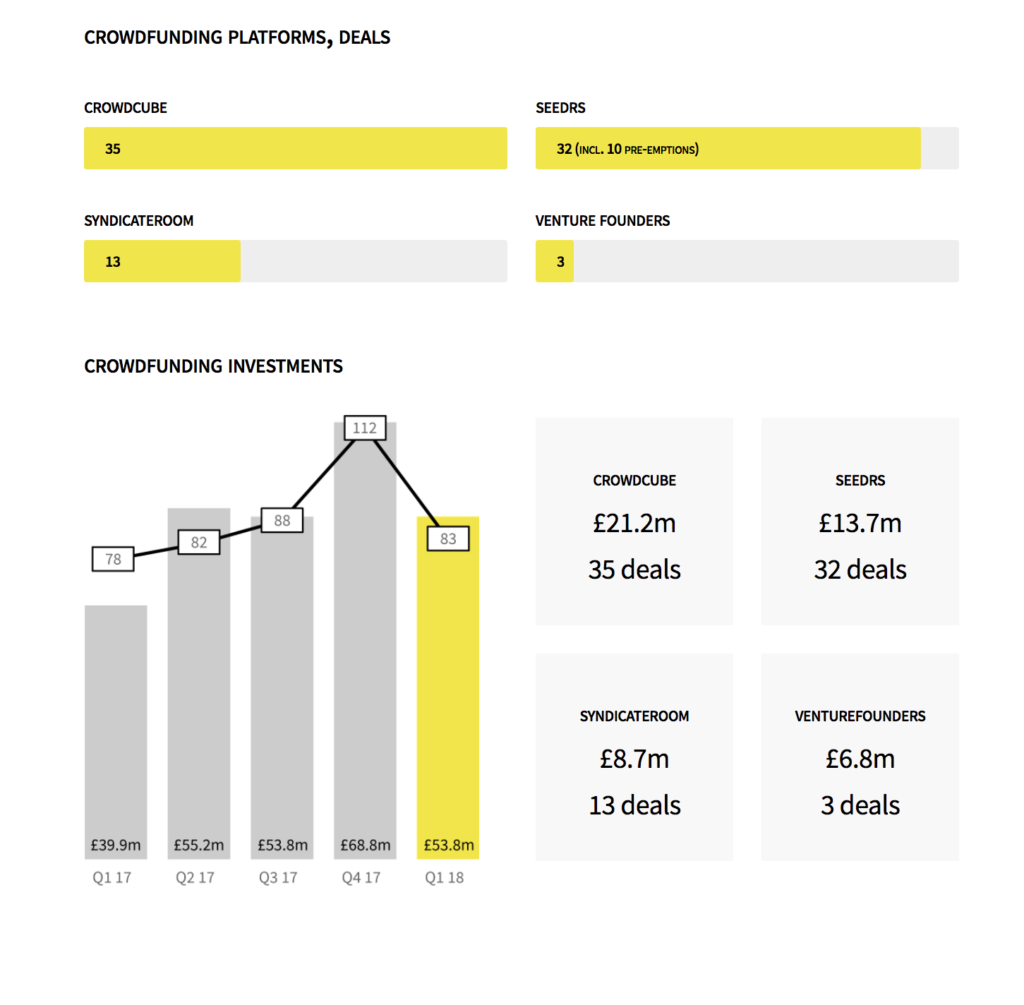 LendInvest is an online lending platform for mortgages and property loans.
Debuting on the London Stock Exchange in February 2015, its success is indicative of the maturation of the alternative finance sector. This is further suggested but its high growth rates, which mean this year it could be lending up to £250 million, with a turnover of more than £20 million.
Further reading on crowdfunding
Formed in 2010, Funding Circle is a peer-to-peer lender now valued at $1bn. It launched in the wake of the financial crash, filling in a market gap by creating a debt crowdfunder that allowed small businesses new means of financing their projects.
The average loan amount is £60,000 – though businesses can borrow up to £1 million in secured loans and £500,000 in unsecured loans – and £35 million is lent to small businesses every month. Consequently, more than £550 million has been lent to UK businesses to date. Over $850m has been lent to 8,000 businesses globally.
Founded in 2011 in response to the warnings given by the UN that it will take around $1 trillion of investment to prevent the world warming by more than 2 degrees, Trillion Fund focuses on raising money for environmental and social projects.
Co-founder of QI John Mitchinson, joined forces with two other writers to launch Unbound, a digital publishing platform that uses crowdfunding to allow members of the public to fund and influence authors' works at the point of creation.
One of the first in the UK to try this format for a publishing house, it lets authors pitch to their potential readers but relies on book lovers to provide the finances for publication. It already has the best-read-aloud The Wake (Paul Kingsnorth) nominated for the Man Booker Prize 2015, and has published over fifty books. Similar platforms for publishing have included Readership and Pubslush.
Peer-to-peer lender RateSetter, founded in 2010, has lent over £2.5 billion in loans, earning over £100 million in interest and is currently backed by Neil Woodford. The price of a businesses loan is determined by the supply of money from lenders and demand for money from borrowers, with both parties determining the rate they will accept.
Angel List, is exclusively for startups and angel investors – affluent individuals who provide capital in exchange for convertible debt or ownership equity – and in 2015 launched its UK syndicate counterpart.
"The platform has enabled $700 million in start-up investments since 2013, including Uber"
Whilst this UK branch has been hindered by EU regulations, the company is still making a major impact as both an equity and debt platform. Angel's Den is a similar UK-based crowdfunder, although this platform also accepts donations and allows investment in any-stage businesses.
Much loved by arts and music entrepreneurs who want to get their creative project off the ground Kickstarter can also apply to tech and service-based businesses like ckbk, a subscription service that allows users to use the world's best cookbooks for a small monthly fee. The firm is heavily currently oversubscribed on its £19,000 target.
"Kickstarter launched in 2009 with the aim to find a "new way to fund and follow creativity"
Founded by Perry Chan, it quickly went global and now over $1.4billion has been pledged to its projects using its patronage style rewards system.
In 2014 alone, the platform brought 22,252 projects to fruition, and 3.3 million people from almost every country donated over half a billion dollars.
Looking for funding? Find the right finance for your business here