For the first time in 2016, companies based in the regions received more VC and private equity investment than companies based in London and the South East. This according to Tech Nation 2017, the latest edition of the annual report from Tech City UK, which also revealed that London and the South East received 28 per cent of VC and private equity investment but regional businesses received 72 per cent, worth £9.2 billion.
UK tech is growing rapidly outside the capital
From traditional tech clusters such as Cambridge, Bristol and Bath, to emerging tech hubs such as Sheffield, Sunderland and Brighton, record investment flowed into the regions in 2016. Last year, 68 per cent of UK tech investment was recorded outside London (£4.6 billion), according to the report.
The number of digital tech businesses that have been started London is up 42 per cent over five years. Meanwhile, in Newcastle the number of new businesses started has leapt by 39 per cent and in Belfast it is 37 per cent.
According to Tech Nation 2017, London, Bournemouth & Poole and Newcastle are home to the highest concentrations of high growth digital tech businesses in the UK.
Manchester-based PwC corporate lawyer, James Fitzgibbon believes that while 2016 was a record year for investment into the North, the majority is still being invested into London. Northern tech companies are being forced to head south to seek investment.
"In the last year I've met a diverse spread of Manchester's new technology businesses and entrepreneurs. Some are absolutely flying, whilst others are struggling to get off the ground, finding it difficult to secure funding to achieve their ambitions. The difference? Often it comes down to being able to tell a story," he told GrowthBusiness.
According to Fitzgibbon, businesses should be able to answer what makes you and your technology different, how does it make things better for the customer, or end user or the world at large, what investment do you need, and why, and how will you generate revenue or grow value.
"When you can answer these questions, address other things which are important to make a sustainable business. Who owns the intellectual property? Do you need to bring other skills into the team? Do you have a business plan for one, two, or three years? Your primary focus though, is can you articulate what it is about your product or service that is disruptive, different, or augments what is already out there? Why will it be a success and why should an investor believe in you? Confidence, in your business and in yourselves, is key," he added.
Outranking the rest of Europe
The UK digital tech sector is one of the country's economic success stories, growing twice as fast as the wider economy and creating highly skilled and well-paid jobs. The sector remains at the epicentre of the European tech scene, employing more than 1.6 million people, with salaries on average 44 per cent higher than other sectors.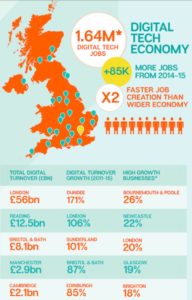 The UK's tech sector now attracts more new investment than any other continental country. In 2016, the UK outranked all other European nations in terms of the size and value of its tech sector, racking up £6.8 billion in international investment. In comparison, its closest rival, France, secured £2.4 billion and Germany £1.4 billion in foreign investment over the same period.
In terms of capital cities, London attracted £2.2 billion of VC and PE investment in 2016, around £1 billion more than its two closest competitors, Amsterdam (£1.15 billion) and Paris (£1.07 billion). Interestingly, the overall number of VC and PE-backed start-up deals fell across the 10 largest European digital tech hubs, and digital tech investment was 34 per cent lower than in 2015, reflecting a broader global correction, following record inflows during 2015. It also reflects heightened economic and political uncertainty across Europe and the US in 2016.
Despite this, the UK tech sector saw record levels of M&A in 2016. The largest deal in the sector was the £24 billion sale of Cambridge-based Arm Holdings to Softbank of Japan. In terms of open-source data, the report looked at Github, Europe's leading platform for developers sharing code that helps build innovation. London again outranks the rest of the continent, with twice as many Github users (23,265) as Paris (11,990) or Berlin (10,145).
As a marker for collaboration, Tech City looked at the number of entrepreneurial Meetups take took place in London last year, which neared 22,000, nearly three times more than in Berlin (7,963), Amsterdam (7,915) or Paris (7,581).
Future challenges to scale
Based on its exclusive survey, Tech Nation 2017 also highlights six areas which survey respondents highlighted that are needed for digital tech growth and innovation to continue, reflecting the challenges facing the tech sector as the country prepares to leave the European Union in the next few years.
Skilling up the nation – more than half of survey respondents said finding employees with the right skills was a major challenge, given the pace of change of the industry.

Attracting the best and brightest of global talent – survey respondents felt that this must remain a priority particularly in light of Brexit.

Gender diversity – in more than half of tech businesses surveyed, men outnumber women three to one thereby leaving a huge untapped pool of talent.

Access to finance, at every stage of growth – even at current levels of investment which outpace the rest of Europe, investment capital is still behind other regions including the USA and centres in Asia.

Digital connectivity – staying abreast of technology advancements such as 5G is key to staying internationally competitive.

Developing co-working spaces – improvements to the business rate system and leases would help improve this vital backbone to the sector.
"Tech Nation 2017 shows how rapidly the UK's tech innovation and productivity are gathering momentum. There are now significant tech hubs all over the UK, attracting both international investment and overseas talent. Tech careers now pay 44 per cent more than the national average wage," Gerard Grech, CEO of Tech City UK said. "These foundations will be crucial as we prepare to leave the EU. We need to maintain access to skilled workers while doubling down on home grown tech talent. And we need to think big. This report is all about working together on a common vision: the UK as a global leader in tech."
Many of those questioned for the report stressed the importance of an immigration system that allows the sector to continue to attract the brightest and the best when we leave the EU. Echoing this, Wendy Tan White, general partner at Entrepreneur First commented that the nation should prepare for some big challenges ahead, not least finding the skilled staff to continue growing at this rate, as the UK prepares to leave the EU.
"London in particular has benefitted from migration, with 20 per cent of start-ups staffed by EU nationals. Whatever happens in the coming months, the UK must continue to be an attractive place for investors to want to put their money, prioritising support and infrastructure for the start-up economy."