Starting with London, Twizoo is using conversations and statements from Twitter to create a platform for restaurant recommendations.
The business partners with restaurants to also offer promotions and has been named as one of the GrowthBusiness 2014 Tech Innovators.
Based in: London

Founded in: 2013

No. of employees: 2

Company founder: Madeline Parra
Founder profile:
Before setting up and becoming CEO of Twizoo, Madeline Parra held a variety of roles at GlaxoSmithKline, most recently heading up the global digital strategy for an HIV product launch. She received her BSc in Mathematics from Davidson College, a top ten liberal arts university in the US.
Background business profile:
Twizoo is an app that gives restaurant recommendations based on what people are saying on Twitter. Using a fun and easy to understand data visualisation, users can quickly see what's hot and what's not when deciding where to eat or drink on-the-go.
Inside track:
We all look at online reviews when it comes to selecting a restaurant and bar, but who actually writes one personally or trusts what has been written?
Twizoo is bringing together the review game, social media and real-time offers to create an app based on what people are really saying about an establishment.
'We built a prototype and then went through an accelerator and starting finding out the problem we wanted to solve,' Madeline Parra says.
'We used focus groups and found out that the market opportunity was in mobile, the need for quick decision making on where to eat and drink while on the move.'
Existing rivals were desktop experiences transported to mobile, while Twizoo has been specifically built for the mobile framework.
Earlier in her career Parra discovered that while social media monitoring was being conducted by big businesses, none of it was being fed back to the consumer, a system that is now at the core of what Twizoo does.
'I think personally the biggest challenges so far has been figuring out snappy ways to market a mobile app,' she says. 'Restaurant recommendations and reviews is a mature industry, so coming up with catchy ways to market is hard – but we have good plans in mind.'
Twizoo has now begun a marketing push, with one facet being a hastag Tuesday campaign. The company will tweet a clue which will then lead a user to a cafe or restaurant in London where they will receive something free.'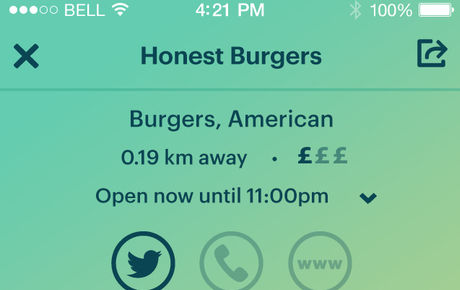 Recent milestones:
Soft launch of Twizoo on iOS
Eight restaurant subscriptions pre-launch
Won TSB Grant for Innovation in Hyperlocal Advertising
Closed seed investment
Full launch ­­– PR and marketing
Android release
Upcoming milestones:
Expansion into other cities – raising investment in Dec 2014
Recent technology:
Twizoo has developed a ranking algorithm based on real-time Twitter analysis, and is currently filing for a US patent. Alongside the apps, Twizoo has released an advertising platform, allowing restaurants to promote Tweets within the Twizoo app.
Products:
iOS app
Android app
Restaurant advertising portal (web)
I
nvestors:
Paul Forster
Jensons SEIS Fund
Contact details:
1 Bath Street, London, EC1V 9LB
Tel: 07453332032
Email: hello@twizoo.com
Website: www.twizoo.com