Producers of new TV shows often find it difficult to market their offerings to global markets, mainly because there has never been a system for buyers to quickly view what is on offer.
Now ScreenHits, which has been named on of the new GrowthBusiness Tech Innovators companies, is using technology to bring together producers and acquirers.
Based in: London

Founded in: 2012

No. of employees: 15

Company founder: Rose Adkins
Founder profile:
Rose Adkins has worked in senior executive positions at The Hollywood Reporter, Sundance Institute and Universal Pictures. After Universal Pictures, she oversaw all foreign distribution for Ralph Farquhar, producer of TV shows such as Married with Children and the Real Husbands of Hollywood. Since 2008, she launched her own production company called TAG, The Adkins Group and most recently, ScreenHits. She studied at the University of Southern California and California State University, Northridge, where she received a degree in Business Administration.
Background business profile:
ScreenHits was created to make the world of finding content, easy and simple. Through a curated and filtered platform, broadcast/cable acquisition execs and consumers looking for content can come to one place to find a curated list of the best TV shows and films from around the world.
Inside track:
When GrowthBusiness first came into contact with ScreenHits the business, and founder Rose Adkins, were presenting at the London Web Summit in front of a panel of judges.
Now, from its base in West London, the business has raised a growth finance round led by a group of high net worth angel investors. Backer Rory Fleming believes that ScreenHits is a 'unique investment' due to its bringing together of the best of consumer online video platforms with global content distribution on a business-to-business side.
The ScreenHits online platform provides a sharing system that allows TV content buyers to procure 'high-end, professional original programming' online. The search engine uses a proprietary algorithm that provides a 'hit rate' and allows buyers to optimise purchasing decisions.
Ambitious entrepreneur Adkins has a number of benchmarks she'd like her business to achieve in the coming year, such as an Android app for mobile phone and global partnerships with mobile operators.
Alongside its acquisition and distribution services, ScreenHits also provides a way for broadcasters to gather input and feedback from audiences. The business has signed a number of new distribution deals recently, such as Venezuelan network Venevision and NBCUniversal-owned Telemundo.
Like other GrowthBusiness Tech Innovators 2014 companies, ScreenHits has utlised the services of UK Trade & Investment (UKTI) as it grows.
UKTI vice consul Richard Powell says, 'Connecting with Rose Adkins at the beginning stages of setting up the London office, we were able to provide strategic introductions to key industry players, as well as on-the-ground support in terms of logistics around company information, accounting, tax, and office space.
'This kind of investment [funding deal] highlights the very current convergence of creativity and technology, and ultimately stimulates the UK's creative sector, showcasing the country as a world destination for innovation, technology funding and R&D.'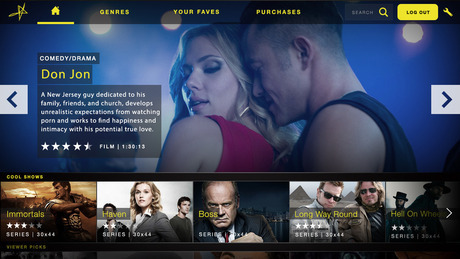 Recent milestones:
Completion of a TV app for a global manufacturer of Connected Smart TVs
Launch of consumer platform promoting hit shows and films and broken studio pilots
The consumer platform launched on July 1st with a soft launch
Secured major content deals with Fox, Telemundo, Eone, Fremantle, Hat Trick, Starz, Relativity, Venevision, Caracol, Hasbro, Keshet, Armoza, Al Jazeera, etc
Upcoming milestones:
Launch of Android app for mobile phones
Announcement of global partnerships with mobile operators
Pilot showcase
The unveiling of new features on B2B platform to enhance buyer and distributor experience
Recent technology:
Conversion from progressive download to HLS Streaming, addition of new algorithms for search recommendations, database matching, highly advanced DRM solutions, and delivering content in every condition regardless of device, internet bandwidth, etc.
Products:
Consumer AVOD and TVOD platform selecting the best TV shows and films from the leading distributors and producers globally
Business marketplace for producers and distributors to market, promote and sell their content directly to broadcasters and cable operators globally, online
Alliances:
Tech partners:
Microsoft Azure
BrightCove
Tremor Video
Videology
Client list highlights:
Fox International Channels
Eone
Hasbro
Keshet
TVF
Armoza
Telemundo
Venevision
Caracol
Hat Trick
AG Properties
Al Jazeera
I
nvestors:
Contact details:
Canalot Studios
222 Kensal Road, Studio 312, London, UK W10 5BN
Tel: 0203 021 1860
Email: info@screenhits.tv
Website: www.screenhits.tv