With a previous business career that had taken him all around the world, Alex Hunte was well versed in the options that were available for internet-based communication.
Moving into the entrepreneurial world, his LyteSpark venture has achieved fast growth and a spot in GrowthBusiness Tech Innovators 2014.
Based in: London

Founded in: 2013

No. of employees: 4

Company founder: Alex Hunte
Founder profile:
With media, technology and broadcasting experience built up over 15 years experience, Alex Hunte previously managed the production department at Sportal and served as head of production in UEFA's Media and Technology division in Geneva. Hunte has an MBA from Hult International Business School in Boston Massachusetts and studied business analysis and valuation at Harvard.
Background business profile:
LyteSpark is a fast, flexible video conferencing platform that provides an alternative to Skype, GoToMeeting or Webex. By intuitively combining video with other tools and services, LyteSpark makes it easier for businesses to operate in a connected yet distributed global economy.
Inside track:
Giving up a job working for the European football administrative body, UEFA, is not something most men would take likely – but for the entrepreneur in Alex Hunte, he'd developed a burning desire to go it alone that he couldn't pass up.
Realising what he really wanted to do was build something from the ground up, Hunte had no real exposure to entrepreneurs so decided to take a course. It was whilst completing an internship that he build a raw video platform so that he could connect early stage tech projects with MBA students that the beginnings of LyteSpark.
'Doing that I had the realisation that connecting people who wanted to was very powerful, but a way to do that didn't exist,' Hunte says.
'So imagine you have Skype. You can try to connect but who do you want to speak to, that's what LinkedIn does.'
The first step in terms of getting LyteSpark going was to do a minimal viable product for speed networking, similar to a chat roulette with LinkedIn. It took groups and invited them to have quick five minutes chat to meat each other, and was very successful Hunte says.
However it was through doing this and getting 'tremendous feedback' that the entrepreneur realised he had built something far bigger, an interface to do video conferencing.
The business has also conducted some detailed research to determine how much acquiring new customers will cost, so that when the required new investment does arrive the team knows how to push the growth button.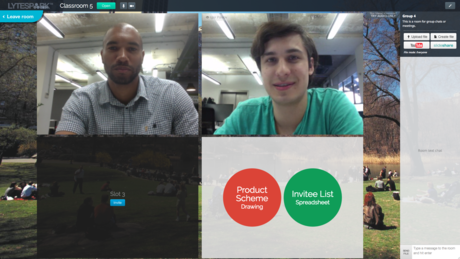 Recent milestones:
Public beta launched
Angel round closed
BT innovation awards finalists 2014
Vator Splash London finalists 2014
Upcoming milestones:
First distribution partnerships
Launch of education and events beta
Opening seed round
Marketing launch
Recent technology:
LyteSpark uses WebRTC, a brand new open source technology. The interface uses secure sockets for instant display rendering with zero loading time. No software downloads are required. We host everything in the cloud with peer-to-peer connections enabled by the browser embedded technology.
Products:
LyteSpark Video Conferencing for Business
LyteSpark Virtual Learning
LyteSpark Virtual events
Alliances:
I
nvestors:
Contact details:
5 Bonhill St, London, UK EC2A 4BX
Tel: 0774 637 0745
Email: info@lytespark.com
Website: www.lytespark.com