Investors who invested in fintech startup Revolut on crowdfunding platform Crowdcube have realised returns of around 19x this week.
Users collectively put £1.01 million worth of capital into Revolut in July 2016 and by April 2018 the company received a $250 million investment led by venture capital firm DST Global. This boosted its valuation from £42 million to £1.2 billion, making it one of the first crowdfunded unicorns.
The crowdfunding in July was done alongside investments from Balderton Capital and Index Ventures.
What is Revolut?
Fintech firm Revolut is a pre-paid debit card that allows users to exchange currencies and transfer money internationally with the interbank rate, rather than the extra fees that banks slap on users. The company, which is five years old and is led by Nikolay Storonsky, has one million active monthly users.
Investors have been offered the option to either sell their shares back to Revolut or retain them.
Revolut is the second business to join the ranks of Crowdcube's 'Unicorn Club' of companies valued over $1 billion, after BrewDog achieved unicorn status in April 2017.
Nikolay Storonsky, co-founder of Revolut said, 'Consumers tend to have distant relationships with their banks, but we wanted to create a community around the Revolut brand by letting our customers invest and financially benefit as we grew. Financial gains should not be exclusive to banks, but also to the people which help them grow and succeed.'
Revolut, which saw monthly transaction volumes rise 700 per cent to $1.5 billion in the past year, also plan to use cryptocurrency trading and insurance as a way of growing in the future and increasing shareholder value.
See more:
Analysis: Fintech disruption should inspire us all
Fintech gold payment app crowdfunding £1.25 million
Is investing in Crowdcube safe?
Of course, there is always an element of risk in investing in start-ups, but Crowdcube, which is regulated by the FCA, said in a blog post this year that its company survival rate was 89 per cent and that 57 per cent of businesses had raised secondary funding at a higher valuation, therefore generating positive returns for investors. However, 21 per cent of businesses listed on Crowdcube collapsed between 2013 – 2015.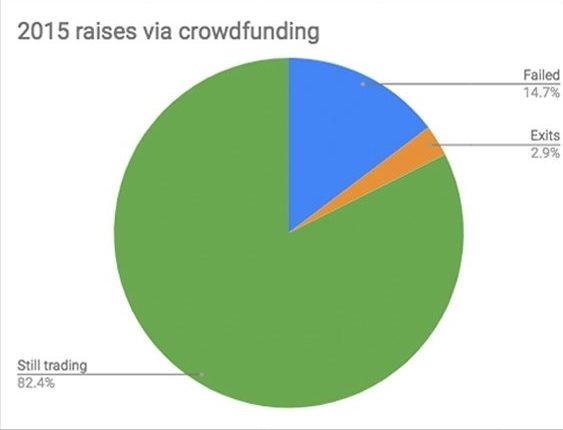 Luke Lang, co-founder of Crowdcube said 'This is a huge moment for the finance sector – and for Crowdcube, which was built to give anyone the chance to invest in the next big thing. Crowdcube has made it possible for the man or woman in the street to invest in a unicorn and bank real cash profits at a level only experienced before by the closed world of venture capital firms.'
Consumer market ready for disruption
Jeremy Steinson of Patronus Partners, a London-based investment management firm, bought the maximum £5,000 allocation of Revolut shares when they raised funds on Crowdcube in July 2016. This month he sold a sixth of his allocation, at a 19x multiple, following the secondary market created after DST invested in Revolut in April. He lives in Suffolk and is 32.
He said, 'This was my third or fourth investment using the Crowdcube platform. My work often involves foreign exchange so knew that the consumer market was ready for disruption and I already had a Revolut card and liked their model, so I put in for the maximum allocation of shares when they raised on Crowdcube two years ago.
'I generally invest in listed equities but investing via Crowdcube was simple to do and I'm obviously very pleased with a 19x return that I've now part realised. I've sold about a sixth of my allocation and I'm retaining the rest of my investment in Revolut, who seem to continue to have a phenomenal growth rate of customers and hopefully look set for more disruption within other areas.'