Atomico, Benesse Holdings and Globis Capital Partners are coming together though a £3.4 million funding round.
The subject of the new investment is Quipper, a London-based technology start-up which uses web and mobile applications to create a learning platform.
Set up by Masayuki Watanabe, who previously was the co-founder of mobile social gaming business DeNA, the company's Quipper School offering allows teachers to allocate class tasks directly to computers and mobile devices. It then provides a way to monitor student performance using analytics tools.
Quipper has now taken its total fundraising level over the $10 million mark. Its funding began in August 2011 when it raised £400,000 from Atomico, and was then topped up by £2.3 million in May 2012 when Atomico was joined by Globis Capital Partners and Benesse.
According to a statement, Quipper has achieved 'solid growth' of its Quipper School service in Asia alongside its efforts in the US.
The company's backing by Benesse also extends to a partnership with the publishing firm – with the two developing a data-driven learning service trial for tablets.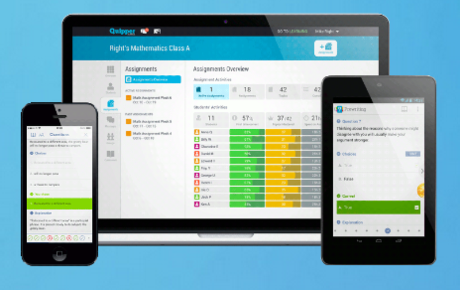 Quipper works across mobiles and tablets
Quipper's mobile applications (apps) have now been downloaded some 8.5 million times, the start-up says, with 300,000 questions now covered.
With funding in the bank, Quipper will be continuing to focus on an Asian market including Thailand, Indonesia, Vietnam and the Philippines. However, new Asian countries are set to be targeted as well as some in Latin America.
The business is the latest in a series of education technology investments, with one of the most notable being the backing of Gojimo by Index Ventures in January.