Online interaction analytics start-up Formisimo is being backed by a syndicate involving start-up accelerator Seedcamp, through a venture capital investment.
Also joining Seedcamp are two London-based angels and The North West Fund for Digital & Creative, a £15 million European Regional Development Fund and European Investment Bank-supported fund which invests in ventures based in, or relocating to, the North West of England.
Launched as a beta offering in May 2013, Formisimo serves as an analytics tool allowing users to understand better how customers use their web forms. Since entering the market, exiting beta stage in January, and growing it has tracked in excess of 380 million customer interactions.
Al Mackin, co-founder of Formisimo, reveals that the business has been self-financed to date, despite its 'significant growth'.
'With the support of our investors, advisors and mentors we can enhance our current offering, grow our team in Manchester and create further ways that make it easier for consumers and businesses to exchange information,' he adds.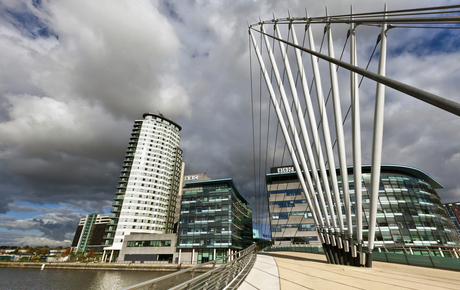 Formisimo will be joining the likes of the BBC at MediaCityUK in Salford
More on the North West Fund for Digital & Creative:
On the mentor front, Mackin and fellow co-founder Tom New say that they will continue to be mentored by London-based advisors from Google, Seedcamp, Moo.com and OneFineStay.
Its growth so far has been aided by securing Travelex, Secret Escapes, Virgin Active and The FT as customers.
Rupert Wingate-Saul, investment manager at Digital & Creative fund manager AXM Venture Capital, comments, 'Formisimo's platform elegantly meets a real need in the e-commerce market.
'The management team combine genuine commercial experience and huge ambition and we are confident in their ability to make a success of the market opportunity.'
The £350,000 commitment is the second time in a week that a MediaCityUK-based business has secured cash. Serial investor Jon Moulton's family office Perscitus Advisers led a capital injection for DataCentred, a big-data business set up two years ago by Mike Kelly.