Fish and chip restaurant Harry Ramsden's is planning a franchising push across the UK.
The company, owned by Boparan Restaurant Group, is looking for franchisees to run the brand in over 30 towns and cities across the UK following investment in its existing menu and interiors.
Judd Williams, international development director of Boparan Restaurant group said, 'Given the increasing importance consumers are placing on provenance, quality and taste when making their dining choices, and the growing popularity of convenience, we see this as the perfect time to expand the brand.'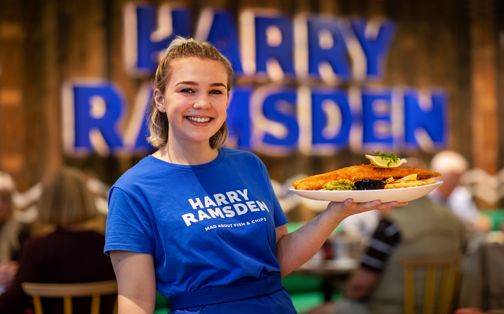 The restaurant says it has different formats available such as quick service and assisted service models and says a typical investment will cost between £300,000-£450,000, which covers fitout and upfront fees. It is targeting locations in Britain's coastal regions and cities.
Harry Ramsden's is the UK's oldest fish and chip brand and celebrated its 90 year anniversary this year. Its most popular fish-cod-is sourced from the North East Atlantic.
Boom in UK franchising
According to a 2015 survey by the British Franchising Association, franchising has risen 70 per cent over the last decade and now contributes £15.1 billion to the UK economy.
>See more: Top ten things you should know about the franchise agreement
Last week, Cake Box, a franchised based business, listed on AIM with a market cap of just over £50 million and wants to grow its total stores from 90 to 250 over the next few years.
Forex Time have created an infographic which shows where in the UK has the most food franchises per 100,000 people. It shows that London, Manchester and Sheffield are the lowest, while Cardiff, Newcastle and Birmingham are the highest in the UK.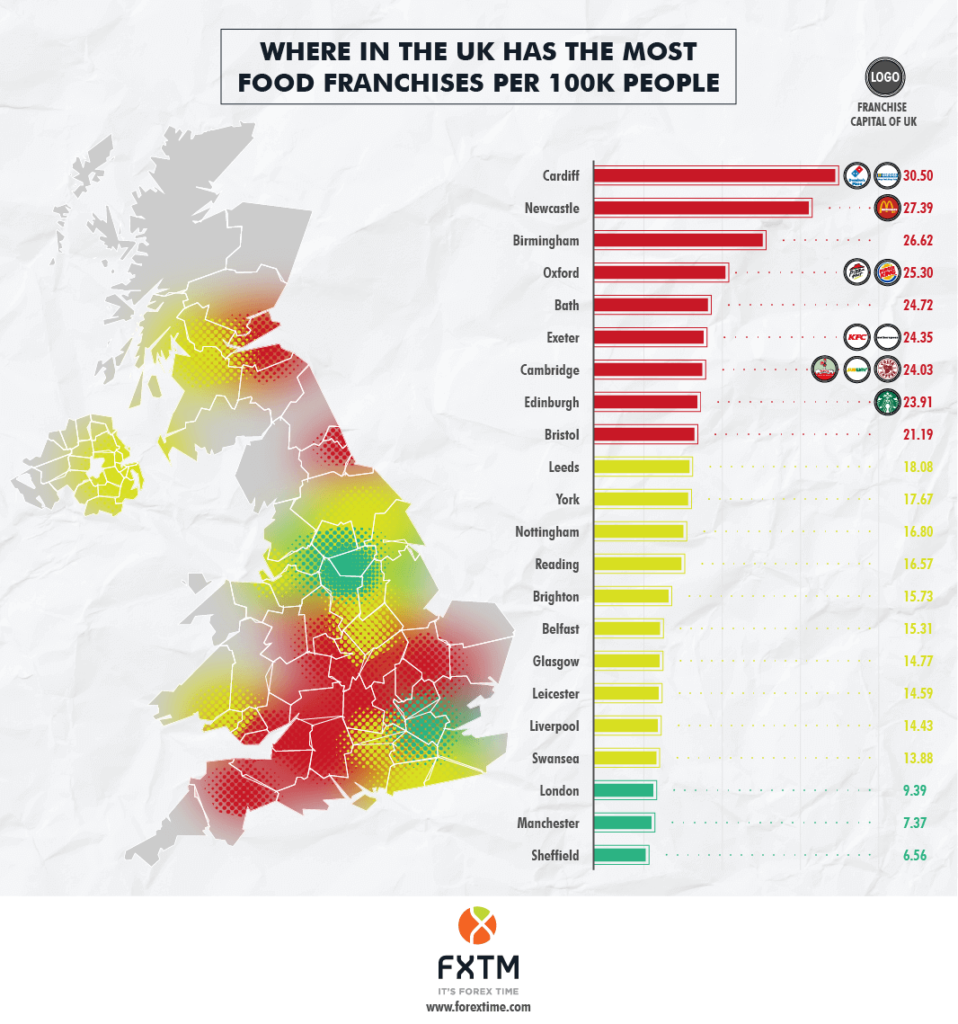 What is franchising?
Franchising is when a business owner grants a licence to a franchisee which allows them to run a business under the franchiser's brand if their business model is proven to be sound.
The franchisee pays an upfront management fee and ongoing management service fees, normally reflected in annual turnover or mark-ups on supplies. Examples of franchised businesses in the UK include Riverford Organic Farmers, Costa Coffee and Stage Coach Performing Arts.
Harry Ramsden's currently has franchise opportunities in:
Bridlington
Clacton-on-Sea
Deal
Exeter
Folkestone
Hastings
Lowestoft
Margate
Paignton
Portsmouth/Southsea
Plymouth
Poole
Scarborough
Southend
Southport
Teignmouth
Torquay
Weston-Super-Mare
Weymouth
Bath
Cambridge
Chester
Stratford upon Avon
Oxford
Salisbury
Windsor
York
Birmingham – Victoria / Chamberlain Square
Birmingham – Bullring
Edinburgh – Royal Mile
London – all areas
Manchester – Central
Newcastle