Glow Digital Media has raised $7 million of equity investment so that it can accelerate international growth already underway.
Notion Capital and White Star Capital are leading a new investment into Glow Digital Media, a social ad platform that helps brands connect with 'relevant and profitable customers' Facebook and Twitter.
Also joining the deal are existing backers Project A Ventures and Avonmore Developments, with the funding going towards product development and overseas expansion.
Speaking to GrowthBusiness, Damian Routley, co-founder and CEO of Glow, says that the deal came about after receiving approaches during the last 18 months.
'We reached that point in our life where we were profitable, well run and in a perfect position for growth. Outside capital just adds fuel to the fire,' he adds.
The company's product, the Glow Platform, uses social data to find, engage and transact with customers and is able to be integrated into brands' existing systems.
Glow recently opened a regional hub for the Asia-Pacific region in Singapore and hired Facebook's head of game in the region.
Explaining why the venture capital firm is backing Glow, Notion Capital partner Ian Milbourn says, 'Glow is already achieving measurable ROI for an impressive list of global advertisers.
'Generating results across Twitter and Facebook in an integrated, customisable and efficient way is a marketer's dream and exactly what Glow delivers.'
New investor Notion Capital was set up by part of the entrepreneurial team behind MessageLabs, a cloud-based software company sold to Symantec for $700 million.
See also:
Since founding in 2011, Glow Digital Media has achieved year-on-year sales growth of 500 per cent and now works with brands including King and Spotify.
Its last, and first, round of capital came through a $1.3 million seed round in December 2012 when Project A Ventures, Avonmore Developments and Daytona Ventures were involved.
Florian Heinemann, managing partner at Project A Ventures, comments, 'Given the strong performance of the team during the last two years that we have been involved, we are more than happy to continue our support for Glow in this round.
'We believe that Glow is very well positioned in one of the most dynamic and promising spaces within digital advertising.'
See below for our personal Q&A with Glow Digital Media co-founder and CEO Damian Routley
(1) What have your recent growth milestones been?
We have grown our GP by 50 per cent in the past 12 months and our headcount has grown from 20 to 50. In the next six months we expect to scale GP by a similar rate, launch our business in Germany and grow to 80 people across the globe.
(2) How have you gone out to secure new customers?
We have a direct sales model where we actively pursue the highest profile brands. Their success guarantees others follow.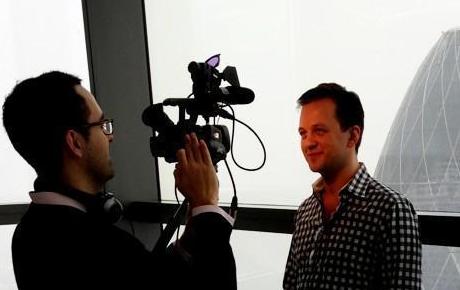 Damian Routley has plans to take the business into new global regions
(3) What do you think are the key benefits to bringing in venture capital investors?
With Notion Capital and White Star Capital, alongside our existing investors Project A Ventures and Avonmore Developments, we're assembling a team of operational experts who have scaled businesses, so therefore bring real life experience that will be essential as we embark into this phase. This round wasn't about the – it was about bringing people around us who we could trust and who would help us achieve greatness.
(4) What kind of measurable benefits are customers gaining by using the Glow Platform?
We are increasing efficiencies and scale in every client engagement. Whether this is in helping online travel agents sell more hotel rooms or gaming companies bring more new and lapsed players into their game – everything we do is measured down to a business outcome.
(5) Are there any targets you'd like to hit in the coming year?
Firstly opening up 2-3 more offices in places like Germany, West Coast US and Japan. This gives us the ability to provide round the clock support and to better service customers in those areas. Secondly to move further towards a cross social environment and innovate even further in how we absorb and process customers' data to make their advertising smarter. Lastly, we want to continue to work with the smartest people in the industry.