The rehydration tablet sells in packs of 10 and 20 on Amazon and helps kill flying fatigue and hangovers. Its sales growth has been helped by partnerships with top hotel and sports teams. Here, co-founder Daniel Cray shares how it got to be the number one seller on Amazon in the effervescent tablet category.
What is the business, when was it started and what were you doing beforehand?
Here at Phizz we consider ourselves lifestyle scientists — we take a scientific approach to tackling modern life. In September 2015, we launched our first product to market self-titled effervescent tablet that differs from any predecessors — both in brand and formula. We started in our West London apartment and now find ourselves with a small but growing team in Covent Garden. Phizz is a hybrid formula combining hydration mixture, vitamins and minerals ideal for long flights, sport, hangovers or general wellness. I studied Business Marketing at University and from internships to jobs I've developed a wide range of experience in advertising, branding, content creation and amplification and PR across sport, lifestyle brands, tourism and travel. Immediately before Phizz I was an Account Director at a Dentsu in Australia and the last project I worked on was the Asian Cup. I'd always wanted to start my own brand. University, internships and jobs prior to Phizz were always seen as opportunities to learn all I could to one day use to my own advantage. Thankfully (and critically) my business partners bring complimentary experiences and skills across science, finance and business operations.
How did you get the idea, and what opportunity did you see when you started the business? What are your sales and what do you expect the turnover potential to be?
Phizz co-founders and I regularly travelled to Europe from Australia and would religiously dissolve hydration and vitamin products in water to combat dehydration, travel fatigue, hangovers and to keep healthy. You could readily find gastro medications, sports powders or multivitamins around the world — but not a comprehensive single hybrid product. Surprised to have found a gap in the market we set about developing our own product and the brand. We teamed up with an Oxford PhD neuroscientist and a Swiss laboratory and the rest is history. Our first contract was with Emirates Airlines (who we still supply today), we're purchased by over 60 top sports clubs around the world and are the number one seller on Amazon UK. One of the biggest competitive brands in effervescent turns over £20 million in UK sales alone each year, this is a great place to start but our vision extends much further than that. To date, we've sold over 90 million tablets of Phizz world-wide — we're ambitious and this is just the start for Phizz.
How did you finance it and what were the challenges of that?
Phizz is self-financed, which has been a challenge, but has kept us hungry and taught us a lot! We're currently exploring options to raise capital for the first time. Working with the right investors is important to us and makes for an exciting next chapter for Phizz. We're always happy to field interest from the right people.
See more:
Four tips to accelerate sales for SMEs
How to grow your business by getting celebrity endorsements
From packaging to Pinterest – what makes an effective brand in 2018?
What were your key marketing strategies?
Judge us by the company we keep and let them do some of the talking. Establishing a new lifestyle brand without a big promotional budget requires help from established voices! We sell to top sports clubs, hotels, festivals, gyms, award shows and airlines — all of this raises revenue but simultaneously raises our profile and credibility. Selling to Emirates Airline, Premier League Football clubs and award shows like the Grammys are no small things for a young brand – both in revenue, exposure and credibility! PR has been a key strategy from the start — within the first week of Phizz launching, a review by the Daily Mail health & beauty editor was on the Mail Online homepage (above the scroll) for 36 hours. This review skyrocketed website traffic and sales — thousands of orders made our flat looked like Santa's workshop!
What are the revenue streams?
Our mantra (as proudly on the front of our packaging) is Play, Travel, Work. Revenue streams come from these silos accordingly across online, B2B or via wholesalers — both in the UK and overseas. Most have been mentioned already, but some sales are a little more left of field… for instance, we'd not recognised the fit or potential in the wedding space and yet we're constantly approached for bulk purchases by wedding planners or brides — apparently, Phizz makes for an ideal destination wedding favour. It makes sense now, but it was never in the sales plan!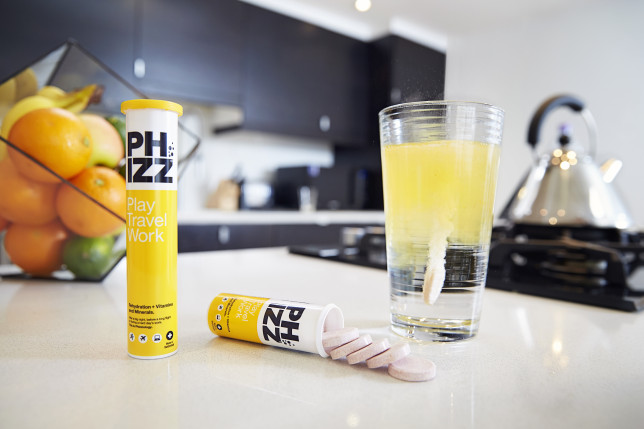 What are the main challenges you have experienced and seen?
Some of the biggest challenges Phizz has faced is on occasion having to say no to great opportunities. For example, last year we had to walk away from a very innovative and lucrative proposal from a top Formula 1 team on account of cashflow. The team had spotted us onboard Emirates en-route to the Australia Grand Prix and their senior management wanted a significant deal to work, alas it could not. Rejecting such a great opportunity to lift our profile and the presented plan to boost Phizz sales was really tough to say no to.
What advice would you give to early-stage businesses looking to disrupt markets?
Embrace rejection, not everyone buys into what you're selling. Yet, there's plenty of people around the corner to fall in love with a good product — so just keep moving. Phizz has a long way to go and we look to disrupt existing and new markets even more so as we go.  
Find out more: Phizz