Having set up and run events for a number of household names from summer parties to events to boost employee engagement, revenue is forecast to hit £5 million within two years. Here, the managing director of Clownfish Events, Matt Turner, shares how he grew his business in a competitive market.
How did you get the idea, and what opportunity did you see when you started the business?
I was 18 when I came up with the idea for Clownfish Events – originally as a very niche company that could provide the widest possible range of equipment within the events industry. We did that very successfully for six years and were trading in 12 different segments, giving us a massive reach compared with competitors. We were the only company providing such a mixture of services (from discos to team building), that were capital equipment-based and actually owned all the kit we supplied. Although we were financially successful, I felt we were missing out on the really fun element – creating the events from the original idea to clean up, so we diversified and have never looked back.
What are your sales and what do you expect the turnover potential to be?
We hit just over £1 million revenue this year and are forecasting to achieve £5 million in the next two years. Our workforce has trebled in the last nine months in preparation for serious acceleration. The goal is to break into the corporate market and win some much larger projects, like three-four day brand engagement summits and conferences. We've proven our capabilities there and have already hosted successful major events for brands like British Airways and Apple.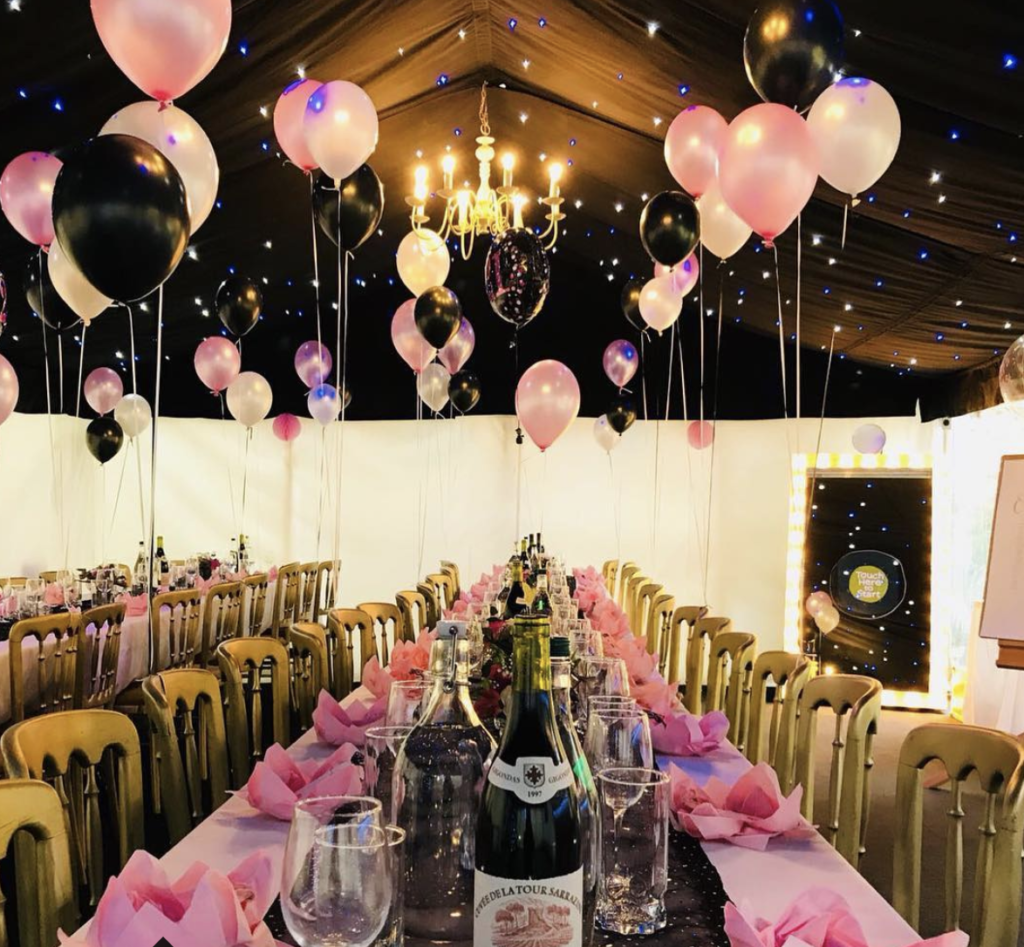 How did you finance the company and what were the challenges of that?
Apart from when I needed to get my first £20,000 to begin trading, I've always relied on organic growth. When I was 18, I needed some cash to get started and found it by getting a group of investors on board. I used their money to buy a van, get some driving lessons, audio equipment and listings on Yell. In the end, I gave away a 55 per cent stake in the company and it took four years to regain full control and get my shares back. It sounds mad now to have given away so much for so little, but I was very young and inexperienced and kept hitting a brick wall trying to get funding elsewhere. What else could I do?
What were your key marketing strategies?
If you're organising a mega party for a private individual or a corporate, you only get one chance and they can't repeat it, so everything has to be perfect.  For this industry especially, there really is nothing better than word of mouth and a referral to win projects, especially among local customers. Obviously, the website and SEO is important, but nothing beats a personal recommendation. I've always focused on nurturing what I call 'loud-speakers' – people who will tell ten friends about you – and giving them a fantastic experience. It's important to have an eye-catching brand visually, but branding in the fullest sense is also absolutely critical and cannot be underestimated. Whether you are B2B or B2C, people will engage a supplier because they share your values and ethos. So we sponsor a lot of community events, like the Polka Theatre Gala Ball, and we do a lot to help people understand what Clownfish stands for – from sharing tips on event planning in our blogs to investing in the local community and sponsoring charities.
What are the revenue streams?
As a project it is very complex to bring together, but in financial terms it's relatively simple. Our revenues come from event organising and from hiring out a vast array of party equipment that we own. We have everything from synthetic ice rinks to rodeo bulls in our warehouse.
What are the main challenges you've experienced?
Due to the risks associated with holding an event, it takes time to win over a new client and for them to have complete faith in your abilities. They will often give you a small project to start with and it can take two or three years to develop the relationship into something more profitable. You have to take a long-term view, invest in the relationship and be patient.  
In a crowded marketplace like events, it is essential to stay fresh and always have good ideas to share with clients. I do this by travelling to conferences and exhibitions around the world, which keeps me well stocked with inspiration. Going to a conference in Spain led me to buy the synthetic ice rink, which has become a centrepiece for our Winter Wonderland parties. Going to the IAPPA exhibition in the US led me to a software developer who then built us some custom buttons for a huge interactive quiz game, which we now use for corporate events and team building. You have to be open to new ideas and prepared to learn continually.
What advice would you give to early-stage businesses looking to disrupt markets?
Know what your USP is and shout about it. So many companies are mediocre and don't have a clear identity – find out what makes you different and shout about it all day long. Be bold and confident about it.
In our second year, we started calling ourselves London's leading event hire company and customers bought into it. Aim high and you'll be amazed at what you can achieve. Look at Richard Branson, he's got to be the ultimate disruptor and has done it so well in so many different markets. He took on giants like Coca-Cola and British Airways in markets that no one else was daring enough to enter and smashed them. Our client list includes some of the UK's best-known brands, like Virgin, Google, British Airways, Microsoft, Bafta, John Lewis, Amazon, Lloyds, Channel 4 and Sky. We've done everything from office summer parties and shop re-launches to weddings, employee branding events, big birthdays and bar mitzvahs. In June we created a huge Buddhist festival and most recently, we handled the UK launch of Bosh! in Borough Market.
Find out more: Clownfish Events