Having joined the Alternative Investment Market (AIM) in 2001 and built itself up to become the biggest company on the junior exchange, ASOS was lauded for its efforts during a celebration of smaller quoted companies.
At the 10th outing of the Grant Thornton Quoted Company Awards, the business scooped Company of the Decade after being voted winner by quests on the night.
The awards, hosted at the Natural History Museum in London by GrowthBusiness sister company Growth Company Investor, also saw Advanced Computer Software (ACS) founder Vin Murria scoop Entrepreneur of the Year. Murria was recognised for her efforts in turning ACS into an 'AIM star', by carrying out a number of acquisitions at the same time as growing profits and sales.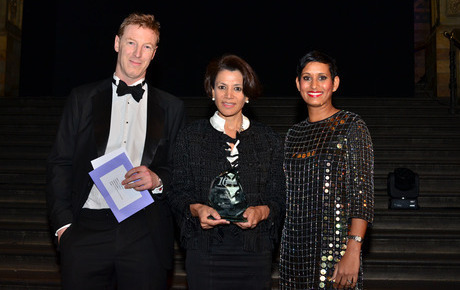 Vin Murria is also a partner at Elderstreet Investments
Asked what makes a good entrepreneur, Murria says, 'The ability to take a risk and get out there and do something while not being tied to a salary.
'But, actually, the government is supporting entrepreneurship quite significantly at the moment. It is a fantastic environment to be an entrepreneur in this country right now.'
Vin Murria on entrepreneurship and acquisitions
CEO of the Year went to Richard Law of GB Group after the identify management company grew shares by nearly 100 per cent in the last year. Having joined the board as finance director in 1995, Law became CEO in 2001 and has led the acquisitions of criminal records specialist TMG.tv for £3 million and Crewe-based criminal records outfit CRD UK for £1.32 million.
More on the Quoted Company Awards:
The evening, which brought together 700 business executives and corporate financiers to focus on high achieving listed companies quoted below the FTSE 350 through to AIM and ISDX, was hosted by BBC World News presenter Naga Munchetty.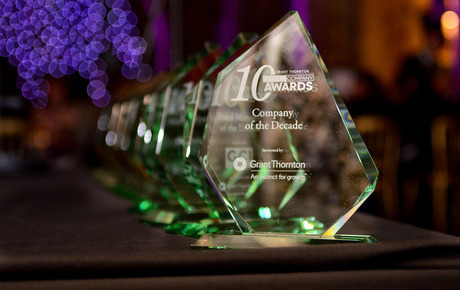 The Company of the Decade was awarded during the awards' 10th outing
Deal of the Year went to Ithaca Energy for its £203 million acquisition of fellow North Sea oil concern Valiant Petroleum, ahead of ACS for its purchase of Computer Software Holdings for £110 million. New admission Plus500 picked up the IPO of the Year gong, with the Israeli CFD and forex trading company raising £46 million and doubling its 115p lot price since last July.
In the two other interactive voting categories, the Broker of the Year accolade was awarded to finnCap while Redleaf Polhill picked up PR Firm of the Year.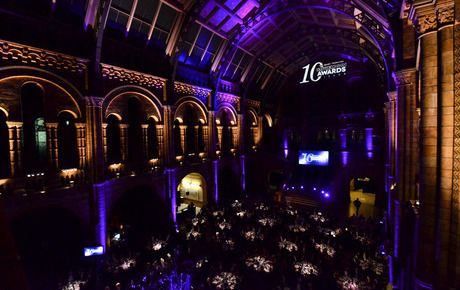 The awards were held in the dinosaur room of the Natural History Museum
Full list of winners:
Chairman of the Year – Martin Lightbody, Finsbury Food
Chief Executive of the Year – Richard Law, GB Group
Finance Director of the Year – Keith Butcher, Optimal Payments
IPO of the Year – Plus500
Deal of the Year – Ithaca Energy's acquisition of Valiant Petroleum
Non-Executive Director of the Year – Mark Laurence, Dart Group
Investor of the Year – Mike Prentis, BlackRock Smaller Companies
Entrepreneur of the Year – Vin Murria, Advanced Computer Software
Company of the Decade – ASOS
Fund Manager of the Decade – Harry Nimmo, Standard Life UK
Broker of the Year – finnCap
PR Firm of the Year – Redleaf Polhill
2014 Sponsors
Grant Thornton – Headline sponsor
Growth Company Investor – Organised by
Bentley Motors – Event partner
Cantor Fitzgerald – Award sponsor
finnCap – Award sponsor
First Flight Non-Executive Directors – Event sponsor
GrowthBusiness.co.uk – Award sponsor
The Independent – Media partner
ISDX – Award sponsor
Redleaf Polhill – Official PR partner
Rosenblatt Solicitors – Award Sponsor
Shore Capital – Award Sponsor
White Water Group – Event partner