The seventh annual New Energy & Cleantech Awards, hosted by GrowthBusiness, saw businesses from sectors as diverse as photovoltaics and water conservation pick up prizes.
Innovator of the Year was scooped by Loowatt, a business set up by Virginia Gardiner as part of a masters project to both eliminate the need for water in the toilet system and also create an off-grid power source.
The business has received two rounds of grant support from the Bill and Melinda Gates Foundation to develop a pilot programme in Madagascar.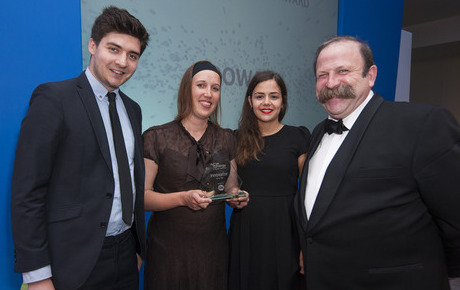 Loowatt receives its award from Information Age editor Ben Rossi
The Entrepreneur of the Year accolade was handed out to Mark Robinson, CEO of APC Technology Group. As head of the company, Robinson has spearheaded a phase of rapid expansion culminating in the energy efficiency business signing a large deal with retailer Morrisons.
Held at the Victoria Park Plaza hotel, the awards brought together the best businesses, entrepreneurs, investors, financiers and advisors in the new energy and cleantech space. Hosting the evening was former army major, engineer and TV personality Dick Strawbridge, who was part of the television series It's Not Easy Being Green where his family attempted to live as green a life as possible.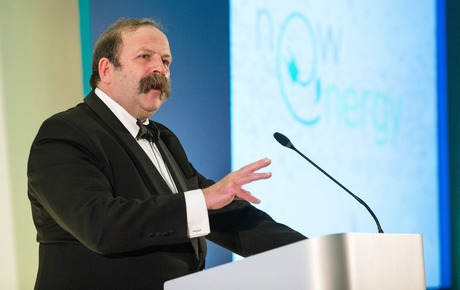 Dick Strawbridge has also appeared on Scrapheap Challenge
Investor of the Year saw the Environmental Technologies Fund fight off strong competition from two-time winner Oxford Capital Partners and Imperial Innovations. The equity backer was recognised for its raising of a second fund worth £60 million.
At the larger end of the investor spectrum, Foresight Group took home Financier of the Year following a year in which the firm closed two thirds of its new deals in the new energy and clean technology space as well as floating a new fund worth £150 million for investing in the solar energy sector.
New Energy & Cleantech Awards from years gone by:
For the first time in its history the New Energy & Cleantech Awards hosted an afternoon forum focused on connecting entrepreneurs and businesses seeking equity investment with an audience of backers. The Clean Invest event saw seven businesses including evening winner Loowatt, sustainable design company Sefaira and electronic vehicle venture Teva Motors present.
Doubly successful on the night was Greencoat, which picked up Deal of the Year for its £260 million float on the main market as well as the overall Company of the Year –awarded to the best business of the entire ceremony. Greencoat's IPO has helped it to acquire interests in six established wind farms, with the company then going on to raise a further £83 million to build the portfolio to ten.
In the coming week GrowthBusiness will be profiling in-depth many of the winners to find out more. For a full list of victors, see below.
Supporters of the awards include the sponsors: Blue & Green Tomorrow, Crowe Clarke Whitehill, Cleantech Investor, Information Age, Isle of Man Government, Minimise, Mirabaud and Smith & Williamson. Media partners were: Angel News, Clean Energy Pipeline, Department of Energy & Climate Change, New Energy World Network and Trillion Fund
2014 winners
Innovator of the Year – Loowatt
New Energy Champion of the Year – Commercial Group
Advisory Firm of the Year – IDCM
Investor of the Year – Environmental Technologies Fund
Financier of the Year – Foresight Group
Entrepreneur of the Year – Mark Robinson
Developer of the Year – Linden Homes
Retailer of the Year – John Lewis
University Spin-out of the Year – Xeros
Deal of the Year – Greencoat listing on LSE Main Market
Company of the Year – Greencoat