Despite certain clouds on the horizon, VC funding continued to surge in the first quarter of 2022, on the back of a highly successful 2021. While last year was the most prominent year to date for IPOs, raising £116.6bn ($142.5bn) with 399 offerings, 2022 is tipped to see even bigger results amongst a wave of new investment firms and forms that will address a growing start-up market.
As the competition to receive the best returns in 2022 begins, it might be time to take a step back from traditional forms of lead prospecting and let them come to you. With an abundance of capital investing options at the fingertips of popular start-ups, it's no longer up to the start-up to make their case for funding, but the investor.
To close deals in 2022, VC investors must start marketing themselves more effectively. Digitally savvy startups are now hyper-focused on reviewing brand credibility and authority within the industry before starting the investment process. Therefore, VC investors need to know how to draw in their leads and make them stick.
VC competition in 2022
According to KPMG, the European start-up ecosystem raised £30bn in the first quarter of 2022. As private equity firms strive to find better returns despite financial hardship and rising interest rates, the VC landscape of the future is one of pricier deals and a lot more competition.
In response to a competitive playing field, private equity firms and traditional asset managers have significantly increased their exposure in the start-up world, participating in 36 per cent more start-up deals than before Covid-19.
This has only increased competition for VC firms. As non-traditional investors continue to embrace the start-up landscape, VC-backed companies are demanding even larger funding rounds and opting for investors with much deeper pockets.
After seeing a global proliferation of rounds worth over £81m ($100m), these 'mega-funds' still may not be enough to keep non-traditional competitors at bay, according to Pitchbook analyst Wylie Fernyhough.
Stepping into 2022, we saw Tiger Global Management lead funding counts in January, raising a total of £2.5bn ($3.1bn) in just the first month of the year.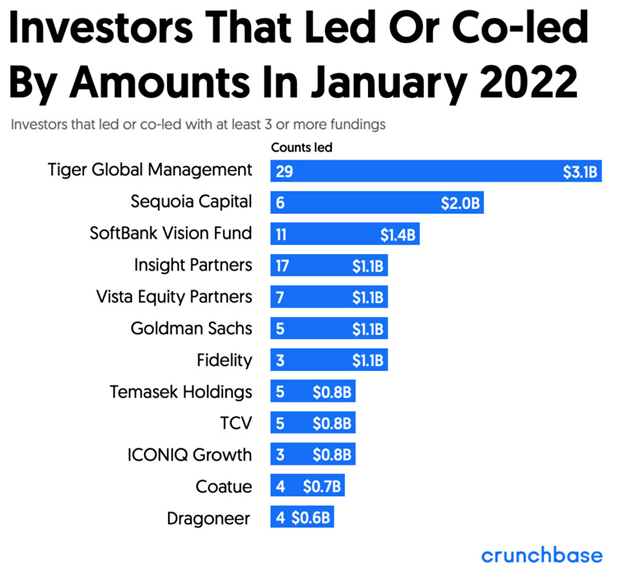 (Image Source: Crunchbase)
While the VC market may have entered turmoil since January 2022, competition remains high amongst the top investors.
2022 is all about perfecting a portfolio strategy. VC firms need to show start-ups a clearer picture of the value they aim to bring to the company. With so many capital options available, VC investors need to prove why they are the best fit for a start-up's future.
Could content marketing be the answer?
Gaining brand awareness and authority within the industry will be key to get ahead in 2022, especially for investors that are planning to capture leads in a fast-growing tech landscape.
VC firms that use content marketing to show off their expertise in the form of articles, podcasts and interviews can provide potential start-up leaders with an abundance of material that demonstrates and celebrates a portfolio of previous, credible investments, while putting faces to the names that could hold a future stake in a start-up's future.
In response, VC investors can build a level of trust with a start-up before embarking on a deal, while monopolising social channels to share their knowledge and expertise.
Creating and sharing content provides investors with a greater advantage when stepping into a competitive market. To be well known across social media is to be well known across the world.
Get to know your leads
The first step in creating a successful content strategy is to get to know your leads. Whether you're investing within a niche sector of the start-up scene or looking to attract the attention of the fintech or AI industry, knowing your target audience inside and out is the way to go.
The key here is to focus on the data. Using analytic tools such as Google Analytics and Finteza to take audits of your audience is a great way to get to know more about their age, location and previous search and engagement history.
Using these markers to inform your content creation will make it easier to reach your target start-ups and shape your voice to fit their values. Alongside this, age and niche-based data could also help inform what content to create and the platforms to place it on.
For example, younger, more digitally savvy demographics are much more likely to connect with video content or an interactive experience, whereas traditional audiences are more likely to engage with written forms of informational content like a blog post. Striking a healthy balance is always a good idea if you're marketing yourself to a wide start-up landscape.
Introduce video content
Since the birth of popular content-based platforms such as TikTok, video content creation has ramped up significantly. It's time for VC investors to jump on the hype if they want to attract potential leads.
VC firms can use video content to showcase their expertise. From Q&A live streams to advice snippets, studies show consumers are twice as likely to engage with video content than a written alternative.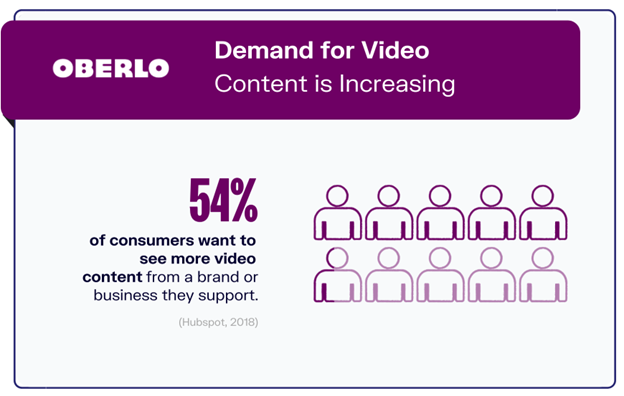 (Image Source: Oberlo)
In fact, 54 per cent of consumers now want to see more video content in a brand or company's marketing strategy.
Y Combinator, for example, saw a great deal of success when using video content marketing in their recent campaign. After creating the "How to Start a Startup" series, many entrepreneurs engaged with their content and have since stepped forward to collaborate with the start-up graduate school.
Create a knowledge hub
It is also important to prioritise blog content when manufacturing the perfect VC marketing strategy in 2022. Blogs and bylined articles are great ways to improve online authority and brand awareness.
To see success, VC firms must have a solid understanding of their demographic and write content that speaks directly to their audience about tips, tricks and funding trends. The key here is to get creative. Write outside of the box and showcase market expertise to rise up amongst an organic search string.
To improve content SEO, VC marketing teams should search for industry keywords that are likely to gain audience traction. With a powerful optimisation strategy, a unique angle and social platforms to share it on, content writing will quickly build credibility.
Start a podcast
A new form of content marketing that has begun to take off in the VC world is podcasting. With 424 million global listeners in 2022, the podcasting market is expected to be worth £54.4bn ($94bn) in 2028.
VC investors can use podcasting to create a piece of content that is best suited to an audio format. The best thing about a podcast is that both potential partners and start-up audiences can listen to them anywhere and at any moment.
NextView for example, a seed fund company that has invested in content marketing, saw great returns on their Traction podcast, that followed company growth tips for start-ups in their first 24 months. Another great example comes from Crossing borders, a VC-based podcast that shares start-up success stories and tips for future entrepreneurs.
The chatty, informal nature that comes with podcasting could showcase the human side of a VC investor, building trust amongst a start-up audience and quickly generating those leads.
Rebecca Barnatt-Smith is the content executive at Solvid.
More on marketing