The three-man team at Top10.com, who have only ever been entrepreneurs in the internet world, are looking to take their comparison platform to the world following a new venture capital funding round.
Since finishing school some eight years ago, Tom Leathes, Harry Jones and Alex Buttle have been founding and building internet businesses.
The trio's efforts started with a start-up called Official Space, a Rightmove-style offering for office space which was sold to OfficeBooker.com in 2009. They then went on to found broadband and mobile phone comparison site Top 10 Broadband, a business also successfully exited when uSwitch.com snapped it up in 2011.
While both of those companies were UK-focused and bootstrapped throughout, Leathes, Jones and Buttle are now firmly fixed on ensuring that their next venture is not only global looking, but also has an experienced investor base.
Speaking to GrowthBusiness, Leathes, co-founder and CEO of the three entrepreneurs' new company Top10.com, says that their efforts now centre on simplifying the online experience.
'There is so much information on the web and, whilst it should become easier to make decisions and find products, it's actually becoming harder,' he explains.
Top10.com began life as a recommendation platform on music, entertainment and travel in 2011 but has, since 2012, focused on travel and specifically the task of booking a hotel. The site now analyses millions of hotel data points to review scores, popularity and price – creating a top 10 list of hotels for customers.
Whereas rival offerings found at the likes of Expedia rely heavily on users posting written comments, Top10.com is using feedback from Foursquare and content from Google Street View to ensure that information is not only relevant but also real time.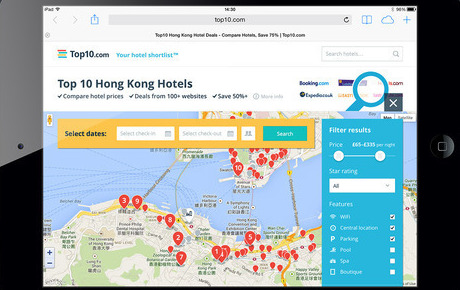 Top10.com has been built to be user-friendly on mobile and tablet devices
'People still don't have a single place they trust for recommendations, and that is what we're trying to build,' Leathes says.
He points towards information which suggests that people use upwards of 20 websites to book a single hotel visit as evidence of the problem at large. Loathes and his team are also taking a big interest in mobile, where over half of the sites traffic originates from.
'Jumping between tabs doesn't work, there needs to be a much smarter aggregator of information. While other sites provide endless choices which you are then asked to filter down, we are doing that work for you by providing the best 10.
'We're also looking at what we think is more relevant info. Beyond where the hotel is and its star rating, we include Foursquare check-ins and social media chatter.'
Leathes says this approach allows Top10.com to uncover things which are trending at the moment and present recommendations based on real time developments.
Growth capital
Over $1 million a month of hotel bookings are now being generated on the platform, and its new venture capital fundraising of $8 million has been raised to fund the building of its team and expansion into new European territories.
A Series A round worth $3.5 million in July 2011 was topped up by $1 million in the summer of 2013. The $12.5 million of total funding it has banked to date has brought in investors including Accel Partners, Forward Partners and Idealab.
New backer Balderton Capital has led the latest round, with the transaction representing the first for deal lead Daniel Waterhouse since he joined the firm in October 2013.
Bringing in investors, rather than the bootstrapping that Loathes and his founders had done with previous start-ups, was not just about securing the capital needed to take their proposition beyond the confines of the UK.
'We haven't got international experience,' he explains. 'We wanted people who have scaled global companies, people who wanted to be in the business and work with us.
'Accel have tonnes of international experience and Daniel, whilst it's his first deal at Balderton, has great knowledge with mobile having worked with companies like Hailo, Spotify and YPlan.'
Telling the story
Winning investors at the start meant making sure that the three entrepreneurs had a product rather than just an idea, Leathes reveals. They had to prove early traction and show how they planned to turn that into a global business.
'Having a track record really helps in the seed round stage. Then in the next round it is about what we've done with the product in the last year.
'We really focused on proving the product in a focused way. Having launched the first version in only three months, we then went about scaling it really aggressively.'
The Top10.com team of 14 is now expected to be doubled during the next year as more engineering talent is brought in. Despite being based in London where there is a growing pool of talent when it comes to the internet world, Leathes says that the business has staff from around the world including Spain, Italy, Poland and Russia. And its young and lean framework is a benefit when it comes to competing against bigger incumbents like Kayak.
'It's not that they don't innovative, but it's harder for them to take risks,' he says. 'We can as we are much leaner.'
Related Topics