Seventy per cent of the total capital raised by all private European fintech companies in the first quarter of 2017 went to companies based in London, Berlin, Stockholm, Paris, Barcelona and Amsterdam.
This according to research released today from FinTech Global. More than a third of the aggregate of $1,164 million in fintech investments was claimed by London-based fintech companies (36 per cent of the total), which was more than three times as much as companies located in the second-placed city, Berlin (12 per cent).
The major change seen in the distribution of investments by city in Q1, 2017, compared to the previous three years, was that Berlin doubled its share from 6 per cent to 12 per cent at the expense of cities ranked outside the European top 10, which fell from an aggregate of 31 per cent to 25 per cent.
Given the economic benefits of developing a vibrant fintech ecosystem are very attractive, it's no surprise the rivalry between European cities to attract capital and talent is intense. The figures show London has proven to be resilient to the Brexit vote of June 2016 and that other European cities made huge strides in raising their levels of activity. Whether London can stay so far ahead of the pack after last week's UK general election remains to be seen as the competition between European cities intensifies further.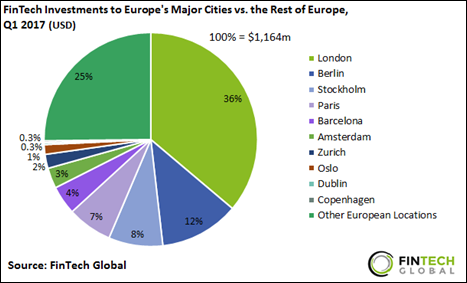 What about the rest of Europe?
"In the world ecosystem of Fintech, London is number one. But Scotland is number 18 – and that is entirely creditable given our size. The object of the consultation was to delineate what was needed to boost us from eighteenth into the top ten – and potentially higher," says Temple Melville, part owner of Scotcoin, Scotland's very own digital currency.
So what is needed? "Firstly – and perhaps most importantly – we need to draw world attention to Scotland. How difficult can that be? We have a fantastic country with good communication systems, superb countryside, and an eager and responsive workforce. We have an excellent online community already, with some real winners to the fore," Melville adds.
"Secondly, we need to push connections together. Scotland is ideal for a "hub and spoke" set up. We need available service centres and spaces to bring people together, to allow ideas to be born and flourish, and reach maturity."
Thirdly, education. This doesn't just mean top down, he explains, but at the very start of children's schooling. "We need educated participants. We need to make them evangelists for Scottish fintech, and we need a continuous stream of new participants. We need to build on what we have already, but we need to strengthen and broaden what there is. We have to up our game at all levels."
The final ingredient to push Scottish fintech to the fore is finance. There are some seed funds available, says Melville, but they need to expand and scale up. "In order to attract new people and businesses, we have to nurture them, to welcome them, to support them and help them navigate through the beginnings of their business into the full flood of their maturity. If we do all that, we can easily get into the top ten. And who knows maybe even higher than that!"
Top European fintech firms by country
Germany
In 2016, German fintech entrepreneurs raised $108 million in funding, according to a report from KPMG and CB Insights. The three largest European rounds for fintech were all held in Germany, including the $40 million round raised by German digital bank N26.
One in four German fintech start-ups are alternative lenders (direct lending), while another 17 per cent are crowdfunding platforms. 27 per cent are alternative payment providers, while the rest are active in insurance, ID verification, and online shopping. 56 per cent of German banks cooperate with fintechs for their digital strategy, and of these, 80 per cent are satisfied with their cooperation.
Top fintech firms
Ascribe is a platform for artists and creators to keep their digital art secure using blockchain technology. It was founded in 2014.
Friendsurance is a P2P insurance firm, founded in 2010. It rewards users up to 40 per cent of paid contributions annually under a 'no-harm bonus', if they don't have any claims.
GetSafe is an insurtech start-up that offers an app to manage all insurance policies. The free GetSafe App helps users manage their insurance policies in one place. The company is among the best-known and fastest growing InsurTech start-ups. It gives consumers a digital overview of their existing insurance policies, helps optimize their insurance portfolio, and provides free and independent advice through insurance experts.
Kreditech (2012) is an online lender that provides loans to people based on their creditworthiness which is analysed using their online data rather than traditional credit rating information. The company mainly focuses its efforts on emerging markets.
Mambu is a cloud platform that allows banks to create, launch and service deposit and loan products quickly. Founded in 2011 by Eugene Danilkis, Frederik Pfisterer and Sofia Nunes, the company works with over 145 institutions in 35 countries globally, servicing a portfolio of over a million accounts.
Number 26 was founded in 2013 by Maximilian Tayenthal and Valentin Stalf. Based in Berlin, the company aims to transform the traditional banking and how individuals spend, send and save money.
Scalable Capital is a digital investment service that uses proprietary software to pull together dynamic portfolios. It democratises investing, bringing services previously only available to institutional investors to the wider public at a fraction of the cost. The company was founded by Erik Podzuweit, Adam French, Patrick Pöschl, Stefan Mittnik and Florian Prucker in 2014.
Spotcap is an online lender for small and medium-sized enterprises. The company was founded in 2014 by Jens Woloszczak and Toby Triebel, and is supported by Rocket Internet.
Traxpay provides a platform that enables 24/7 B2B payments and transactions in real time. Founded in 2012, the company is transforming the way business gets paid and pay with the world's first B2B Dynamic Payments platform. Traxpay customers are B2B commerce network operators, corporations, and digital marketplaces.
Sweden
The Nordic region is the second largest fintech community in Europe, closely following the UK. This groups together start-ups in Norway, Finland, Iceland, Sweden, and Denmark. Sweden in particular has grown exponentially, with Stockholm-based payments companies Klarna (valued at $2.25 billion) and iZettle ($500 billion) leading the way.
The Nordic market is digitally led. According to the Deloitte Global Mobile Consumer Survey 2016, 57 per cent of Nordic citizens use mobile banking. In comparison, the European average is only 44 per cent.
Year-on-year investments in fintech companies in the region increased by 106 per cent in 2015 to $13.8 billion, according to the same KPMG report. 32 out of 51 fintech investments went to Swedish start-ups, according to data from The Nordic Web.
Top fintech firms
BehavioSec (2007) is a biometric security app that helps banks verify users based on their behaviour, such as the way they type or move their mouse.
iZettle (2010) is a point-of-sale and payments firm known for being one of the first in the world to develop a bank card payment device linked to a smartphone app.
Klarna (2005) is an online payment services for storefronts. It allows customers to make purchases online by just using their postcode and email address. After the purchase is complete, the users can fill in payment and delivery information. Klarna pays the seller and claims the money from the user later on, taking on the upfront risk.
Tink (2012) is a financial management app that helps users manage their accounts, pay their bills and manage money transfers.
Trustly (2008) is a direct payments system that allows users to shop online with a single-sign-in system, by sharing their payment information with Trustly.
Zmarta (1999) is a comparison platform for personal finance products including loans, insurances, savings accounts, credit cards and other financial products.
France
With its 'fintech friendly' regulations, attractive 'tech ticket' visa programme for foreign entrepreneurs, and robust venture capital infrastructure, France is primed to overtake the UK, particularly post-Brexit. The largest fintech segment in the country is digital payments, with a transaction value that is predicted to reach $88 billion in 2016.
https://growthbusiness.co.uk/partech-shakers-marie-raichvarg-paris-city-start-ups-2550090/
Top fintech firms 
Fundovino is the first crowdfunding platform dedicated to helping businesses in the wine industry. The company connects investors to companies that need funding in the traditional equity crowdfunding model.
Kisskissbankbank (2009) was founded by Ombline Lasseur, Adrien Aumont and Vincent Ricordeau. It provides a crowdfunding platform for athletes and creative types to raise funds for their independent projects. Over 9,300 projects were posted on the platform between 2010 and 2014, of which about 54 per cent reached their funding targets.
Ledger is a start-up that combines payments, cryptography, and security. The launch of a hardware wallet, Ledger Nano, in over  80 countries established the company in the international bitcoin market. The company provides bitcoin wallets Ledger Nano, Ledger Blue and Ledger HW.1.
Lendix (2014) is an online marketplace for business loans, connecting investors to SMEs that need funding. The company has enabled business to raise over €26 million worth of loans. After acquiring a competitor, Finsquare in April, the company raised $13.5 million from Decaux Frères Investissements, Weber Investissement, Sycomore Factory, Partech Ventures, Zencap AM, Matmut and CNP Assurances to become one the top lending platforms in Europe.
MyMajorCompany (2007) is a crowdfunding platform for music fans to back their favourite artists. During its first year, the company raised over €1 million, and in 2012, the company expanded its business model to include entrepreneurs, artists, video game creators, publishers, and movie makers.
Paymium (2011) is a European web-based exchange that allows all bitcoin transactions between traders and consumers. In compliance with European regulations, the company offers secure, reliable and high-performance trading platform. Paymium is the first Bitcoin Marketplace that is fully integrated with a Payment Institution.
PayPlug (2012) is a payment system that allows SMEs, particularly small merchants and freelancers, to accept credit card payments without any monthly costs.
SmartAngels (2012) is a crowdfunding platform that allows retail investors and professionals to back start-ups. It now has over 15,000 members who have collectively funded 25 start-ups for over €15 million.
Ulule (2010) is a crowdfunding platform. In September this year, the company did a fundraising of €5 million from the MAIF,  BNP Paribas, and Citizen Capital investment fund.
Younited Credit (2009) is a peer-to-peer lending platform recognised by the French central bank.  The company allows institutional investors and private individuals to lend money to borrowers directly via a secured bond marketplace. The company has managed more than €347 million in loans.
Weeleo is the first P2P platform to exchange cash currencies. It links travellers who want money with others who want to sell, leading to huge savings compared to traditional currency platforms.
Spain
Fintech in Spain has grown rapidly. According to Fintech Radar Spain 2016, a report by Finnovista, the sector now has 208 start-ups, a 400 per cent increase in just three years.
80 per cent of Spanish fintech start-ups offer B2C products and services, directly competing with banks. Taking this cue, banks like BBVA have ramped up investment, having created a $250 million fintech fund. To date, BBVA has bought two fintech companies in the last year; American online-only bank, Simple for $117 million, and another digital bank from Finland, Holvi for an undisclosed amount.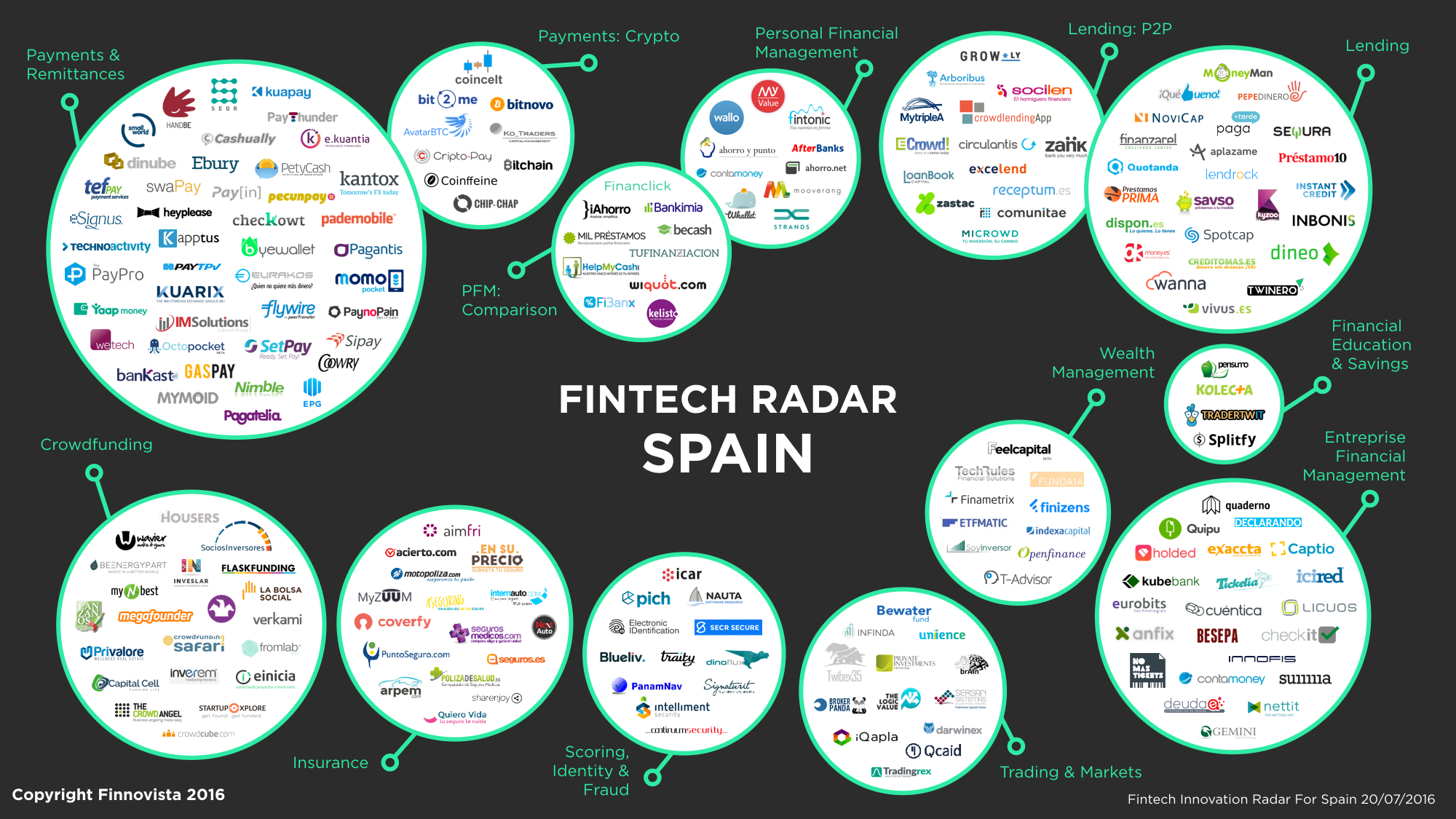 Top fintech firms
Coinffeine (2013) is an open source, peer-to-peer (P2P) bitcoin exchange platform and is the first company in the world to be created using Bitcoins.
Kantox (2011) is an online foreign exchange platform that offers midsize businesses a comprehensive solution based on transparency, efficiency and savings. To date, the company has received €7.5 million in investments from Partech Ventures, IDinvest Partners, Cabiedes Partners and individual business angels. Currently, it has 50 employees among its London and Barcelona offices.
peerTransfer (2009) offers tuition transfers and payments in the education sectors. peerTransfer has main offices in Boston and Valencia and has recently received a multi-million dollar investment from Bain Capital, one of the largest venture capital funds in the EU.
SetPay offers individuals and businesses a mobile point-of-sale POS option to allow credit card payments at a lower cost than conventional means. SetPay charges a single fee per sale with no minimum. The objective of SetPay is to provide the tools that enable their users to facilitate payments, customer loyalty, and publicise offers and products.
The Netherlands
In 2015, start-ups in the Netherlands raised €430 million across 153 deals. In the first quarter of 2016, Dutch tech companies raised €37 million in capital, and last year Startup Nations Monitor ranked the Netherlands number one for implementing policies aimed at boosting start-up growth. Fintech in particular has been soaring in Amsterdam. The likes of Uber, Netflix and Tesla, among others, have already set up their European headquarters in Amsterdam.
The lack of funding seems to be a growing problem in the Netherlands, however. According to a 2016 study by PwC, Dutch firms only secured 21 per cent of  European fintech funding. Entrepreneurs have a sunny outlook for the sector regardless. 89 per cent of Dutch respondents in the same survey believe that consumer banking will be the industry disrupted most in the next five years. 59 per cent believe it will be fund transfers and payments, and 39 per cent believe it will be SME banking.
Dutch banks like ING, Rabobank and ABN AMRO are already making strides in capitalising on fintech talent in the nation, investing in start-ups through their in-built accelerators, organising hackathons, and collaborating with up and coming fintech companies.
Top fintech firms 
Adyen is an SME tool that processes payments across online and mobile. It is compatible with over 250 payment methods and 187 transaction currencies. Headquartered in Amsterdam and San Francisco, with offices across North America, South America, Europe and Asia, Adyen serves more than 3,500 businesses and four of the five largest US Internet companies (including Facebook, Uber, Airbnb, Netflix, Spotify, Dropbox, Groupon, Evernote, Booking.com, Viagogo, Yelp, Vodafone, Mango, O'Neill, SoundCloud, KLM and JustFab). In 2016, Adyen was valued at $2.3 billion, making it a Dutch fintech unicorn.
AcceptEmail enables simple and secure electronic billing and payment via e-mail and online payments. AcceptEmail digitises billing so that users receive it on their phones, tablets or PCs via email or text message, which they can pay instantly by clicking a banner. Once the bill has been paid, the payment status in the email changes from blue to green, notifying the sender and receiver in one simple click.
Bell ID helps users manage credentials on smartphones, smart cards and connected devices. The company's software integrates with any third-party technology and simplifies the issuing complexities of payment, identity, loyalty and transit applications. Bell ID's software is called Secure Element in the Cloud. This solution stores and manages payment credentials in the cloud rather than on the smartphone, avoiding the need for complex partnerships to gain secure access to the phone. When making transactions, card numbers are replaced by alternative numbers that are checked in real time when the phone is tapped against a payment terminal.
Bitmymoney simplifies the complexities around bitcoin. It offers an online bitcoin account that allows users to manage bitcoins without any knowledge of wallet software or bitcoin addresses.
Bitonic hosts a European exchange (BL3P) in which buyers and sellers can trade bitcoins directly through its platform. Bitonic is the only bitcoin company in the Netherlands that possesses multiple bank accounts.
Bunq (2012) is headquartered in Amsterdam. It offers multiple financial services under a government-provided banking license. Users can manage bank accounts and multiple cards on one platform. The company formally launched in 2015.
Five Degrees is a banking tool for retail or private banks that is completely centred on user experience.
Flow Traders (2004) is a liquidity provider, particularly focused on Exchange-Traded Products (ETPs). 
GlobalCollect (1994) is a payment service provider that has a single-interface platform for local and international payments in most countries around the world.
Payvision connects banks, PSPs, ISOs and their merchants to a central global acquiring platform. The company processes over 100 million transactions per year with a total of $3 billion in value. Among its partners are ProPay, Rentabiliweb Group, Wing Lung Bank, ControlScan, Dah Sing Bank and Virtual Piggy.
InvoiceSharing enables clients to improve invoice processes and cash flow using a free electronic invoice distribution platform. Companies connect their accounting systems and distribute electronic invoices directly from their system, using the InvoiceSharing cloud, to the system of their clients.