For two founders who had no experience of building a technology-enabled business, Arnaud Bertrand and JunJun Chen-Bertrand have instead relied on their experience in hospitality to build their venture HouseTrip.
The husband-and-wife team date back the inception of their business to an Easter spent in Edinburgh when they discovered the joys of shunning hotels and renting an apartment. However, the pleasure of having space to themselves was slightly tinged by the lengthly and complicated booking process that had come before.
Even through it was only 2007, booking the apartment had involved visiting a classified ad website, contacting the owner, negotiating a price, signing a contract, faxing it over and then, finally, finding a Western Union to pay. Having studied hospitality management in Lausanne, the two were well versed in how easy it was to book a hotel room online – why not for the holiday rental market too?
With only 1,000-odd Swiss francs lining their pockets, and no idea how to build a website, Bertrand and Chen-Bertrand had to raise some growth capital just to get started. So began a journey across Switzerland and Europe pitching to over 200 business angels in the hope that a view would see potential in their idea.
'It was a very tough sell,' admits Bertrand. 'The proposition was do you want to fund our first job hire which is building a website, and by the way we know nothing about that.
'Finally we found three [angels] who were willing to invest 50,000 Swiss francs each and now they are very happy with their investment.'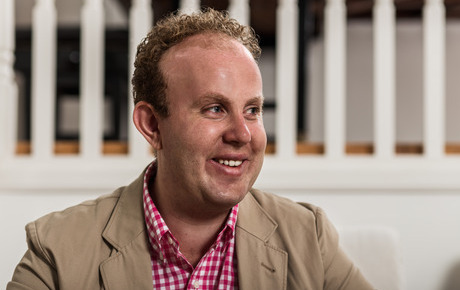 Arnaud Bertrand has built HouseTrip to a position of 300,000 listings
From the outset HouseTrip was set up to be a global offering. Early research conducted by the entrepreneurs found that there were already three million homes available to rent to tourists, a huge supply considering there are 3.5 million hotel rooms in Europe.
Looking at the guest side of things revealed the big issue – despite there being many more rooms in houses and apartments up for grabs (considering there are multiple rooms in each) there were 40 per cent less bookings for holiday homes than hotels.
'It was way too difficult to find and book these places, so we wanted to create a way for people to book holiday homes for any kind of stay – from one night to two weeks,' Bertrand adds.
Institutional help
Since nabbing that early, and crucial, angel investment to begin building out the website and proposition, HouseTrip has gone on to raise nearly $60 million of venture capital. This has included contributions from the three biggest VC firms in Europe: Index Ventures, Accel Partners and Balderton Capital.
More on HouseTrip funding rounds:
Funding growth using venture capital has been the only way, Bertrand says, to achieve the 'very ambitious' milestones that have been laid out since inception. Constant investment in building the team (HouseTrip now has 100 customer services staff in Lisbon), recruiting for senior management roles (a new chief product officer has recently been brought in) and building improved consumer platforms (its new HouseTrip Guest App a case in point), would not have been available without sizeable investments.
The new app is a reflection of the impact mobile is having on the way people book and plan holiday experiences. The iOS platform gives users a way to plan their itinerary, share booking details with those travelling with them and get recommendations on local things to do.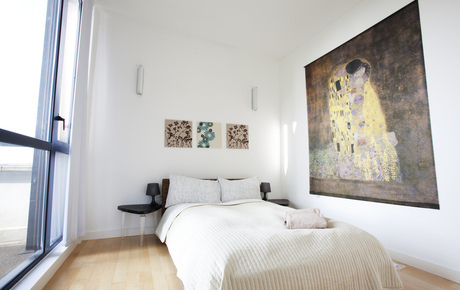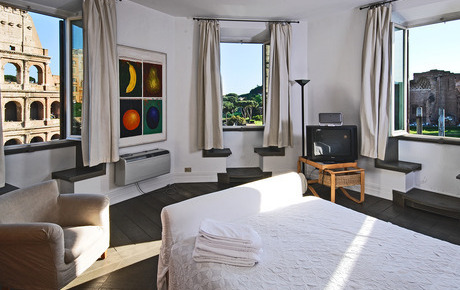 HouseTrip properties in London (top) and Rome (below)
Standing out in a congested market, populated by the likes of fellow venture capital-backed companies Airbnb, onefinestay and Love Home Swap, is achieved through a number of key differentiators, Bertrand says.
'We focus on families, so 70 per cent of revenue is from families with families. You won't find any spare rooms or airbeds on our platform; you book the whole space for yourself and family.
'Also, as a family, if you travel with children you care about the layout of beds. If you have two boys you don't want them sleeping in the same bed as they'll be fighting. We're the only player that gives information on that kind of thing.'
The obstacles to growth have largely centred on maintaining the desired culture that had been cultivated on foundation of the business. Growing up means formalising of this culture so that it is kept going.
'The other big thing is people – a company is all about people and you need to be extremely strict about hiring the right ones,' Bertrand explains.
'I've made so many mistakes on hiring the wrong person that was always very consequential on the business.'
Bertrand is now very careful about identifying the right individual, so much so that he spent nine months and examined 700 profiles before deciding who was going to be brought in as chief product officer, in charge of websites and apps.
'Our Investors were really really nervous, but I don't regret for one second taking that much time as we would have lost infinitely more time if we had made a bad choice,' he adds.
The future
GrowthBusines couldn't finish an interview with the founder of a holiday rental business without quizzing them about the possible impact of regulation. Airbnb, which bagged $500 million of new investment back in April, has felt the full wrath of New York authorities, who say that the platform is a threat to affordable housing.
Bertrand freely admits that his business could be adversely affected in some destinations if laws pass, but emphasises that his offering can sit alongside controls to curb pricing bubbles.
'What we are trying to do is speak with legislators to make them understand that what they are trying to do doesn't quite make sense,' he adds.
'The argument that is advanced quite often is that our industry is creating a housing prime, with many properties that could be rented long term being done so short term as the owner wants to make more money.'
Bertrand agrees that this is an issue, but explains that authorities shouldn't forbid properties which can't be rented on a long-term basis to be done so short term. If, for example, an individual owns a pied-a-terre in Paris and only uses it for the three months a year they work in the city, why should they not be able to use platform such as HouseTrip to fill it for the remainder, he asks.
'If you restrict the supply market to property that cannot be rented long term it is by far big enough, so we are completely fine with that.
'I think it makes sense for everyone, as nobody benefits from houses left empty. It would mean no houses need to get built as properties aren't being efficiently used as it is.'
As a business that could tomorrow break even and become profitable, Bertrand and Chen-Bertrand have no intention of slowing down growth just to do that. In a market where the business still has so much opportunity to capture share, ambition seems to be the only limit.
Read more about HouseTrip: