Washington-based The Carlyle Group has reclaimed its top spot as the largest private equity firm in the world, Private Equity International research finds.
Carlyle's $60 billion fundraising figure between 2013-2018 dwarves its previous five-year $30 billion figure raised between 2009-2013.
Only two non-US funds feature in the top ten as the US reasserted its dominance in the industry, with London-based CVC Capital Partners the highest placed of those. In 2013, there were three non-US funds.
Although Carlyle fell from the top spot for a few years, it has bounced back strongly this year.
More on private equity:
Toby Mitchenall, senior editor at Private Equity International said, 'Sentiment has been beyond strong. Private equity firms have been returning huge amounts of capital to investors as Apollo raised a record $23.5 billion buyout fund last year. However, there is some anxiety around the fact that with corporate valuations so high, it could difficult for PE firms to sensibly put that capital to work.
'Last year we saw plenty of records broken. Apollo, CVC and KKR between them raised the largest ever global fund, Euro-denominated fund and Asia-focused fund respectively.'
Connecticut-based General Atlantic and Texas-based TPG fell out of the top 10 this year; being replaced by New York-based Warburg Pincus and Stockholm based EQT who raised $33.3 billion and $28.7 billion between 2013- 2018.
The 10 biggest private equity firms in the world 2018
2018 rank

Fund manager

Headquarters

Five-Year Fundraising total
($m)

2017 rank

Movement

1

The Carlyle Group

Washington DC

60,034,54

3

Up

2

Blackstone

New York

52,344,39

1

Down

3

KKR

New York

51,839,40

2

Down

4

Apollo Global Management

New York

45,372,19

7

Up

5

CVC Capital Partners

London

42,389,99

10

Up

6

Warburg Pincus

New York

33,312,91

5

Down

7

EQT

Stockholm

28,733,01

31

Up

8

Neuberger Merman Group

New York

27,645,69

9

Up

9

Silver Lake

Menlo Park, California

26,086,50

23

Up

10

TPG

San Francisco

25,946,00

4

Down
UK payments processing company Paysafe did a £3 billion takeover deal with Blackstone and CVC in August 2017 as UK shoppers continue to shop online rather than the high street. And in May this year, online property firm Zoopla was acquired by Silver Lake for £2.2 billion.
Private equity investment by sector in Europe in 2017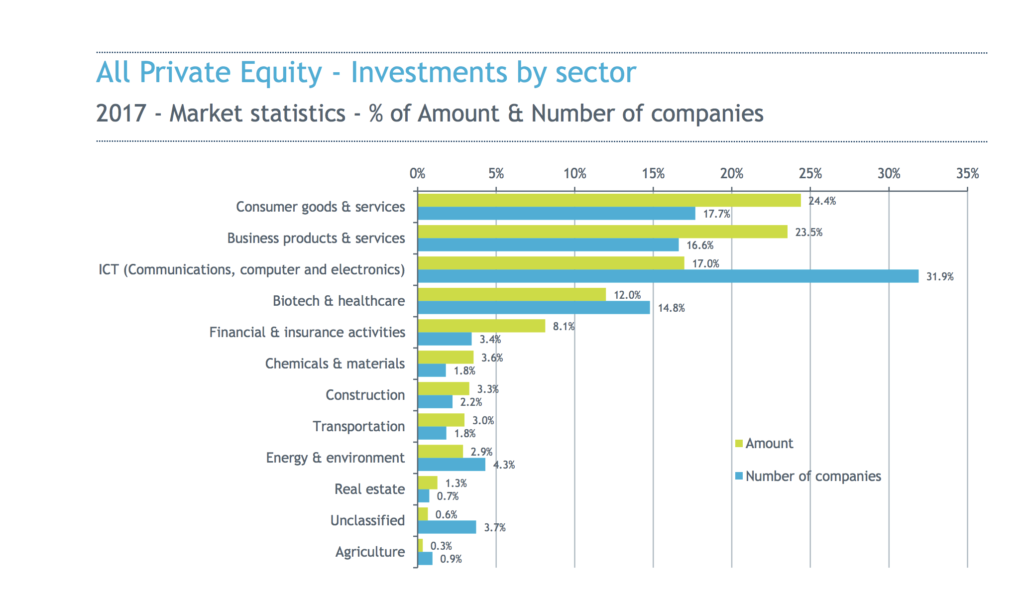 Source: Invest Europe/EDC
The below table shows the most active geographical locations for fundraising in 2013.
10 most active areas for private equity in 2013

| Location | Five-year fundraising total ($bn) | Number of firms |
| --- | --- | --- |
| New York | $306.4 | 67 |
| London | $102.1 | 28 |
| San Francisco | $81.8 | 30 |
| Boston | $67.4 | 22 |
| Washington DC | $59.7 | 7 |
| Los Angeles | $56.4 | 12 |
| Texas | $56.3 | 9 |
| Hong Kong | $39.9 | 16 |
| Chicago | $24.7 | 9 |
| Paris | $22.6 | 10 |
Source: Private Equity International