Real-time television ratings platform TVbeat plans to build out its big data TV analytics system having secured new venture capital backers.
As part of a deal which has brought in $2 million, TVbeat has changed its name – having previously been called Iptvbeat since its 2013 foundation.
According to the tech start-up, its platform connects early-stage company CEOs, developers, analytics experts and broadcasters to track television ratings.
New markets are now being targeted alongside the development of TVbeat's platform, which takes live data from connected set top boxes and other connected devices to derive real time insights for users. The company's renaming is said to reflect its 'analytical capability' across any pay TV platform.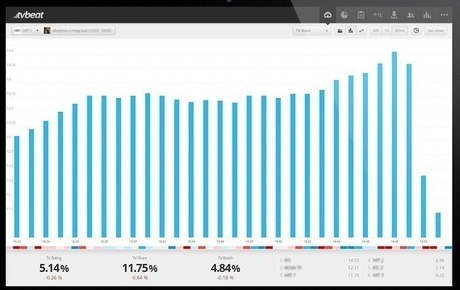 Users of TVbeat can gain insights into viewers behaviour
Robert Farazin, founder of TVbeat, comments, 'We are already measuring over 15 million customer interactions per day, on all digital platforms, regardless of how and where video is consumed.
'This volume of data can give TV editors, programme directors and marketing teams the kind of precise audience insight they could only have dreamt about in the past.'
Since setting up, TVbeat has been piloted to users in Slovenia, Croatia and Serbia. However, the funding will now be used to grow further in Europe.
Simon Murdoch, partner at new British investor Episode 1, says, 'We are excited about the disruptive potential of TVbeat because by drawing data from millions of views on a second by second level, across all platforms and devices, TVbeat represents a new generation of TV analytics, providing new insight in real time into audience behaviour for live and time shifted viewing.'
Episode 1 was set up in October 2013 through a £37.5 million fundraising, representing the 14th Enterprise Capital Fund (EFC). To go with the government support that EFC's receive, Episode 1 also received £12.5 million of private capital from serial entrepreneurs such as Zoopla founder Alex Chesterman and Shutl founder Tom Allason.
To aid with the early stages of its creation, TVbeat took part in the 2013 version of TechStars, an accelerator programme, where it received a small seed investment in conjunction.