The proliferation of smartphones in today's culture means that we are never far from being able to order something online, except that the old analogue system of buying a drink remains largely the same.
In creating a system to advance order food, drink or other products at busy entertainment and hospitality sites, Q App has attracted the attention of a host of venues and is one of the GrowthBusiness 2014 Tech Innovators.
Based in: London

Founded in: 2012

No. of employees: 5

Company founder: Serge Taborin
Founder profile:
Before co-founding Q App, Serge Taborin spent the past decade holding senior positions in digital media. He was the strategy director at Perform Group as it grew to a £600 million and subsequent IPO befpre, more recently, becoming the managing director of Archant Digital Ventures. Taborin holds an engineering degree from Oxford and an MBA from INSEAD.
Background business profile:
Q App enables customers to order and pay from their smartphones. Operating in busy entertainment and hospitality venues, the platform removes the need to queue, enables venues to process more orders, increase average order value and gather rich customer data and enables brands to access the customer at the point of purchase.
Inside track:
Next time you visit the Royal Albert Hall for an event fire up your smartphone and you'll be able to make the process a little smoother using Q App.
The app-based start-up is attempting to disrupt a process which has gone largely unchanged for decades – the way in which we order food and drink. At the beginning, the founding team focussed on segments where they thought queuing created the biggest problem and hassle, affecting experience and revenue generated.
This led them to bars and clubs, fast food establishments, coffee shops, sports venues, concert arenas and festivals. The solution was to create a flexible platform that could be layered over each of those sectors.
Founder Serge Taborin says that much of the early struggle came from convincing venues that they needed to change the way in which consumers were able to order and collect food and drink.
'Once we did that the second challenge is convincing staff to engage with it, make them understand that it will make their lives easier – not harder,' he adds.
With any new technology, Taborin says there are early adopters and then followers. Some venues have loved the proposition, while for others it has gone straight over their head.
The difference now, he says, when compared to a year ago is that Q App now has the data and proof from existing clients to show that it does make a difference to experience and revenue generated.
Back in September the tech start-up closed an angel funding round, including contributors from notable business leaders such as Zoopla Property Group and LOVEFiLM co-founder Alex Chesterman and Caffe Nero co-founder Paul Ettinger.
With that investment having sped up initial customer acquisition, the business is now on the hunt for further funding to finance operations staff, sales and marketing.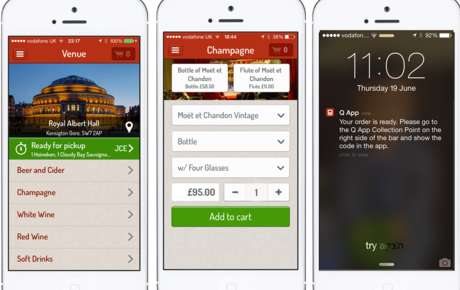 Recent milestones:
Successfully entered the sports, fast food and nightclub segments
Completed a trial and entered a long-term agreement with the Royal Albert Hall
Signed up new partners in the bar/pub segment
Upcoming milestones:
Availability in 500 venues by the end of 2014
Reaching 100,000 downloads
Recent technology:
The company has developed a proprietary mobile ordering platform consisting of a customer app, venue app and a powerful back-end API. The platform has significant in-built flexibility enabling us to operate across a range of venues with very differing requirements, while maintaining the consistency of customer experience.
Products:
I
nvestors:
Alex Chesterman (founder/CEO Zoopla; co-founder LOVEFiLM)
Paul Ettinger (co-founder of Caffe Nero)
Ed and Tom Martin (founders of ETM Group)
Alex Carlton (founder/CEO, Funkin)
Howard Kitto (CTO at Perform Group)
Contact details:
32-38 Scrutton St, LondonEC2A 4RQ
Tel: 07951 253183
Email: serge@qappmobile.com
Website: www.qappmobile.com