Founded by Australian entrepreneur Ian O'Rourke, Adthena is tapping into a growing market of intelligent software packages providing new visibility for online advertising.
Contained within the 2014 GrowthBusiness Tech Innovators feature, we've got all the latest information on Adthena.
Based in: London

Founded in: 2012

No. of employees: 20

Company founder: Ian O'Rourke
Founder profile:
Ian O'Rourke is a seasoned entrepreneur, most recently as the co-founder of Oovie a business that disrupted the Australian home entertainment market and was acquired by Australia's largest entertainment group Hoyts. Prior to this, based in San Francisco and Hong Kong, O'Rourke built and ran the Asian operations of Intershop, an enterprise software vendor in e-commerce, and grew revenues to $8 million in under three years.
Background business profile:
The Adthena business is a patent-pending software to help companies dominate search engine marketing by understanding their competitors' budgets and strategies. Its mission is to empower marketers to fully understand their competitive landscape through unique insights that enable action.
Inside track:
Adthena co-founder Ian O'Rourke has always been in some kind of technology business, with his work taking him from Taiwan to Silicon Valley. Now the entrepreneur is in London and working on creating a growth company in the online advertising space.
'Marketing is all becoming digital and measurable, with search being about 50 per cent of total spend,' O'Rourke says explaining the market opportunity Adthena is looking to exploit.
Informing companies of what competitors are doing is the bedrock of what the tech start-up does. It started life after Google brought a previous venture O'Rourke was involved with, which then began commercialising tools catering to search engine arbitrage and affiliate marketing. O'Rourke separated it out, took some people with him, and pushed forward with patents that ultimately became Adthena.
'You need to know what competitors are doing as they determine performance,' he says. 'It's like a football game where you are going up against another team – you'll want to know all about strategy, past performance and weaknesses.'
Adthena increased revenues by 300 per cent last year, and has grown them by 500 per cent since founding in 2012. Clients tend to be larger brands, the likes of Vodafone and British Gas, the type which are doing a lot of search investment.
Finding staff has been a stumbling block for the tech start-up, with attraction not being such an issue once that is done. For O'Rourke, it has been a case of hiring slowly and firing fast, something he has learned the hard way.
New investment is now being sought so that rapid expansion into new markets can be completed alongside an accelerated product pipeline.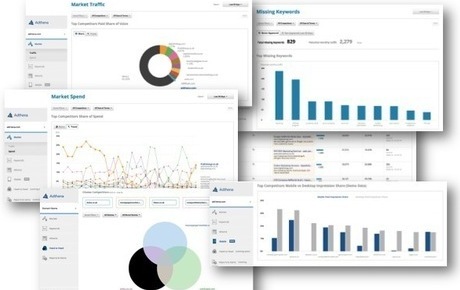 Recent milestones:
Recurring annualised license revenues of £1.2 million
Team of 20 and fully operational SaaS product
Major enterprise clients: Vodafone, Barclays, AA, Adobe, Bupa and Toyota
Raised £500,000 angel investment in October 2013
Upcoming milestones:
Expansion to German market and localised product
Wide release of expanded mobile, shopping and universal search product
Partnership opportunities with major media and tech companies
Recent technology:
Patent-pending search technology
Recent beta release of Adthena's mobile offering
Products:
Adthena enterprise
Adthena mobile
Alliances:
Reseller agreements with major agencies: GroupM, Aegis iProspect
Investors:
£500,000 of angel investment secured from eight investors
Remainder 90 per cent owned by founders and staff
Contact details:
69-85 Tabernacle Street, London EC2A 4BD
Tel: 0203 603 8003
Email: info@adthena.com
Website: www.adthena.com