Bathrooms.com found that out when they decided to expand into both France and Germany recently.
Neena Sandhu, head of buying and merchandising at Bathrooms.com, sits down with GrowthBusiness to explain what it takes to expand into a market as diverse as Europe's.
Why Europe, and why now?
It's quite amazing how few bathroom specialists there are globally. I've looked in markets as far away as Australia, Asia and America, and there's nothing out there in the online world. There are, of course, big retailers in all these markets that have an online presence as part of their multichannel offering, but there are very few online-only bathroom specialists.
Clearly these untouched markets are great opportunities for us so we've expanded into France, and have been live for over six months, and most recently launched in Germany.
What does it take to make it in a market like France?
We're only just beginning to profile our French consumers and from my perspective there are certainly differences in product demand, buying behaviour and seasonality and of course greater challenges within operations. I'm sure as this channel begins to mature, we will begin to see even more pronounced patterns and we will also progress on the operational side, but it is still relatively early days at this stage.
What is the difference between the French and German markets?
Within the French market, the stereotypes are true to a certain extent. They are a very visually led market and their consumers like to be romanced into a purchase. We are still establishing the product profiles but I would suggest that in terms of bathrooms the French market has more of a disposition to the artistic, designer concepts.
In contrast the German market is very precise and technical by nature. They seem to be showing a disposition to the more functional bathroom products, but it is a little too early to make concrete assertions at this stage.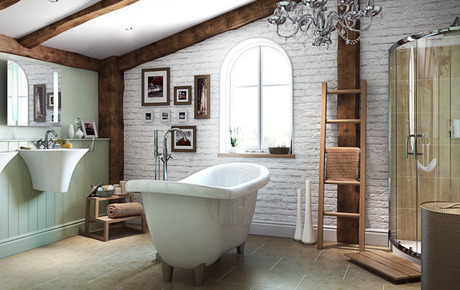 Bathrooms.com is backed by venture capital firm Augmentum Capital
What was the biggest challenge for Bathrooms.com launching in foreign markets?
We've been on a huge learning curve around terminology and cultural learnings. What we would call a shower head here in the UK, for example, has a very different name and context in both Germany and France, and they don't relate to products in the same way.
We have a German national and French national who are managing those channels, in terms of customer service, UX and acquisition strategies in those countries.
More on Bathrooms.com:
What advice would you give to other companies looking to expand?
I think the biggest challenge to delivering any international site is translation. Google translate is not an option. You really do need to invest the time, effort and energy in to specialist translators and panels to vet your site. I've tapped into a lot of my former French and German colleagues, friends – anybody I know, really – to come by and screen the websites for us and make sure we're using the right terminology and language.
We were trying to translate 'shower head', and Google Translate threw out pomme de tet, which actually means 'potato head'. A French friend checked it for me and said, no, that's not right. It's tet de douche. We've corrected it now, but we almost went live with pomme de tet as our term for shower heads!
Another challenge with the expansion is managing different site versions. We're managing four different sites, so whenever we change a range or re-launch a category, it equates to a roll out in Ireland, Germany and France also. So that's three sets of translations, four sets of pricing, and even different site layouts.
Germans have very long names for their bathroom products, and they don't always fit into our desired web designs. So we have to customise layouts which add more time and more complexity. Also, the offers and promotions we run are now becoming tailored to the individual markets, so we've also got to think about four different sets of promotions.
It's a lot more to manage, and you have to build that into your team's workload. We're not just managing one site; effectively, we're managing four, but we don't necessarily have four times the amount of resource to deal with it. But we're managing it well.
Finally, how has this changing the website and the business as a whole?
There's awful lot of maintenance work to make sure things are translated accurately, and we now have to think multichannel. Every time I change the name of a product or a particular technical line about a product, I have to think of all the site versions, and that is the same for every team in the business.
Not everything transcends, even with basic online functionality, and you have to bespoke every element of your site to that specific market.
I think the long-term goal for the business is to introduce custom ranges for the different markets, and develop specific portfolio's to suit each market.