Social loyalty service LoyaltyLion has now raised more than $500,000 this year after closing a funding round aimed at financing further growth.
Having left online retail company ASOS in 2013, James Hart has made the start-up his first investment, and will reportedly bring experience in customer service.
Hart now joins other well-known investors, such as PAYBACK co-founder Jan Boluminski, QXL founder Tim Jackson and Tom Buehlmann of symphony EYC.
Speaking to GrowthBusiness, LoyaltyLion co-founder and CEO Charlie Casey says, 'We're excited to have James Hart involved. He brings 14 years experience in e-commerce having helped build ASOS; has a keen eye for what shoppers want and knows the importance of customer loyalty. He'll be working closely with us as we expand LoyaltyLion.'
After first setting up in Berlin and then moving to London in August 2013, LoyaltyLion provides e-commerce businesses with a white label loyalty programme. Its fundraising round in April of this year attracted interest from EC1 Capital.
Commenting on becoming involved with LoyaltyLion, Hart says, 'Charlie [Casey] and the team have built a product that allows retailers to reward their customers for all the interactions they have with them online, which goes way beyond just making a purchase.
'That's great for customers and great for retailers and it improves the digital experience as a whole, so I was delighted to jump on board.'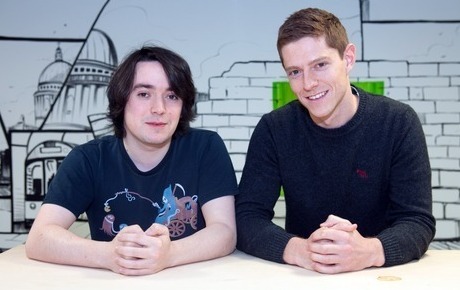 LoyaltyLion founders Dave Clark and Charlie Casey
Customers using the LoyaltyLion e-commerce are able to earn points for creating an account, referring a friend and leaving reviews. So far, the platform supports the likes of Shopify, PrestaShop and SEOshop, alongside other larger 'custom built' stores.
According to a statement, those using LoyaltyLion have experienced a 9.4 per cent increase in average basket size, 21 per cent increase in time spent on the site and 49 per cent growth in customer activity.