Retail video technology start-up Smartzer has charged itself with $400,000 of investment in its effort to provide interactive commerce.
Set up by Karoline Gross at the end of 2012, Smartzer provides what is described as 'shoppable' videos – allowing users to click on articles of clothing or accessories viewed in videos so that details can be emailed back.
A demonstration of the video technology at the Vodafone London Fashion Week saw 51 per cent of customers using the service email themselves a 'personal edit'. The click rate on items in the Smartzer 'WishList', so that product information could be viewed, was 42.7 per cent.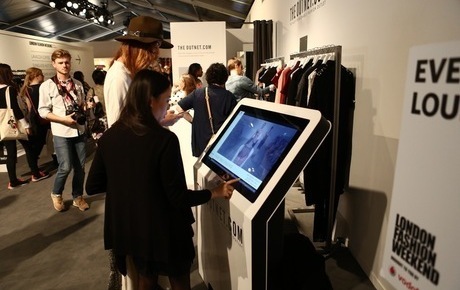 Guests at London Fashion Weekend try out the Smartzer technology
Smartzer has secured an early client by signing a partnership with high street clothing brand Whistles. The retailer's spring and summer 2015 collection will now be interactive, with four minute videos on the Whistles website using the technology.
Gross says, 'We are extremely excited to announced that Whistles has used our technology to create a new customer journey to purchase on website.
'We completely understand their brand vision of intelligent design and we feel that our technology is a perfect fit to deliver an interactive and seamless shopping experience for the Whistles customer.'
So far, in the first week of usage by Whistles some 3185 products were added to personal WishLists – of which 19 per cent were emailed to the Notify Me service.
Among the early investors in Smartzer is Jamie True, an entrepreneur who co-founded ONSHARE and ONSPEED, an internet accelerator with customers including BT and Google. The business eventually listed on London's Alternative Investment Market (AIM), and raised £25 million in doing so. True's other angel investments include InAuth, Reach7, Inzpire and 1Spatial.
Commenting on the Smartzer technology, The British Fashion Council's Nathalie Riddle adds, 'We are always looking for opportunities to bring leading edge innovation to our events.
'We are extremely pleased with the feedback and results from the project [at London Fashion Weekend] that connected the latest technology with this shopping-focused event.'