This year's Business Funding Show will take place in East Wintergarden, London on February 21.
The event is aimed at businesses with high growth potential and brings together an entire spectrum of finance providers, growth support institutions and SMEs seeking external funding.
Sixty exhibitors representing loans, venture capital, private investment, grants, R&D tax credits and scaling up will be taking stands at the BFS.
Speakers will include Alice Hu Wagner, managing director of British Business Bank; Peter Cowley, president of European Business Angels Network; Jenny Tooth, CEO of UK Business Angels; and Nigel Walker, head of innovations of Innovate UK.
Sponsors include Newable, British Business Bank, Spotcap and the Intellectual Property Office.
A range of activities, such as Funders & Founders expo, 121 Investment Clinics, Pitching Competition, Innovation Lab, and Foreign Expansion Clinic, and a range of workshops, will help businesses explore their options and become more attractive to funders.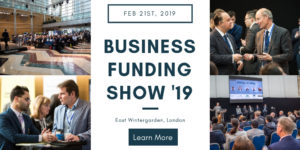 Entrepreneurs looking for growth funding can book meetings with more than 20 venture capitalists, and up to 15 businesses will be able to pitch for funding on the main stage before a panel of investors.
Looking for funding? Find the right finance for your business here
Keith Morgan, CEO of British Business Bank, said: "The biggest obstacle faced by entrepreneurs is knowledge, where to go and how to raise money. BFS is the great outlet where one can get the education, meet with funders and really understand what they need to do to get funded. BFS brings together people from the whole ecosystem. You'll find here people who come from debt finance, venture capital, people who involve in encouraging and building the skills in entrepreneurs. It's a great place to meet people who can help your business reach a potential it deserves."
Michael Blakey of seed investor Avonmore Developments added: "Besides fundraising, the biggest problem is knowledge and experience of scaling the business. Having a good idea is one thing, but to be able to build the business out of scale and take it outside the UK is really difficult, and that's where a partnership of BFS' expansion advisers and funders comes in play."
Business Funding Show '19 will be held on February 21 at East Wintergarden in London. For tickets and more information see here.