Pets at Home has become the second retailer in as many days to declare its future lies as a public company.
The business, which was set up in 1991 by Anthony Preston and sells pet food alongside pet products and accessories, now has 369 and 246 small animal veterinary surgeries.
The IPO, which will see the commerce business join the official list of the London Stock Exchange (LSE), is hoped to reduce the amount debt held. The move follows a similar one being made by discount retailer Poundland.
Back in 2010, Pets at Home was sold to US private equity firm KKR through a deal worth £955 million.
According to a statement, the company's private equity backer as well as certain shareholders and the management team, are set to secure a part of their investment through the repayment of shareholder loans and a sale of new shares.
Pets at Home chief executive Nick Wood says that the business has delivered 'consistently strong financial growth' and gained a share across all segments of the market since 2009.
'Our performance has been further characterised by an unbroken track record of position LFL performance over the last decade,' he adds.
'Even after the investment made in the business, our operational cash flow has remained consistently strong.'
More on recent UK admissions:
Since taking on private equity support in 2010, Pets at Home grew out its service offering by acquiring Vets4Pets so that it could begin to offer in-store veterinary care. The business also previously launched a grooming service, with 116 stores now incorporating the offering.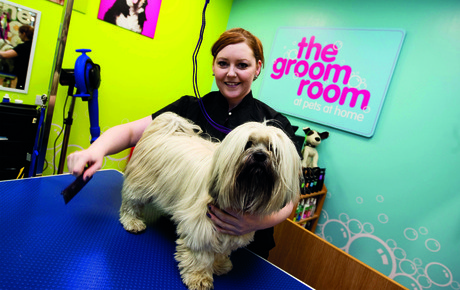 Started in 2009, the Pets at Home grooming service is present in 116 locations
To support the company's planned market listing, four new independent non-executive directors are being brought on board.
Paul Coby, IT director at John Lewis since March 2011 and former British Airways CIO, is being joined by Tessa Green, the founding chairman of The Royal Marsden Cancer Campaign, and Amy Stirling, former CFO at TalkTalk Telecom.
Tony DeNunzio, non-executive chairman at Pets at Home, comments, 'The significant investment that has been made over the past few years provides Pets at Home with very strong foundations and positions the company well for the next stage of its development in the public market.
'I am pleased that Dennis Millard is joining us as deputy chairman and I look forward to working with him. I believe that Pets at Home has a very exciting future as a publicly listed company.'
Millard is the current chairman of Halfords and Smith News, and serves in a non-executive capacity at Premier Farnell and Debenhams.