Lyst has closed its second major institutional funding round 18 months after its first netted the company $5 million.
The technology start-up has added $14 million through the new investment, a transaction led by London-based Balderton Capital.
Founded in 2010 by Chris Morton and Sebastian Trepca, Lyst's e-commerce platform for fashion products now attracts two million shoppers a month and has grown by 400 per cent during each of the last two years.
Lyst's system sees the website congregate the inventories of 'thousands' of brands and stores, allowing users to follow whichever retailers and designers meet their demands. The service also allows fashion bloggers to link content to the website.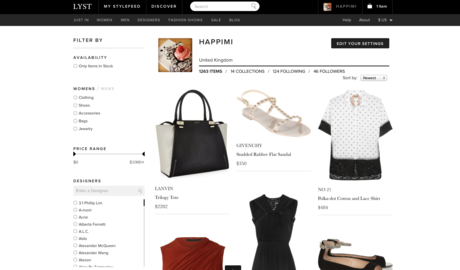 Customers can create and curate their own style feed of brands they want to follow
Morton, co-founder and CEO of London and New York-based Lyst, says that 2013 was an important year for the business with the launch of fashion's 'first universal shopping cart' – allowing shoppers to check out from multiple brands and stores on one site and with one step.
'We're excited to have such a stellar group of European investors – DFJ Esprit, Accel and Balderton – with strong US ties to help take Lyst to the next level,' he adds.
Lyst is similar to fellow Balderton portfolio company YOOX, which was backed by the investment firm in 2003 and now has a market capitalisation of $2 billion.
More on Balderton Capital e-commerce investments:
The $14 million Lyst has banked from its three venture capital investors will be used to 'aggressively' hire new talent for its teams in New York and London as it continues to internationalise. Also joining the firms are angel investors Paul Forster, who co-founded Indeed.com, and DST Investment Management managing partner John Lindfors.
Mark Evans, partner at Balderton and new board member at Lyst, comments, 'We love to invest in European companies that have the potential to disrupt and grow in large global markets – something that Lyst is doing by allowing customers everywhere to build their own fashion stores stocked with the favourite brands from multiple retailers.'
Lyst has signed up brands such as Saks, Burberry, Net-A-Porter and J.Crew – of which the e-commerce platform brings in $60 million annually for.