Imagine Nation has secured an undisclosed investment from LDC so that it can build out its live theatre, film and television format.
The business is a coming together of media entrepreneur Kees Abrahams, who used to sit as president of international TV production at Sony Pictures, and Tony Award winning Robin de Levita – a creative director in the theatre industry.
Imagine Nation will reportedly initially focus on live theatre, where it will build 'disruptive and immersive theatre concepts' such as its Anne Frank adaptation ANNE. Other lines of business will include content rights, media relationships as well as film and TV formats.
According to the business, 2014 will see the company announce a number of 'major' productions on different continents in partnership with a range of business partners.
LDC says that following its backing, the investment firm also has first refusal on further sums for new productions.
Abrahams, co-founder and CEO of Imagine Nation, says, 'We are excited about the changing media landscape and the opportunities that are now available to create unique audience experiences, particularly in the live entertainment space.'
LDC's investment is one of many it has made in the media sector, with others including independent television production company Boom Pictures and digital billboard advertising media agency Ocean Outdoor.
More on recent LDC deals:
Also on the management team of Imagine Nation is entertainment producer and promoter Harvey Goldsmith, who serves as non-executive director, and former BBC, ITV and Sony Pictures executive Chris Pye, the company's non-executive chairman.
One of Imagine Nation's first live theatre productions using new staging concepts is Soldier of Orange, which uses 'SceneAround' to create a rotating auditorium turning the audience to face different scenes.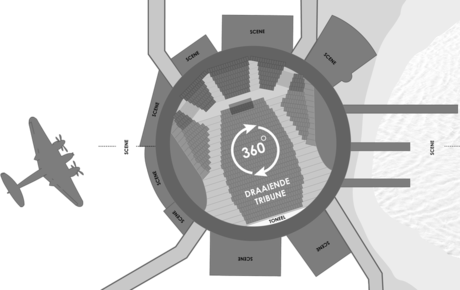 SceneAround rotates the audience creating an interactive viewing experience
LDC London investment director Waggas Ahmad believes that the newly-backed business will go on to become one of the world's leading global media content companies.
'Imagine Nation's co-founders have already achieved considerable success,' he adds.
'Management's strategy of developing new unique live theatre formats globally, which will provide audiences with memorable experiences, will ensure Imagine Nation becomes one of the best performing and most highly-regarded companies in the media sector.'