London-based tech start-up JustPark will now be integrated into MINI cars so that drivers are able to find, book and pay for parking spaces through a dashboard function.
As the brainchild of British entrepreneur Anthony Eskinazi, JustPark began life as an app aiding parking. The business has now partnered with BMW and MINI to produce an in-car system as part of the car fleet's Connected initiative.
'The idea stemmed from when I was on a gap year and attending a baseball game in San Francisco,' Eskinazi explains to GrowthBusiness.
'I noticed a driveway very close to the stadium which had a free space and thought how great it would have been if we could simply pay to park there.'
Having come back to the UK to start a graduate scheme at Deloitte, the business builder grew the venture organically from 2006 onwards in his own time before raising a seed round backed by BMW i Ventures when the company was called ParkatmyHouse.
The new deal, which is for an undisclosed amount, sees Index Ventures enter as a new investor on the back of a seven-year ongoing correspondence between Eskinazi and Index Ventures partner Robin Klein.
In demonstrating the size of the issue JustPark is targeting, the business says that an average drier wastes 106 days of their life searching for a parking space, with driving round looking for a spot accounting for 30 per cent of urban traffic.
Drivers using the JustPark service have access to 100,000 parking spaces in the UK, ranging from residential spots to church car parks.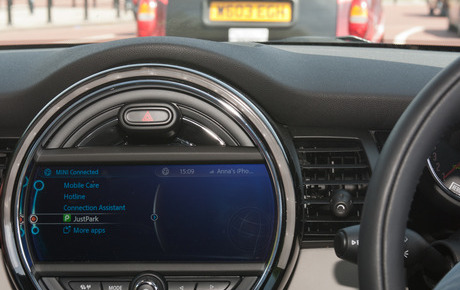 The JustPark system is being included in the BMW MINI dashboard setup
'A church near Kings Cross has made nearly £200,000 from people parking there and using the Eurostar – which has been used to do things like fix their roof and is worth as much as 50 per cent of its annual income,' Eskinazi says.
Chris Brownridge, director for MINI UK, comments, 'MINI Connected is all about helping owners to interact with the outside world whilst on the move.
'The JustPark functionality – which is a world-first for MINI – will make securing a convenient parking space in our busy towns and cities a breeze.'
The launch of JustPark's technology in MINI cars, which predates a roll out across the entire BMW fleet later in 2014, follows on from the release of other car-located technology in the market. Apple launched its CarPlay system recently whilst Google's Android-based Open Automotive Alliance also entered the market.
To date, JustPark has signed corporate partnerships with Hilton, Holiday Inn and the APCOA car park group.
'The next step will be rolling out into other BMW cars, but there is no restriction on where we can take it,' Eskinazi says.