When the time came for Biofortuna to accelerate its growth with its eyes on a sale, the molecular diagnostics business took on Simon Douglas as CEO to aid it with its fundraising efforts.
With 25 years' experience in the biotech sector working for companies including Lab 901 and DNA Research Innovations, Douglas had a strong record of guiding companies through funding rounds, sale processes and flotations.
Biofortuna has developed a range of molecular diagnostics products which use freeze-dried technology. While other testing kits need to be stored and transported frozen, Biofortuna's do not.
The scientific research and development sector has seen strong interest from the venture capital community in recent years, with 43 deals worth £123 million completed last year (see chart 1). Biofortuna's most recent funding round in March, worth £2.1 million, saw the medical technology company link up with Foresight Group, an investor with which Douglas already has history.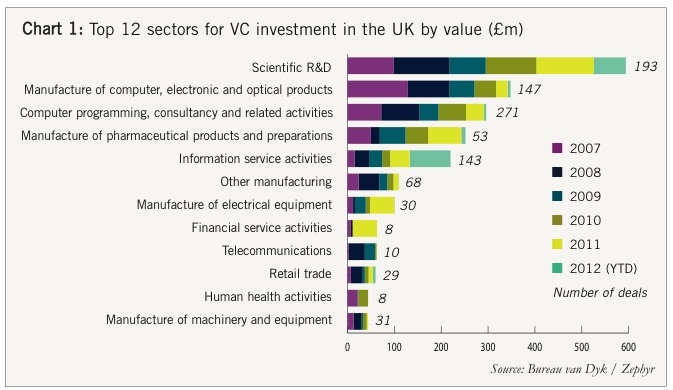 Cross-platform applications
Douglas attributes the company's success in closing three rounds of venture funding, worth a combined £4.16 million, to having an appealing, tangible product and a high degree of market accreditation.
'Businesses in the medical diagnostics market are becoming far stronger at looking at markets and products, rather than just the technology,' he explains. 'You can still achieve a sensible multiple for a diagnostics company mainly because if you can get it through the regulatory stage you have managed to add value, but the risk of total failure is relatively small.'
When it came to going out and raising serious capital, Douglas and the team at Biofortuna decided to steer clear of the generalist investors, who he says would have 'blanked over', and took it to Foresight.
James Livingston, investment director at Foresight, says there were two winning factors: the management team, which pairs finance man Douglas with the company's founder and transplantation diagnostics expert Michael Bunce, and a straightforward, highly relevant product.
Livingston adds, 'You don't have to be a transplant immunologist to understand that stabilised, freeze-dried kits make life simpler and quicker for customers. The technology's applicability in a broad range of adjacent markets like disease identification was extremely attractive.'
Entrepreneurial spirit
While Biofortuna has been riding the wave of scientific investments, GoCardless has tapped into the growing popularity of early-stage companies such as Index-backed iZettle, which aim to simplify and expedite payment processes. Businesses offering financial or related services have brought in £62 million from VCs since 2007, making it the ninth biggest sector for investment by value.
GoCardless works by providing a payment platform that allows merchants to take payments online via direct debit. Matt Robinson, one of three ex-McKinsey consultants who founded the business, says it's a process which has previously only been feasible for big players, because of the prohibitive costs which can amount to 3 per cent of a payment. Another benefit is convenience: after consumers use the service for the first time, they can authorise future payments with one click.
Robinson says, 'The payments space is a really exciting arena. The last big wave of innovation was PayPal, but since then there has been exceedingly little going on and if you look at the last two years there have been massive changes.'
He points towards regulatory reform in Europe, which means it is now simpler to become a non-bank provider of payments services, as an important driver of increasing interest in the sector.
In February, the London-based company netted £940,000 in growth capital through its first institutional fundraising and attracted a stellar cast of backers including Accel Partners, Passion Capital and YCombinator.
Looking forward, Robinson is firm in his belief that the payments sector will continue to offer exciting opportunities for entrepreneurs and those who back them.
'What is a payment?' he asks. 'If your business can't get payment then it can't operate, and when it goes wrong it screws you.
'But flip that on its head and ask yourself if you really care if you use MasterCard or Visa. Not a lot of people are very brand loyal, so we are likely to see a new set of players emerge.'
Little and often
For Michelson Diagnostics, the first round of VC money came back in 2007, when it raised £600,000 from a consortium of investors including London Seed Capital, Capital Venture Managers and some business angels.
Like Biofortuna, its products are aimed at the medical sector, but its journey towards commercialisation is further advanced and it is now classified as a manufacturer of electrical equipment by research firm Bureau van Dyk. It's a sector which has brought in a total of £102 million of VC money since 2007, spread over 30 deals.
Michelson makes laser-based imaging systems to diagnose specific types of skin disease, such as non-melanoma skin cancer. Since its first fundraising it has been back to the market six times, with its last three rounds bringing in £607,000, £1.9 million and £1.7 million.
CEO Jon Holmes says that the investment community has been very open to its offering. 'One of the things people have said to us is that they like the fact that it is a product you can see, and that it does something fairly conceptually simple in providing images of skin beneath the surface.'
In the early stages of the company, much of its success in obtaining venture capital was based on the notion that the business' technology had the potential to be applied to other forms of cancers, something that Holmes says resonated with them.
However in recent rounds, which have been led by Octopus Ventures, Holmes says that there has been a push towards focusing on the core product, with other opportunities reserved for the future when the primary technology has made some money.
For Michelson, locking down intellectual property rights at the outset was a prerequisite for funding success.
Holmes adds, 'We licensed the patent from a Canadian university, and there is no question that if we hadn't got that we would have failed to get off the ground.
'Last year we did a fairly comprehensive search with a third party firm to make sure we have the freedom to operate. That was essential to get investment.'
Alliott Cole, principal at Octopus Ventures, was part of the team which got in on the ground floor at Michelson Diagnostics. He says that with statistics from the World Health Authority indicating that cases of non-melanoma skin cancer are now 10 million annually, the prospects for Michelson's technology are huge.
'The current treatment option is expensive, invasive, and crude because the practice of visual assessment of skin cancers cannot show the depth and lateral extent of the tumour,' Cole adds.
Away from Michelson, Cole is also excited about the wellness industry, which encompasses everything from nutritional supplements to heart monitors. He points to the success of US-based Jawbone, which provides a wristband to help users monitor calories burned during exercise. The company raised $70 million in July 2011.
'It is no longer the preserve of fitness gurus or Swiss Alp spa hotels, the concept of wellness is becoming mainstream,' Cole explains. 'Educating consumers about their own health, enabling them to monitor their vital signs via small, mobile smart devices is becoming increasingly common. This trend is now attracting the attention of US VCs.'
Fashion fix
VCs may seem to favour niche sectors, but they are also looking for broad global trends. One such is the growing importance of e-commerce, with 17 per cent of UK retail spend happening online, according to data from IMRG. Market leaders such as ASOS now command revenues in excess of £300 million as more and more consumers feel comfortable shopping online.
East London-based Stylistpick is attempting to add something new to e-commerce by providing tailored shopping recommendations to users of the service. Entrepreneur Felix Leuschner, who started his first business fresh out of university in 2006, founded the 'entertainment-led' fashion company four years later and has since gone on to raise £12 million in 18 short months.
By quizzing its subscribers on their fashion preferences and customising recommendations, Stylistpick has managed to reduce the amount of inventory that it needs, thus limiting the amount of capital that needs to be spent on it.
Leuschner's long-term goal is to build up the business to be a cross-European entity. He started off in London for two reasons: the city's status as a fashion hot spot enables the company to access a good pool of talent, and the UK is the largest e-commerce market in Europe.
Stylistpick's first round of funding in April 2011 saw Index Ventures and Accel Partners come on board. Its Series B round in February 2012 brought Fidelity Growth Partners Europe into the business, with partner Davor Hebel leading the round.
As a technology focused investment firm Fidelity has backed internet-based companies like health and beauty service Wahanda. Hebel says that part of the logic behind e-commerce investing is that in certain markets the offline to online transition is still at a very early stage.
He adds, 'Some of these markets are still single digits in terms of online penetration. E-commerce in Europe is worth in the region of €3.4 trillion, and if that grows by another 10 per cent then it will be hundreds of billions more.'
Technical development is one of the biggest contributors to the upsurge in e-commerce. Nowadays consumers are more open to purchasing non-conventional items such as furniture and glasses because the shopping experience has become much more interactive.
Valuing a company like Stylistpick is a difficult prospect, Hebel says, and more of an art than a science. His approach is to evaluate what its current proposition is now, what it likely to become in the future, and draw a line between the two.
Knowing exactly where to draw that line is a skill that is honed over years of experience and countless deals. One thing is for sure, though: innovative, market-disrupting technologies being driven forward by big global trends are the ones attracting most interest from the venture capital community.