Having secured the backing of private equity firm Dunedin in 2010, courier service CitySprint has embarked upon a buy-and-build strategy led by chief executive Patrick Gallagher. His record of closing an average of three deals a year was enough for him to pick up Dealmaker of the Year at the GrowthBusiness M&A Awards 2014.
His business provides same-day distribution in the UK, provided by a fleet of self-employed couriers. Its corporate transaction activity has been part of an effort to buy scale through absorbing local suppliers.
Gallagher's description of what he and CitySprint are looking for when it comes to acquisition is simple. 'For us personally, we want to continue to be a light asset as we are in a peaks and troughs type industry – so having fixed costs isn't good,' he explains.
'We want to be more nimble, and to that we need to have flexibility in our cost model – hence we're not looking to acquire property, or vehicles or any fixed costs.'
What the dealmaker is always on the look out for is customer bases, or the good will of the business as he describes it. With that being quite a fragile element of any company, Gallagher describes CitySprint as kind of like a party gatecrasher who hasn't been invited.
Key to ensuring an acquisition is successful, he says, is by showing existing customers at the purchased companies that there is some value add – in CitySprint's case through technology, service delivery or responsiveness.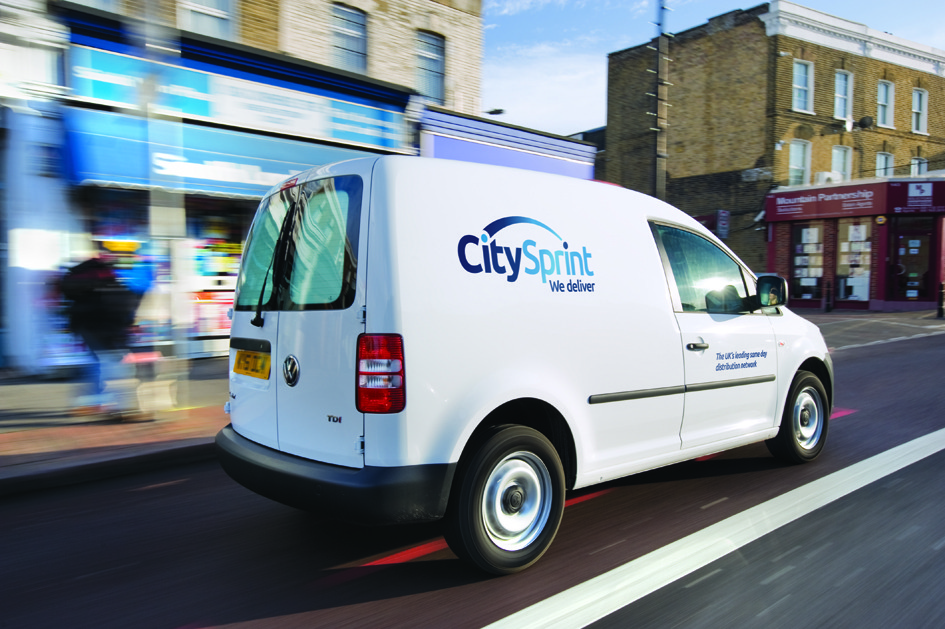 CitySprint has used acquisitions to build up its geographic coverage
Sizing up a possible new acquisition involves an examination of the target's client list. If any one makes up more than 10-15 per cent of revenues Gallagher and his team drill down further. Not that the reliance on one or a number of clients will put him off – one recent deal saw one client responsible for 50 per cent or revenue – but the due diligence process allows for solid engagement with the base.
'Systems are also an issue, we want to make sure that we'll have no interruptions due to systems problems – which can be some of the biggest issues for acquisitions,' he adds.
Industry accolade
The past year, for which Gallagher was recognised at the M&A Awards, was a period involving three deals – all regional players now adding to the scale of CitySprint's operation. Its last deal, in October, saw Southampton-based courier firm Dash-it snapped up.
Rather than slowing down his acquisition activity now, Gallagher says that the pipeline of possible new deals has never been so full.
'When we began this journey with Dunedin in 2010 the economy was quite depressed, but that was understood,' he says.
'However, we knew there would be opportunities to acquire because of that. We thought that when there was an improvement in the economy those deals might dry up as prices increase, but this hasn't been the case.'
More on CitySprint acquisitions:
Dunedin, which also picked up a prize at the M&A Awards 2014 in the shape of Private Equity House of the Year, was one of eight other private equity firms that Gallagher first sat down with – and one of three to reach the exclusive stage.
'When it came down to it all three offers on the table were great, but Dunedin were strongest when we looked at what they would be like to work with,' he adds.
'They did the most due diligence, no one did more interrogation of our business. They also took the elephant in the room out by also providing some debt finance. That allowed us to move through the Christmas period and go back to the banks in the new year when we knew it would be a better situation.'
Unsurprisingly Gallagher has built up an experienced acquisitions team at the business, who implement a tried and tested commercial purchase model. While it is not a case of one size fits all, and the team must be flexible, 13 deals later and they have a pretty firm grip on implementation.
His number one piece of advice involves advisors, and picking the right one. Rather than being swayed by emotion and staying with an existing firm which has little corporate finance experience, Gallagher is firm in his belief the it's a case of going with the ones who have done it all before. 'It will cost you a lot with one that doesn't really understand it,' he warns.
With revenues up to around £112.7 million from £101.1 million the year before, growth is still being achieved through a mixture of organic and acquisitive means. Gallagher is always keeping his eye open for new targets – CitySprint's website even has a section for 'ambitious' courier or distribution companies looking to exit.