With many start-ups saying that venture capital investors are reneging on previously agreed term sheets, and investment through government tax schemes down by 70 per cent, tech firms helping to fight coronavirus need investment. 
Although the government is set to announce a scheme to prevent UK tech start-ups from going under this week, investors more widely have taken fright.
Growth Business wanted to highlight three tech start-ups that are actively fighting the coronavirus pandemic, which need more investment to drive research and deployment.
All three are open for investment.
 Last year, €7.3m was invested by VCs in European healthcare and another €4.1m in biotech and pharma, according to PitchBook.
Pioneering tech start-ups such as DIOSynVax, Quvium and uMed are helping in the current coronavirus fight. In the longer term, as lessons are learned from the current Covid-19 pandemic, future innovation derived from start-ups such as these could help prevent such a devastating outbreak happening again.
DIOSynVax
Based at Cambridge University, DIOSynVax is a start-up which is one of about 40 organisations trying to develop a Covid-19 vaccine.
Until the outbreaks of coronavirus, DIOSynVax, had been working on the holy grail of vaccine research, a global flu vaccine. Last year, it won a Gates Foundation grant of $2m (£1.6m) to fund research into a universal flu vaccine, one which will prevail against every kind of flu virus.
Now it is directing its resources to develop a Covid-19 vaccine, which, as CEO Jonathan Heeney, professor of comparative pathology at the University of Cambridge, admits could be up to a year and a half away.
'It's just a matter of time before the next outbreak will come'
Professor Heeney says: "Although it will take between a year and 18 months to develop a vaccine. We're still going to need a vaccine in two years' time because this problem is not going to go away. It's just a matter of time before the next outbreak will come and it would be naive to think, 'let's forget about it.' We're able to use the same technology that we're applying to the flu vaccine to the same problem."
DIOSynVax has already developed vaccines against lethal viruses including Ebola, Lassa fever and Marburg, in just six months as opposed to the usual decade or so it takes for a new vaccine to be made, at a fraction of the usual £500m cost.
However, DIOSynVax uses genomics (sequencing data) to fast-track vaccines. Its sequencing database combines information on the virus itself and protective responses driven by our immune systems. Artificial intelligence helps decide vaccine candidates. Synthetic gene technology creates a library of candidate sequences for screening.
DIOSynVax has raised early stage money through the University of Cambridge Enterprise Fund, run by venture capital fund Parkwalk – one of several early stage university spinout funds which Parkwalk runs with the universities of Bristol and Oxford and Imperial College in London. Each early stage enterprise fund raises between £2m-£4m for university research.
Moray Wright, Parkwalk CEO, says: "In my opinion, the UK is really good at university research. They tend to focus on the big issues that we're going to be facing the future, whether it's food security or cybersecurity or pandemics. Yes, Covid-19 is a black swan event but there will be other crises. I feel honoured to be helping to fund this kind of research, even in a small way."
Although University of Cambridge Enterprise Fund 6 is now closed, Parkwalk is raising money for Fund 7, with every expectation that DIOSynVax will be part of the new funding round. To find out more, contact Moray Wright at Parkwalk.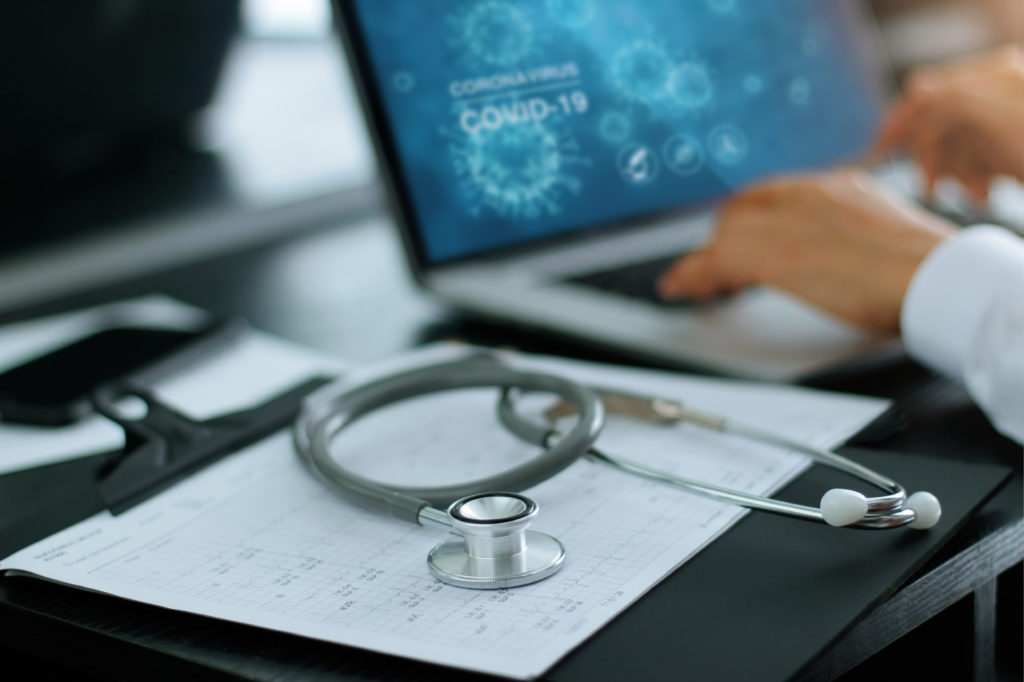 Quvium
Ramsgate-based Quvium is developing cough-monitoring SonaSure software that can recognise a Covid-19 cough from those of us suffering from mild flu-like symptoms.
The app is downloaded onto a PC and listens to your cough and can detect when it goes from a mild, dry cough into a worrying wet cough indicating pneumonia.
The technology was originally developed to monitor coughs in patients with chronic respiratory diseases.
Quvium believes its monitoring technology and analytics reduces exposure of frontline NHS staff to Covid-19, reducing the need for PPE by having arms-length technology monitor patients.
'The tech could be used to help combat the pandemic'
Although the technology is still at trial stage, Quvium founder and CEO Steven Schmidt says the US and UK governments have already contacted him, asking if the tech could be used to help combat the pandemic.
Schmidt, who founded Quvium in 2015, has a background in medicinal chemistry and computer science and has spent 25 years building health and life sciences software. He is the former CIO of Vertex Pharmaceuticals and a former manager at Pfizer.
Professor Keir Lewis, professor of respiratory medicine at the University of Swansea Medical School, and his team are currently experimenting with whether SonaSure is precise enough to recognise a specific Covid-19 cough signature.
Another team member is audio engineer James Collins, an award-winning sound engineer who worked on the Lord of the Rings movie soundtrack and several Madonna albums.
The company has applied for grant funding from both the US and UK but is open to new investors. If you are interested, email Steven Schmidt directly.
uMed
uMed, the medical research automation service, is tracking those who have been stricken with Covid-19 to help in the fight against coronavirus.
Both studies are being run with the University of Oxford.
The first study is screening patients aged over 65 who've contracted Covid-19, while the second is monitoring patients with coronavirus who have high blood pressure and how they're coping.
'We can deliver dozens of Covid-19 studies simultaneously'
Dr Matt Wilson, founder of uMed – who is currently volunteering in an ICU unit at his local hospital in West Dorset – says: "The technology helps GPs to do the research by taking the pressure off them. Having GPs find all those patients, we're automating the process. The great opportunity for uMed is that we can deliver dozens of Covid-19 studies simultaneously without it affecting frontline care, which would never have been possible without our technology."
By automating the process, and having access to anonymised patient data, uMed eases the burden for overstretched GPs having to trawl their own patient records. Many GPs want to take part in clinical research but often cannot find the time. uMed contacts suitable patients directly, under the aegis of the GP, to collect the data.
Dr Wilson says: "GPs cannot do as many research projects as they would like to. We make it a lot easier for GPs to participate in research, which limits them in their time and effort, on top of everything else they are asked to do.
"Our technology does it for them, using patient health record data, matching patient data to clinical studies, and then we communicate on behalf of the GP to you, powered by us in the background, so GPs can get on with their day-to-day supporting of direct care."
The uMed platform was launched in early 2018 and the software has taken 18 months to build. It has delivered its first patient research studies to the University of Oxford, Queen Mary's Hospital and charity Parkinson's UK.
EMIS, which provides software for 4,000 GPs, representing 60 per cent of NHS general practitioners, who in turn have 35m-40m patients on their books, is rolling out the technology.
So far, 75 GPs in Britain have signed up to take part in uMed studies for far with another 40 GPs coming online in the next three months.
And uMed is about to launch in the US within the next few months.
Dr Wilson adds: "The key thing that we're hearing from GPs is that they have 30 per cent of their staff off either self-isolating or unwell, yet on top of that they're being asked to take part on these research programmes and it's becoming increasingly impossible on top of their day-to-day responsibilities."
Two angel investors originally backed uMed with pre-seed funding before Playfair Capital provided nearly £1m of early seed VC funding in March 2018.
uMed is currently raising another £2.5m in funding through larger VCs now.
Potential investors should get in touch with Dr Matt Wilson directly.