Chancellor George Osborne has used his appearance at the Federation of Small Businesses 40th anniversary conference to announce a consolation on helping companies which have failed to secure a loan.
Business lenders may be required to release information on small and medium-sized businesses (SMEs) which are rejected for finance.
It is hoped that this will allow failed SMEs to be picked up by other credit suppliers which may be a better fit.
The move is part of a consultation launched by the government and the Department for Business, Innovation & Skills (BIS).
New online platforms could then be formed to facilitate the quest for finance that SMEs go though, meaning that rejection does not mean the 'end of the line'.
Speaking at the Federation of Small Businesses 40th anniversary conference where he made the announcement, chancellor George Osborne said, 'We're setting out new proposals that will help match up other lenders with small businesses that may have been turned down for a loan by a large bank.
'A big bank saying "no" should not be the end of the line for a small business. Now, with out plan, it won't be.'
The decision to move towards online platforms connecting lenders with businesses looking for finance mirrors a collective move made by seven alternative lenders earlier in the month. Platforms including Funding Circle, Seedrs and MarketInvoice are joining forces to create the Alternative Business Funding portal.
Businesses looking for alternative finance will be asked to answer questions online, before being directed to what has been determined to be the most appropriate platforms. The platform will allow funders to share and recycle applications depending upon what sort of finance suits.
The government cites information that shows big banks account for 80 per cent of SME banking relationships as evidence of the problem. However, it says that 'innovative new forms of credit' including peer-to-peer (P2P) lending and crowdfunding are constantly being created.
Adam Tavener, chairman of pensionledfunding.com and part for the recently launched Alternative Business Funding portal, tells GrowthBusiness, 'This is evidence that the government has listened to representations made over the last 18 months.'
James Meekings, co-founder of Funding Circle, comments, 'We are already talking to banks about the possibility of lead referrals for small businesses.
'We do see ourselves as complementary to banks. A core part of a bank's business is having a positive banking relationship with their customer so partnering with a non-bank provider where there is no risk of them losing their current account business makes a lot of sense.'
However, Meekings says that 70 per cent of businesses taking out loans on the Funding Circle platform believe a bank loan would have been possible but was not preferable. Signposting, he adds, should begin at a much earlier stage so that businesses can find the right kind of finance.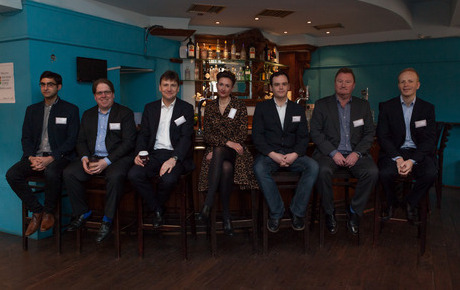 Meekings, far right, is part of the Alternative Business Funding portal (seen here)
More on alternative finance:
Russell Gould, managing director of short-term lending platform Everline, says, 'Hard-working small businesses need to know their funding options upfront – not just if they've been rejected for a bank loan.
'This will end the common misconception that banks should be their first port of call if they need extra finance, as they may be able to find more suitable products and services by going to alternative lenders first. By doing this they will likely get access to funds much more quickly and with much less paperwork.'
The new government consultation will seek to decide whether the government should legislate to help match SMEs that have been reject for loans with challenger banks and alternative finance providers. It will also, the formal paperwork says, question the 'mechanics' of such a measure if it does go ahead and will decide on the preferred approach of requiring banks to refer details.
Business secretary Vince Cable says, 'By putting the onus on banks to refer these businesses to other sources of finance, we can help make sure the potential of the country's small businesses isn't lost.
'A better referrals system will be good for competition, and good for the economy.'
Related Topics