Vince Cable's British business bank has continued with its lending commitments by returning to a platform which it has previously supplied.
Launched in April 2013, the business bank is bringing together government capital to lend alongside private backers in small and medium-sized businesses which are finding it hard to secure finance.
During the Autumn Statement speech in December 2013, chancellor George Osborne revealed that an additional £250 million was being added to the business bank. The new capital pot, which sat on top of the £1 billion already committed, was to invest in late stage venture capital funds, launch an 'innovative new scheme' to support the provision of lease and asset finance, and kick off a programme of wholesale guarantees for SME loans.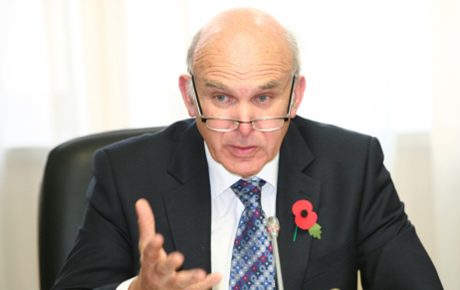 Vince Cable is hoping to stimulate lending to a wide range of businesses
The new investment in Funding Circle will start on 1 March 2014 and will reportedly support around £450 million of lending over the coming 18 months.
Samir Desai, CEO and co-founder of Funding Circle alongside James Meekings and Andrew Mullinger, says that since the finance platform secured £20 million from the business bank in December 2012, 2,000 businesses in the UK have accessed required finance to grow.
'[The new] commitment from the British business bank will ensure many more thousand businesses access the finance they need to grow – creating jobs up and down the country,' Desai says.
'The government has done a great deal to help raise the profile of non-bank lending over the last 12 months and has strongly encouraged greater competition in the market.'
Businesses which have borrowed from Funding Circle range from gin and fruit liqueurs manufacturer Bramley & Gage, which secured £25,000 from 248 people including the government, to furniture builder Kaizen, which received £100,000.
Funding Circle itself secured $37 million of new investment capital in October 2013 when Accel Partners led a deal aimed at helping the platform target the US.
Ten alternative lenders have now been supported by the business bank though the Investment Programme and Business Finance Partnership. The Investment Programme's commitment stands at £85 million, while the Business Finance Partnership has supported some £200 million of lending to small businesses.
More on the business bank:
Vince Cable adds, 'Too much business lending is concentrated in the big banks and, if we're to have a properly functioning business lending market, they need to be challenged by new banks, peer-to-peer lenders and other alternative providers.'
The British business bank is based in Sheffield and is headed up by Keith Morgan, who was formerly director and head of wholly-owned investments at UKFI.