DesignMyNight has closed a £250,000 investment round so that the nightlife discovery guide can ramp up national growth and continue with the development of a new software platform.
Founded in 2011 by university friends Nick Telson and Andrew Webster, DesignMyNight allows users to construct a night out based on taste and budget.
Having first started as a nightlife comparison site, the business has now pivoted to a position where it categorises venues into music, atmosphere, location and type of venue alongside the original service.
Speaking to GrowthBusiness sister website SmallBusiness in September 2012, Telson said that the idea for the business came when he and Webster were visiting his business partner's wife in New York.
'We asked the concierge in the hotel for some tips on where to go out in the city, and the concierge asked how much we had to spend,' he explained.
'That got me thinking about how interesting it would be to give people the power to design their own nights out on a budget.'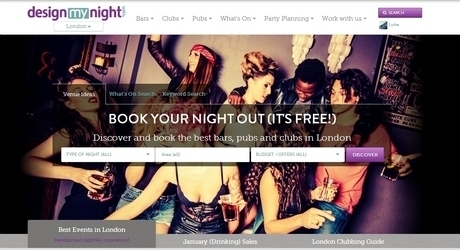 DesignMyNight provides a way to plan and then book a night out
Angels participating in the new £250,000 deal include former Friends Reunited CEO Michael Murphy and Friends Reunited founder Steve Pankhurst. The business has also revealed that it closed a separate and unannounced £250,000 funding round a year after founding.
More on entertainment planning businesses:
Webster, co-founder as well as operations and finance director at DesignMyNight tells GrowthBusiness, 'I have found the investors' expertise and knowledge in growing an online business nationally and internationally to be priceless.
'They work with us in detail on our growth plans for the future and we identify the key business levers, making sure we are constantly pushing towards them.'
Having first launched in London at outset, DesignMyNight has expanded into Manchester, Glasgow and Birmingham and also has plans to set up in another location during February 2014.
Its new Collins software platform, which has driven the need for new funding, serves as a booking service 'solely targeted' for the needs of bars, pubs and clubs. Described as a 'huge development' for DesignMyNight, Collins is hoped to bring those kind of establishments in line with the restaurant industry.
Angel investor Tim Ward, who joins managing director of cash back website Quidco Andy Oldham as backers of the business, comments, 'DesignMyNight not only have a wonderful B2C [business-to-consumer] site that allows the public to discover, book and/or buy tickets but also have a revolutionary B2B [business-to-business] product as well.
Website traffic for DesignMyNight has reportedly grown by 60 per cent over the previous year, while revenue is up by 100 per cent and the team grown from four to 22.