The levels of drive, dedication and entrepreneurship in the UK is absolutely something to be celebrated. However, for some time now the UK has grappled with the fact that despite record levels of businesses starting up and enjoying relative success, the majority of these companies struggle with continuing to grow.
Put simply, too many businesses do not end up being the wealth creation agents that we hoped for – finding high growth is a perennial challenge. Finding new and better ways to build on success must be a priority if the UK as a whole is to benefit from their much-needed growth and the use of technology such as enterprise resource planning can aid that growth.
The role of technology
We all know and understand the crucial role talent and funding has to play in driving business success. We hear less, however, about the role technological infrastructure can have in acting as a catalyst for growth. Technology is often seen as a necessary but unexciting commodity rather than a true game-changer. When deployed effectively, technology can give businesses a competitive advantage over the competition, integrate business processes, turn real-time data into actions and empower employees.
For those focused on taking their business to the next level, the prospect of having to make big alterations to their existing way of doing business can be daunting. But with the stakes so high, the price of failing to transform cannot be overlooked.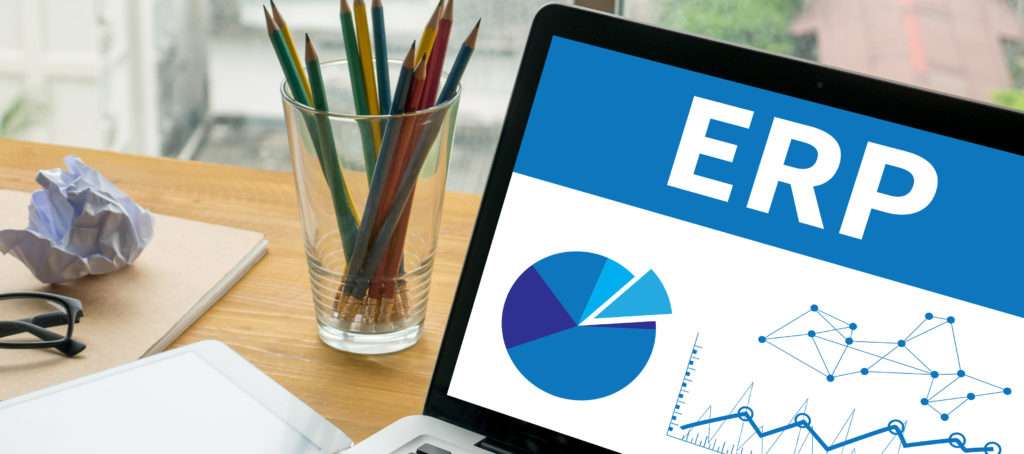 The power of ERP
Enterprise resource planning (ERP) has long been the backbone of many large-scale businesses. For them, ERP software is a key tool for managing business-critical processes such as order processing, production and inventory. It can also be deployed to keep track of business resources between team members, customers and suppliers such as revenue, orders, staffing and production capacity.
ERP has enabled businesses to flex to the needs of the market and deploy resources and time more effectively. It also puts them at a big advantage over smaller counterparts who haven't been able to draw upon this technology or its benefits.
In the past, such technological infrastructure wasn't available for smaller-sized businesses, purely because they didn't have the resources or technical support to create the infrastructure needed to adopt traditional corporate-scale ERP solutions.
This has meant that growing businesses have ended up creating a fragmented structure made up of several separate programs and they have, typically, built incrementally on top of existing resources. When they needed to add on tools or services as their businesses grew – like HR management or CRM – they faced buying whole new product and support packages, while at the same time ensuring compatibility with legacy technology.
Additionally, they were concerned that new and expensive technology could rapidly become out-dated and were, therefore, understandably reluctant to make such transformative decisions.
See more:
Why ERP solutions are essential for your growing business
Managing Growth
The good news is that cloud-based ERP systems now enable companies that are not big enough to benefit from an extensive IT support team to move their operations to the digital sphere at a pace that suits them.
ERP solutions in the cloud can allow for that incremental build that smaller businesses prefer because they can be managed more comfortably. Organisations can simply 'switch on' additional modules or functions, such as HR management, when they're needed. This means that these businesses can now update their ERP in stages and stay up to date with the latest and most secure technology – without requiring a major overhaul every year or so.
The advantages of this cannot be underestimated, particularly to those aiming for high growth. Intelligent, next-generation Cloud ERP business suites can enable businesses to truly punch above their weight. They integrate every business process, turn real-time data into actions, and increase employee productivity in a secure and intuitive way, enabling these businesses to innovate, transform and accelerate the pace of growth.
Take Aspen Pumps for example. The heating, ventilation, air conditioning and refrigerator (HVAC/R) manufacturer found itself consistently overburdened by spreadsheets and manual procedures for operations and management activities. Staff had no single view of stock levels, location, or material demand, which was resulting in suboptimal planning. Their software too, felt outdated, non-user-friendly, and was unable to support increasingly complex logistics operations. The business suffered resource constraints caused by heavier administration workloads and teams stuck working in silos.
Using SAP's intelligent Business by Design Cloud ERP, Aspen Pumps gained full visibility of sales, production, procurement and demand, all resulting in better inventory control and planning. Key business processes have been integrated through a single digital solution, eliminating paperwork whilst dramatically reducing the risk of human error. The ERP solution has also given staff readily available management information that can be viewed live, encouraging far more informed decision-making.
Crucially, it has given Aspen Pumps an opportunity to realise international expansion plans by supporting the establishment of long-term industry best practices which are so often used by their larger competitors. They have since been able to run operations efficiently and effectively while focusing on the future.
Looking to the future
There are so many factors at play in determining which businesses will successfully make a similarly challenging but rewarding leap into a bigger bracket of industry competition. There cannot ever be one magic bullet that will make the difference, but with so much technological infrastructure now essentially democratised, deploying the right technology at the right time is now within reach for ambitious smaller businesses as well as their larger counterparts.
Crucially this can make all the difference in transforming from a 'slow and steady' scale-up business to an established, larger force to be reckoned with.

Dr Michael Schmitt is the Senior Vice President of SAP Business One and SAP Business ByDesign Solutions Group at SAP