The level of cash secured through EIS has climbed by 18 per cent in the year to 31 March 2010, according to new data from private equity investment firm Rockpool Investments.
Some £8.2 billion has now been invested in 18,000 companies through EIS since it first became available in 1993.
Investment figures, which are only for the year to 31 March 2010 due to the time spent by HMRC in collating tax returns, show that the 18 per cent rise has come after a steady decline from 2006-07 when £731 million was invested.
While 2007-08 registered £706 million, the following year (2008-09) saw only £516 million provided (see chart below).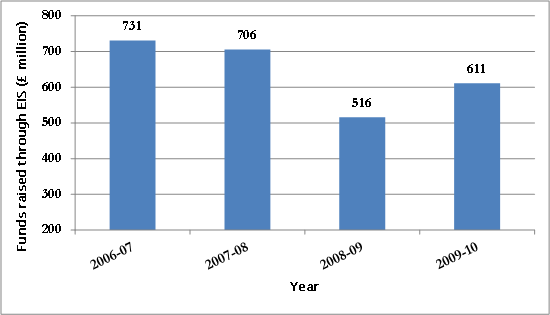 Rockpool now predicts that the amount of money invested through EIS will continue to increase due to changes in the rules associated with the incentive.
New regulations now mean that investors can shelter more money in the scheme and back larger businesses of up to 250 employees and with gross assets of up to £15 million.
Gary Robins, managing partner at Rockpool, says, 'The new rules broaden the appeal of EIS investment in bigger companies, which are considered more stable, are now eligible.
'It takes a lot of knowledge to invest effectively in very small businesses, but the changes to EIS allow investors to invest in more mature companies and that is likely to encourage more people to use the scheme.'
EIS now allows investors to use up to £1 million per year whilst also reclaiming 30 per cent of the costs of each investment against their income tax bill. They will also not have to pay Capital Gains Tax after three years.
Robins adds, 'SMEs are the lifeblood of the UK's economy and the key to future growth, but it has become notoriously difficult for them to obtain affordable debt from traditional sources to fund their growth.
'That means they are more likely to look for equity investment, meaning that investors can pick and choose from a range of possible business investments.'