Industry 4.0, the fourth Industrial Revolution, is inexorably gathering strength. Industry 4.0 introduces the digitalisation of processes, the Internet of Things, the installation of widespread sensors in the physical environment and the ability to rapidly enhance production economics through real-time performance-data analysis.
New-generation digitalised technology is enabling manufacturers in all sectors to improve performance through increased manufacturing productivity, more accurate planning and forecasting, enhanced competitive capabilities and greater financial sustainability.
Industry 4.0 represents a significant opportunity for manufacturers to offer their customers enhanced product ranges and quality in tandem with more competitive pricing. Companies that have already started to invest in the new wave of digitalised technology are able to benefit from the key points of value that digitalisation and automation deliver.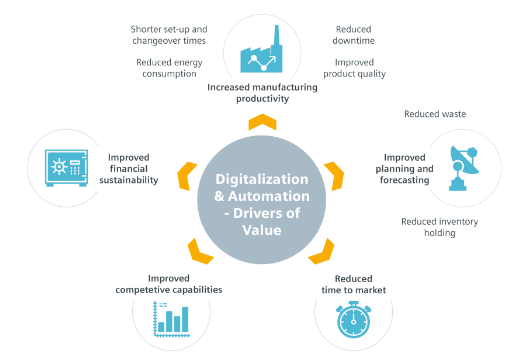 Although, the various dimensions of productivity differ between industries and countries, increased manufacturing productivity – the ability to either produce the same number of products for less, or more products for the same – has a clear and calculable positive effect on costs and margins.
This effect – which we have called the Digitalisation Productivity Bonus – is the focus of our latest research, which captures testimony from over 60 international industrial companies, expert management consultancies and academic specialists based in 11 countries. The resulting model estimates the Digitalisation Productivity Bonus for different industries. The potential Global Digitalisation Productivity Bonus (all manufacturing sectors) is estimated to be between 6.3 per cent and 9.8 per cent of total annual revenue by 2025.
https://growthbusiness.co.uk/industry-4-0-can-make-impossible-possible-2550839/
Of course, manufacturers only gain the Digitalisation Productivity Bonus once they have upgraded production technology to the new generation of digitalised systems and equipment and have, as a result, realised the benefits in practice. While digitalisation drives financial sustainability, access to a range of smart and appropriate financing techniques – Industry 4.0 finance – is also critical to a company's ability to sustainably invest in the new fourth-generation of digitalised technology and automation equipment.
Examples of Industry 4.0 finance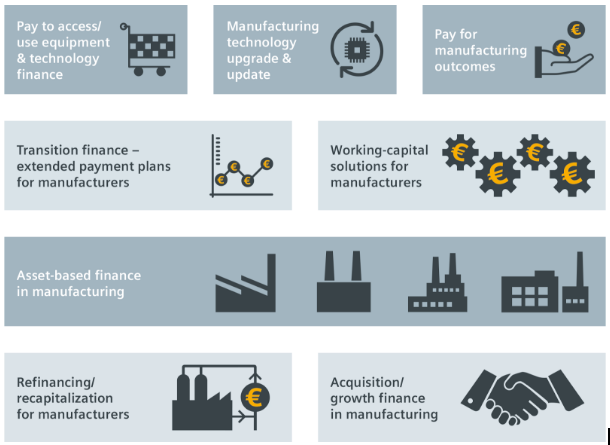 Industry 4.0 finance covers a range of requirements from the acquisition of a single digitalised piece of equipment, right through to financing a whole new factory. Financing techniques have now been developed to allow an organisation to in effect apply some or all of the Digitalisation Productivity Bonus to fund the digitalised technology and equipment that makes the bonus possible in the first place. In simple terms, these financing methods seek to align payments for the new generation technology with the rate of gain from the Digitalisation Productivity Bonus. Broadly speaking, this can help make the upgrade to digitalised technology affordable and potentially cost neutral (or better) for the manufacturer. In fact, for much of the global manufacturing sector, the rate of conversion to digitalisation is expected to be determined by the availability of these specialist financing techniques – and particularly for companies that do not have a means of financing these improvements themselves.
Industry 4.0 finance arrangements tend to be offered by specialist providers that have a deep understanding not only of how the digitalised technology works, but also of how that technology can be practically implemented to deliver the Digitalisation Productivity Bonus as well as other benefits of digitalisation. At times, the financing arrangement will be an embedded component of the value proposition, offered right at the beginning of the sales cycle. In other cases, the technology provider will refer its customer to one or more finance providers to fund a sale.
Complete solutions should be taken into consideration in order to identify the best finance package to effectively digitalise a manufacturing facility's entire operation – from equipment to software to the production line to the whole enterprise. Between them, this range of Industry 4.0 finance techniques is crucial in allowing organisations to access the Digitalisation Productivity Bonus.
Brian Foster is the head of industry finance at Siemens Financial Services in the UK.