New research from national law firm Bond Dickinson reveals that corporates were involved in 5,447 deals with UK SMEs between April 2013 and April 2017. These deals, which include mergers and acquisitions (M&A), minority stakes and joint ventures (JVs), are known to have exceeded £102 billion collectively.
Total deal values exceed the £62 billion large organisations invested in UK R&D between 2013 and 2016, and represents more than a seventh of the £683 billion total UK business investment. But, in 2016/17, the three year rising trend stalled with a 28 per cent fall in deal volumes.
The data follows a disappointing run of business investment results since the Brexit referendum. Business investment shrank by 1.5 per cent in 2016 according to the ONS – the first contraction since 2009 – and in 2017 has continued to lag behind the recovery of GDP. Economic consultancy CEBR is currently forecasting a 3.4 per cent fall in business investment for 2017.
Based on analysis of four tax years of deal data (2013/14 – 2016/17), the findings are detailed in Close Encounters: The power of collaborative innovation. The report highlights the five key points of tension for entrepreneurs to manage in these deals: culture, motivation, brand, tax and exit routes.
The data shows that the number of deals between large organisations and UK SMEs rose from 1,326 during the 2013/14 tax year to a peak of 1,536 in 2015/16, before falling 28 per cent to 1,111 in 2016/17. The majority (55 per cent) of these deals were M&As, 44 per cent were minority stakes and fewer than 1 per cent were joint ventures.
"Start-ups are often perfectly designed to develop new ideas, but they typically lack the market reach, regulatory pathways and financial muscle to achieve their full potential. Corporates, on the other hand, struggle to turn their R&D investment into innovation from within. The combination of the two is a powerful one," David Dale, head of private wealth and entrepreneurs sub-sector at Bond Dickinson said.
"However, negotiating partnerships for successful collaborative innovation involves balancing a number of difficult elements. There is a way to make a collaboration work for both parties, but the recent dip in deals is a nudge to ambitious entrepreneurs to assess their business strategy and ensure their company is an attractive option."
According to a Q1 2017 report from KPMG Venture Pulse, corporate venture capital participation in the UK is set to grow. The last quarter saw 39 perc ent of VC deals involve some corporate participation, this number has grown steadily over the last two years and is up 2 percent on Q4 2016. Again, the deal count does not always correlate with more money, CVC deal value has waxed and waned over the last two years but overall, corporates are certainly showing an increasing interest in the UK.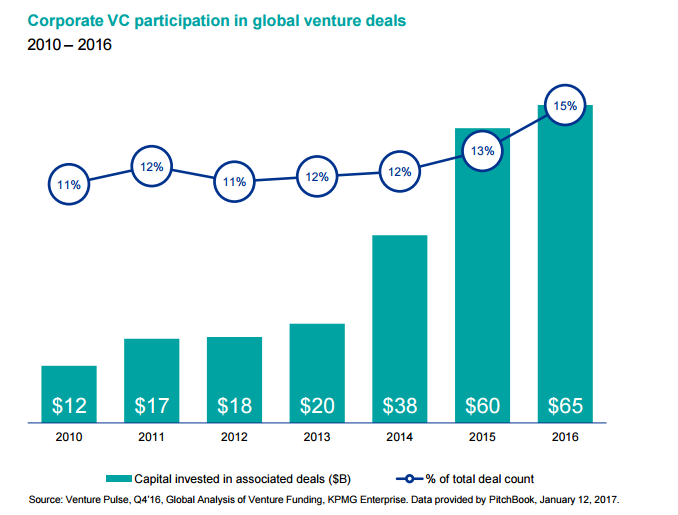 As venture capital becomes more institutionalised and corporations hunt for innovation through acquisitions, backing of fledgling start-ups to supplement R&D or to position for ownership down the road is only becoming more popular.